Campus Life
5 Things to Know About Dean Otgo
Otgontsetseg "Otgo" Erhemjamts is the new dean of the School of Management. Let's get to know her.
Image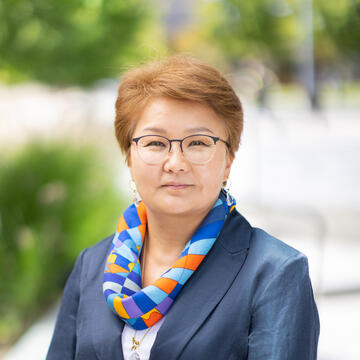 1. Her first degree is in engineering. She lived in Ulaanbaatar, Mongolia, until she was 25. In the early 1990s, when Mongolia's trading arrangements with the Soviet bloc collapsed, Mongolia began transitioning to a market-based economy. "Even though I was an engineer by training, I wanted to learn economics," she said. "So, I came to the U.S. for my master's in economics and then switched to finance for my doctorate."
"I love numbers," she said. "I try to use facts, metrics, and data to make decisions that align with the institutional goals and objectives."
2. Dean Otgo has something in common with some of USF's students. "I was an international student," she said. "I'm an immigrant. I know the challenges of being an international student trying to assimilate and trying to fit in, while at the same time trying to keep your own identity and trying to find a support network."
3. She is a rock star in Mongolia. Otgo, the first Mongolian student to earn a doctorate in finance in the United States, is recognized whenever she returns to Mongolia. She also was recognized by two Mongolian waiters in a San Francisco restaurant recently when she went out with her team.
"Mongolia is a small country," she said. "Everyone knows everybody. The news of me coming to USF spread fast."
4. Her advice to students. "Reach out to faculty members in your program and try to build long-term relationships. Make them your personal board of advisers. Their insights and counsel will be extremely valuable as you navigate your educational and professional career."
She has lifelong mentors from each institution she attended. One of her mentors is a former economics professor who taught her during her master's studies at the University of Idaho.
5. Why USF? "When I saw USF's mission-oriented and the values-based culture, I felt like it was a very good fit for me," she said. "I feel more comfortable and confident here as a woman of color."