Campus Life
5 Things to Know About Dean Fry-Bowers
Eileen Fry-Bowers is the new dean of the School of Nursing and Health Professions. Let's get to know her.
Image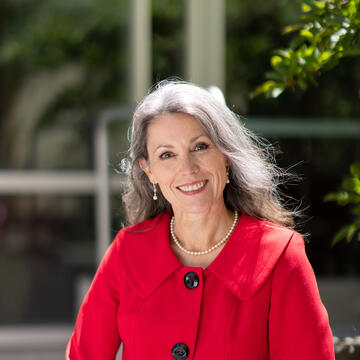 1. Nursing wasn't her first choice. "I changed my major twice in the first two quarters of freshman year." First, there was biomedical science; then there was English (she loves to read and write). She realized she had always been interested in science and helping people.
"My parents tell the story of me using up the toilet paper in the house to bandage up my dolls," said the certified pediatric nurse practitioner, U.S. Navy veteran, and member of the California bar, with experience in law and health policy.
2. Dean Fry-Bowers has something in common with some of USF's students. She is the daughter of an immigrant. Her father immigrated from Ireland, and she and her brother are the first in the family to be born in this country.
"Today many students are immigrating from different countries," she said. "I am part of the immigrant story, too."
3. She has a killer pumpkin cheesecake recipe. In her off hours, Fry-Bowers likes to spend time with her two adult sons and her husband, and she is a sports fan who follows football, hockey, and lacrosse. But baking is her passion.
"Cupcakes are kind of my claim to fame," she said. "And I've had offers of pay to bake the pumpkin cheesecake for people."
4. Her advice to students. Be open, be curious. "I do believe you have to challenge yourself and step out of your comfort zone, because it's only when you step out of your comfort zone do you grow."
5. Why USF? "The primary reason is it's a Jesuit institution. I was raised Irish Catholic and the values really resonate with me. They resonate with me because that's the way I aspire to interact with the world. It fits my belief system. I've been a nurse and a health policy advocate for a really long time. How did I end up there? I ended up in those roles because I really do believe in cura personalis. It's a collective mind, body, spirit, and we're all connected to this planet, to each other."