Campus Life
5 Things to Know About Dean Calhoun
Shawn P. Calhoun '95, EdD '12 is the new university library dean of the Gleeson Library|Geshke Center. Let's get to know him.
Image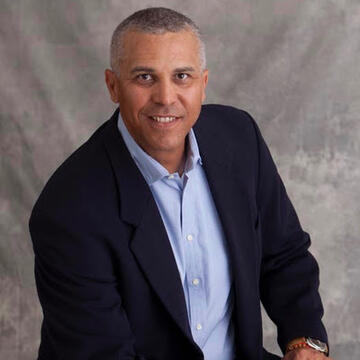 1. He's been in the book industry for more than 30 years. His first job was working in the bookstore at San Francisco State University, where he went to college after relocating from Seattle. (He later transferred to USF.) After graduation, he went to work for a Philadelphia company that made software for bookstores and later worked at the UC Irvine bookstore. He returned to USF to work at Gleeson, first as a facilities coordinator and later as a librarian, after getting a master's degree in library science. He's been at Gleeson for more than 20 years.
2. Dean Calhoun has something in common with some of USF's students. "I worked my way through college, all three degrees, and graduated with significant debt," he said. "When students want to come work in the library, I know what that means for people. I know what it's like to figure it out yourself."
3. He has a vinyl collection with more than 2,100 records. "I'm a big music collector and, of course, being a librarian, I catalog it all." His favorites are '70s soul and funk, and '70s and '80s rock.
"I'm in the process of listening to my records in A-Z order, by genre," he said. "I just finished rock, and I'm now moving into soul. I listen to the entire album, first the A side and then the B side, read the liner notes and sometimes do a little research about the artist along the way."
4. His advice to students. Ask for help. "When I went to USF as an undergrad, it felt like there were like 20 Black students and fewer faculty of color. I know how it's like to feel like you don't belong. It's not always easy to get involved when you don't see a place or where you don't think you'll be welcome. Ask for help and find your community."
5. Why USF? Dean Calhoun believes in Jesuit education. Three generations of his family are Jesuit-educated — his father graduated from Seattle University and his sons graduated from USF and Santa Clara University.
"It's not just a tagline that you can change the world," he said. "It's both an opportunity and a challenge to be a good Don. With great privilege comes great responsibility. USF gives you that opportunity, but also sets that expectation."