Campus Life
New "Academic Village" Provides Housing for USF Grad Students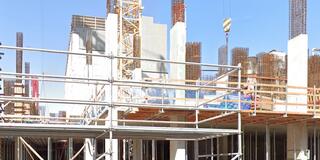 This summer, USF graduate students can apply for new studio apartments in San Francisco with rents starting at $1,850.
It's part of a plan headed by UC College of the Law, San Francisco, formerly UC Hastings, to develop housing in the Tenderloin neighborhood for all students in San Francisco.
USF has been working on the idea for several years with David Seward, chief financial officer of UC Law, said Charles Cross, USF vice president of business and finance.
There will be multiple high-rise housing complexes in the neighborhood near the UC Law campus, on land the University of California owns.
"The students who reside here, regardless of where they are from, will have the run of the campus," Seward told the San Francisco Chronicle. "The academic village is a big-tent approach." 
The first student housing complex of 656 apartments is being completed at 198 McAllister St. UC Law San Francisco is leasing about 230 of the apartments for its students, but the remainder are available to USF graduate students and students from UCSF, UC Berkeley, San Francisco State University, and the University of the Pacific Arthur A. Dugoni School of Dentistry.
"We are going to harness this to provide more options for graduate-level students on our Hilltop and Downtown campuses," said Torry Brouillard-Bruce, senior director of student housing at USF.
USF's Off-Campus Living office is sharing information about the new housing project with students seeking off-campus housing, he said.
Students will make all arrangements with the company managing the facility on McAllister, Brouillard-Bruce added. USF will not be responsible for any housing contracts but will refer students to the rental company.
The new housing complex is one of several options in San Francisco for USF graduate students. Since 2017, the university has operated a residence hall for law students at St. Anne of the Sunset Church and School, about 1.5 miles from campus in the Inner Sunset neighborhood. USF worked with the parish to open two fully renovated floors of a St. Anne's building for exclusive use as USF law student housing, complete with a dedicated entrance.