If You Understand History, You're Able to Make a Better Future
New archive in Gleeson Library documents the Black experience on campus since 1968
Image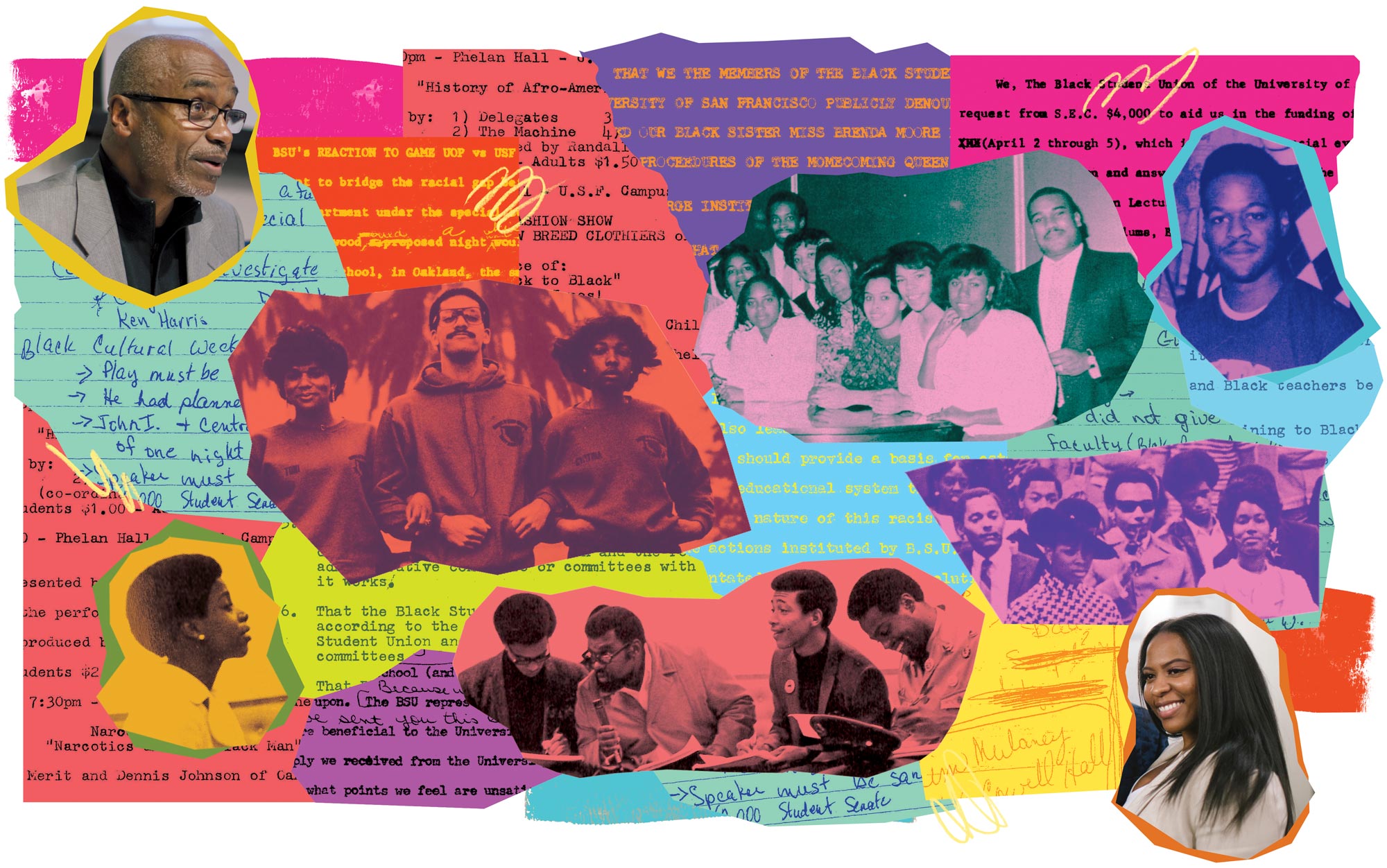 Adrienne Riley '71, MA '74 never thought that the canvas bag of documents she'd held on to for more than five decades would one day make history.
Riley is one of the founders of the Black Student Union (BSU), a student group founded at USF in the aftermath of the 1968 assassination of Martin Luther King Jr. The BSU has long pushed for more diversity and equity at USF, advocating for more recruitment of Black students and faculty and campaigning for a residence hall to be renamed for Burl Toler '52, MA '66, the first Black official in the National Football League.
In 2018, to mark the 50th anniversary of the group's founding, Riley gave a speech about the BSU at USF. Her speech sparked an idea for Shawn P. Calhoun, acting university library dean and a member of the university's Black Community Council.
What if there was an archive in Gleeson Library preserving the BSU's history?
It turned out that Riley, who was secretary of the BSU while she was a student, had saved several documents, including a 1969 list of demands to the university administration. The documents are now stored in the USF Black Student Union Collection, a physical and digital archive created in 2021 and managed by the library. It currently contains 25 documents, including the 1968 organizational plan for the BSU and a petition to rename the gym in honor of Bill Russell '56.
"I hope this archive will encourage people to keep their own little canvas bag of documents that are important to them," Riley says. "It's important to understand history. If you understand history, you'll be able to make a better future."
Here, five members of the USF community share their thoughts on the Black Student Union.
Candice Harrison
Associate Professor of History and Faculty Adviser for the Black Achievement Success and Engagement Initiative
Adrienne Riley and Joe Marshall were trustees when I arrived at USF in 2008. I was having a very challenging time adjusting to USF — part of it was centered on this question around whether or not my new African American History course would become part of the core curriculum offerings or not. Adrienne and Joe really took me under their wing. They reached out to me and supported me through that whole process and, honestly, have supported me ever since.
At some point Adrienne gave me the documents she'd kept from her time at BSU. Seeing the papers, I was struck by the organization and vision of the students some 50 years before. I used to pull the papers out and show them to students I was advising. I wanted to show them the legacy, the footsteps they're following, and to remind them of the kind of determination and activism that is part of their roots.
Those documents, which are now in the archive, are precisely the kinds of documents that fill our souls and have the potential to fill the souls of Black activists for generations to come.
Image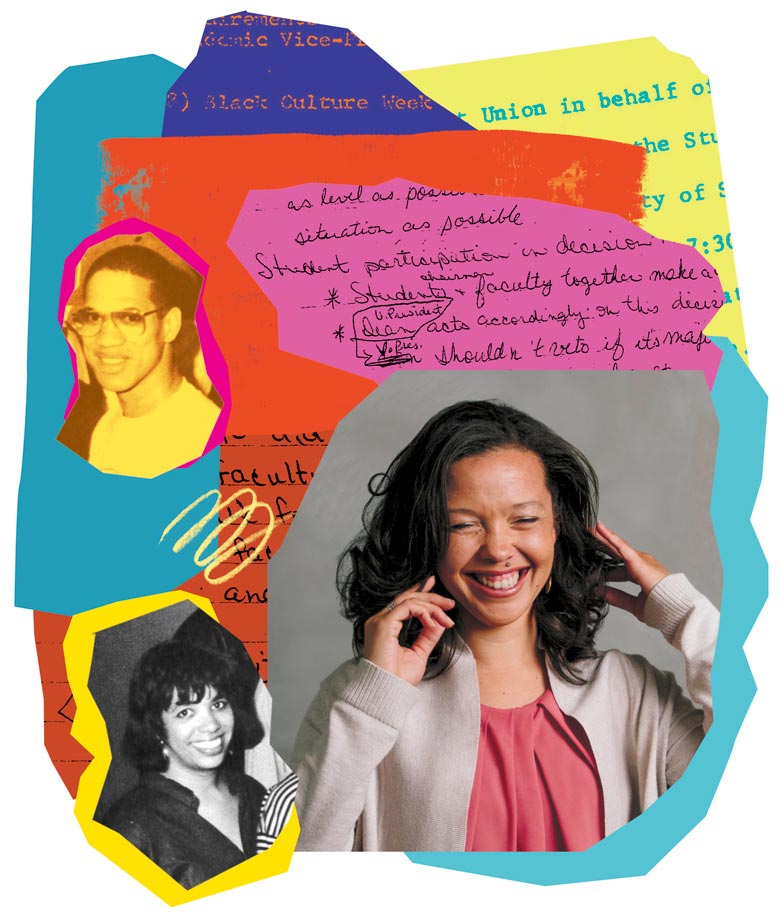 Those documents, which are now in the archive, are precisely the kinds of documents that fill our souls and have the potential to fill the souls of Black activists for generations to come.
My connection to the BSU helped spark the idea that would eventually become the Black Achievement Success and Engagement (BASE) initiative. I saw that BSU student leaders were often the ones who wound up being responsible for issues like Black student retention. They had to exert an incredible amount of energy to do the work that should have been done institutionally. BASE was imagined as a way to take that weight off students. We ought to give Black student activists the freedom and the empowerment to go do other activist work and also to find joy — young people should enjoy a well-rounded college experience.
Margaret Matson Norris '73
Former BSU Member
I was born and raised in San Francisco and completed high school in January of 1970. Had it not been for a scholarship from an anonymous donor — who I later learned was USF physics Professor Robert Thornton — I might never have stepped onto the campus of USF. Thornton, a family acquaintance, had also helped my mother understand the college application process. I had been denied information of the kind by my high school counselor who, despite my honor roll GPA, insisted that I attend community college.
Professor Thornton's guidance was symbolic of the immediate familial experience I would encounter with the BSU and with Black staff upon my acceptance to USF.
We were family then, and today, 50 years later, we still are. I'm glad for the years I spent at USF.
One of the students from the BSU, Valeta (Jenkins) Monroe, introduced herself and in sisterly fashion, said, "Margaret, I want you to come over to my room. I have some books for you." She gave me her philosophy, general psychology, American history and institutions books, and others. For me this was a big deal. A perfect stranger said, "Here, take my books. You don't have to buy books. I want to make sure that you understand who your teachers are, and where your classes are located." She was no longer a stranger. She had become my sister.
Image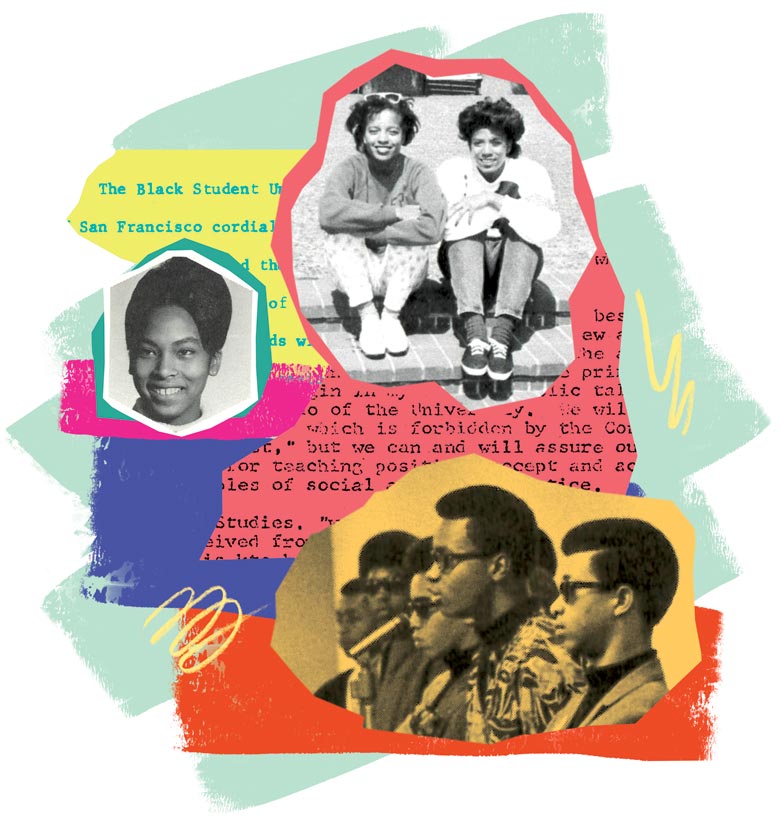 So, too, my professors, Patricia Hill, Lenneal Henderson, Mona Scott, Julia Hare, and Liz Parker, followed the lead of Professor Thornton by guiding, teaching, and reaching out to us. As a group of Black students and staff who loved and supported one another, we were essentially a mini-HBCU (historically black college or university) in a predominantly white institution.
We were family then, and today, 50 years later, we still are. I'm glad for the years I spent at USF.
D'Vine Riley '23
BSU President
I'm the current president of BSU. I'm excited for the development of the BSU archive at Gleeson, and for other opportunities to encapsulate the essence of BSU in an institutional way. So far, the history of BSU has been passed down orally — we have told each other the stories of what it has been like over the years. It will be great for that history to be actually established in the USF tradition, and not just something we uphold as Black students at the university.
As president, I have many goals for the BSU. The university's only full-time Black psychologist has left, and there's a shortage in mental health services in general. We're trying to get representation for the Black community with respect to new hires, and we're demanding that there are multiple Black psychologists available.
Image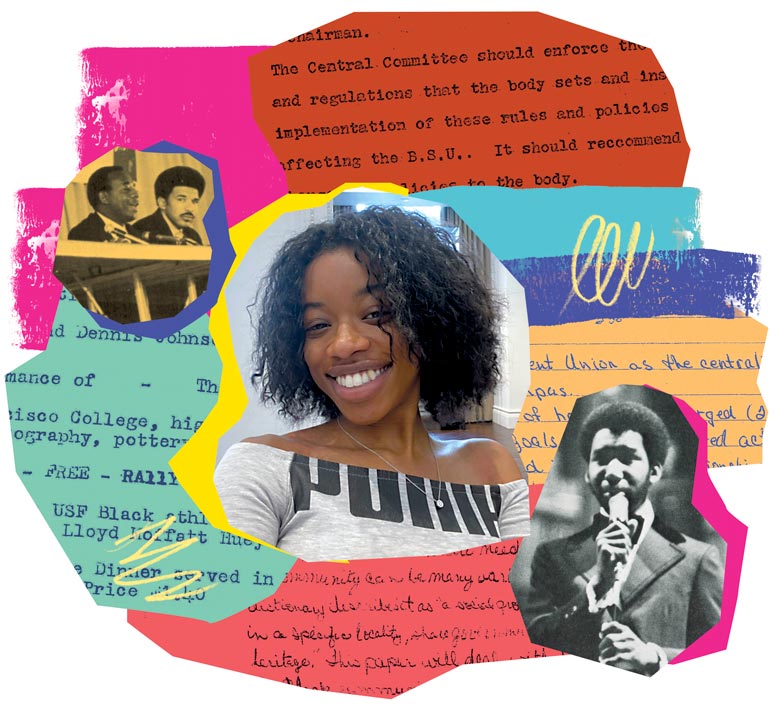 It will be great for that history to be actually established in the USF tradition, and not just something we uphold as Black students at the university.
We're also demanding an exclusively Black space that we have access to all the time. Right now the Black Resource Center is a room in Gleeson Library that's available to us from 10 a.m. to 5 p.m., after which anybody can reserve the room. We want a place that we can gather that is supported full time by the university.
And we're working with Aja Holmes, assistant dean of students and director of community living, to improve training for resident advisers (RAs) with regards to prejudice and bias against residents. We learned there isn't a thorough training for what RAs should do when they come upon situations that exceed their student expertise, and there have been occurrences where residents felt unsafe because of the color of their skin.
I'm proud to be a part of BSU and to help rectify or resolve some problems that USF has had on campus related to the Black community.
Timothy Alan Simon '79
USF Trustee
When I transferred to USF from Santa Clara University in 1976, the university's BSU had become somewhat dormant. So some other students and I decided that we would revive the group. I was fortunate to work with a brilliant group of students — African American and other nationalities. Our BSU (then known as the Society of Black Students) had an international flavor to it. It was during a time of considerable international conflict: We had the wars in southern Africa and the fight against apartheid. The government of Iran was undergoing the Islamic revolution and the overthrow of the Shah Mohammad Reza Pahlavi. We were very focused on both domestic and global justice. We came together as an organization to make direct, real change. Our candidate Aaron Lee was elected the first African American to serve as student body president, and we lobbied to make Herman Cowen the first African American editor of the Foghorn.
I recently became a university trustee. One of my reading assignments when I joined the Board of Trustees was the book Caste by Isabel Wilkerson. When I received that assignment, I knew I'd found a home: This trustee board was willing to address the caste system that exists in the United States, USF, and around the world.
These days I'm "in the room where it happens" — where decisions are made — instead of outside with the picket signs. We need both! I have the privilege of serving as a University of San Francisco trustee, and with that privilege comes obligation. I'm probably more inclined to lean toward the obligation than the privilege. I fear that privilege can blind you from obligation.
Kevin Collymore
Assistant Dean of Retention and Persistence Programs
In 2016 BSU presented a list of demands to the university, calling out the lack of Black students and faculty. Around the same time Candice Harrison, associate professor of history, was having conversations about starting a Black Scholars Program, and also the Black Lives Matter movement was emerging. This combination of three things really gave momentum for USF to say, "All right, we have to do something." This is what led to the creation of BASE, which includes the Black Scholars program, the Marshall-Riley Living-Learning Community, and the Black Resource Center. The first cohort of Black Scholars, who receive four-year scholarships, will be graduating this year.
Image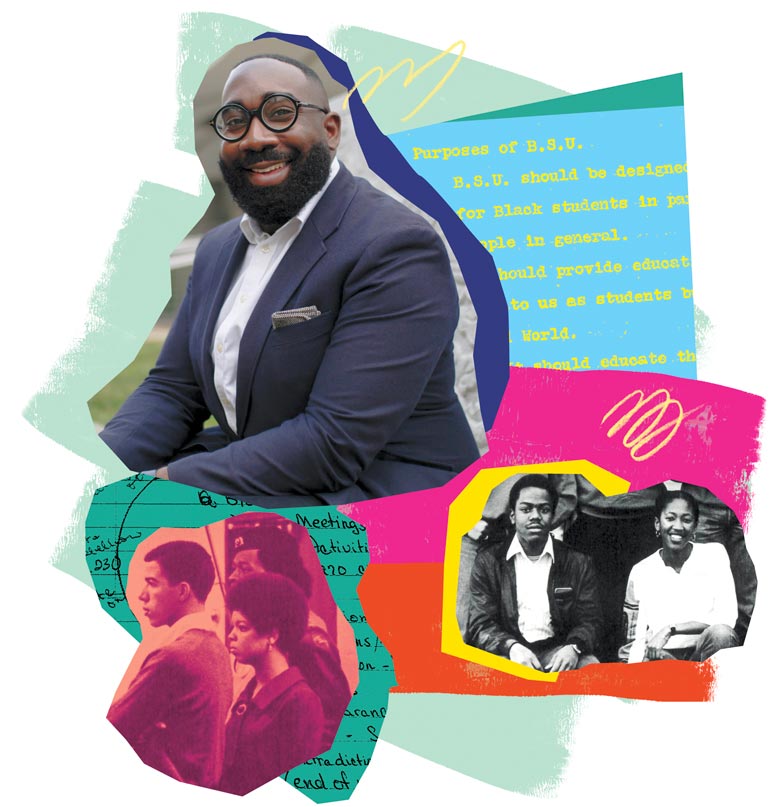 Because BSU has such a rich history, I want to think about how we can bring alumni back in creating an alumni legacy.
I recently started as the assistant dean of retention and persistence programs for BASE and CASA (Center of Academic and Student Achievement). One of the things I've been very conscious about is collaborating with BSU and all the other Black student organizations on campus. My goal is to do a collaborative event each semester, or as much as we can. And a lot of our BASE students are involved in the BSU.
I look to BSU to give me a template, a check on how they're feeling. What are the issues they are working on? What are they experiencing? Based on that, we can decide what kinds of programs, workshops, and initiatives might address those things. I think BSU will forever be a partner to BASE.
Part of my role is also fundraising and building networks. Because BSU has such a rich legacy, I want to think about how we can bring alumni back in creating an alumni legacy — either in serving as role models or by giving to the BASE program to support student scholarships.
---
Gleeson Library would like to expand the BSU collection. If you have documents related to the BSU and its history, please email us.