Jesuits Live the Mission at USF
They serve the community, guide education, and influence everything
"I've realized that quite a lot of my work involves food," Donal Godfrey, S.J. says. On any given day, you might find him at breakfast with students, at lunch with professors, or at supper with the Ignatian Faculty Forum.
But he's not there for the food. He's there for the communion.
Donal Godfrey, the university chaplain and associate director for faculty and staff spirituality at USF, is a Jesuit priest. He and his fellow Jesuits at USF feed the body, mind, and spirit.
Image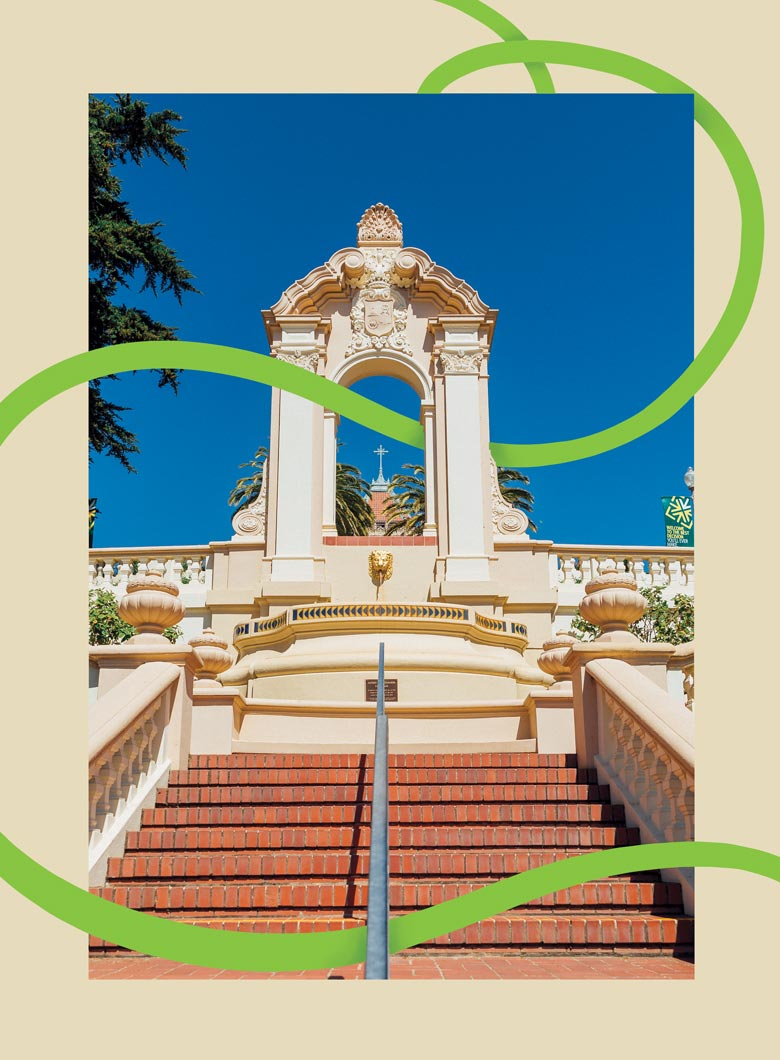 "You walk with others, accompanying them on their path, spiritually, yes, of course, most significantly. But in every other way, too, because spiritual is connected to everything else, too," Fr. Godfrey says. "In terms of the spiritual path, it's not just Catholic, but everybody, including atheists and agnostics."
There are 25 Jesuit priests at USF, including Paul J. Fitzgerald, president of the university. Many Jesuits are graduate students or faculty or staff members, and 20 of them live in Loyola House on campus and minister to the USF community. Others live at Loyola Village Residence Hall or off campus, as the Jesuits' local ministries include serving St. Ignatius Parish on campus, St. Agnes Parish nearby, San Quentin State Prison in Marin, and St. Edward Catholic Church in the East Bay.
Kimberly Rae Connor, a professor of management and the faculty chair for mission integration in the Lane Center for Catholic Social Thought and the Ignatian Tradition, uses Jesuit thought in her classes all the time. In a program called the Management Exercises, she guides School of Management students through a customized version of the Spiritual Exercises developed by Saint Ignatius of Loyola, founder of the Jesuit order.
"I couldn't have done this at any other university," says Connor. "There had to be a school of management that would welcome the addition of this content, to realize that students have to learn to manage their lives, not just their careers."
Ana Karen Barragan, a doctoral candidate in the Catholic Educational Leadership program in the School of Education and a resident minister on campus, says "Jesuit education has taught me that Jesus is still crucified today, and we can see that in so many people who are being oppressed, by both systems and individual people. It is necessary to go out and meet our brothers and sisters at the frontiers who are seeking justice and join them. Faith is not a ritual; it is loving by doing."
Mikail Alejandro, an undergraduate majoring in chemistry and minoring in biology and theology, can already see how his Jesuit education will serve him as he pursues a career in medicine.
Without theology, ethics, and philosophy courses, he says, "where's the seeking and understanding? The development and honing of moral values? This is what humanities courses provide. They are supposed to shape your outlook on life and help shape you as an individual."
Donal Godfrey, S.J.
University chaplain; associate director, faculty and staff spirituality
Image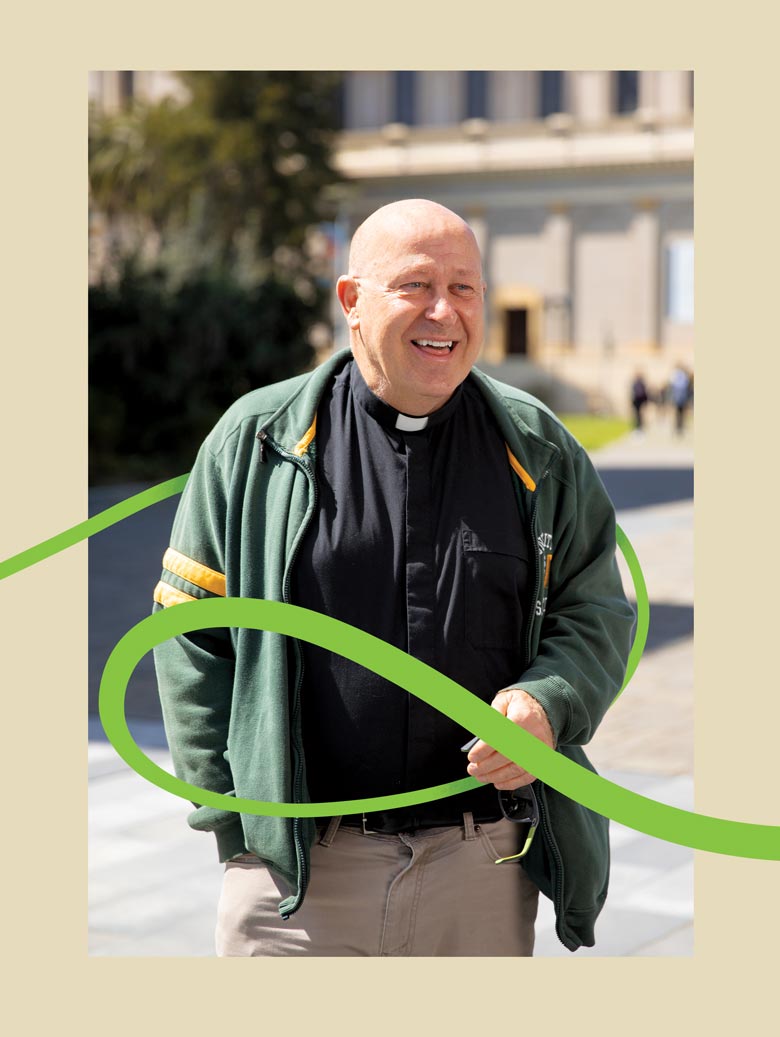 Fr. Godfrey teaches interdisciplinary courses and leads Ignatian spirituality programs for faculty, staff, and students. The special part of these programs, he says, is that "people learn how to practice Ignatian discernment communally, which is a key part of the Ignatian understanding of the world. I hope for the ability to do that in a way that doesn't diminish anyone but references each person in their own path and makes them feel welcomed."
The author of the book Gays and Grays: The Story of the Gay Community at Most Holy Redeemer Catholic Church, Fr. Godfrey has researched and written extensively about LGBTQ+ Catholics. "Part of my calling from God is to try to create space for people with very different perspectives and understandings, where people are non-judgmental," he says. "I think dialogue is the way forward."
Gerdenio "Sonny" Manuel, S.J.
Professor emeritus of psychology; psychologist, South of Market Health Center
Image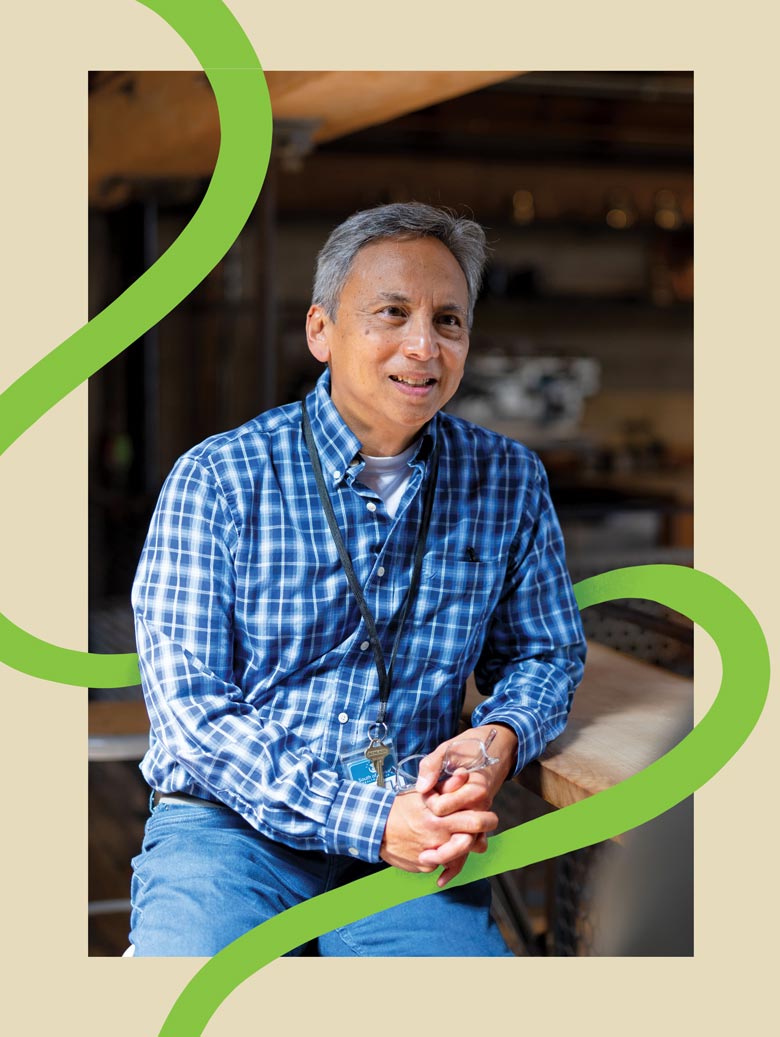 Fr. Manuel is a practicing psychologist and the former director of USF's St. Ignatius Institute, a living-learning community in which, he says, "the hope was that students would take the values that they experienced in the institute out into the world, wherever they served." While he was a psychology professor, Fr. Manuel worked with USF graduate students volunteering at St. Anthony's Medical Clinic and the Fr. Alfred Center, a residential addiction treatment center. Today he sees patients at the South of Market Health Center.
Though trained in theology as part of his Jesuit formation, Fr. Manuel taught outside of the theology department. He says his colleagues in the psychology program were "were very open to the Jesuit mission and very much contributed to it. The psych department is especially known for diversity and inclusion, for serving underserved populations in practicum opportunities. Our department really did embody the Jesuit mission and identity."
Matthew Motyka, S.J.
Associate professor of languages, literatures, and cultures; program coordinator, French studies
Image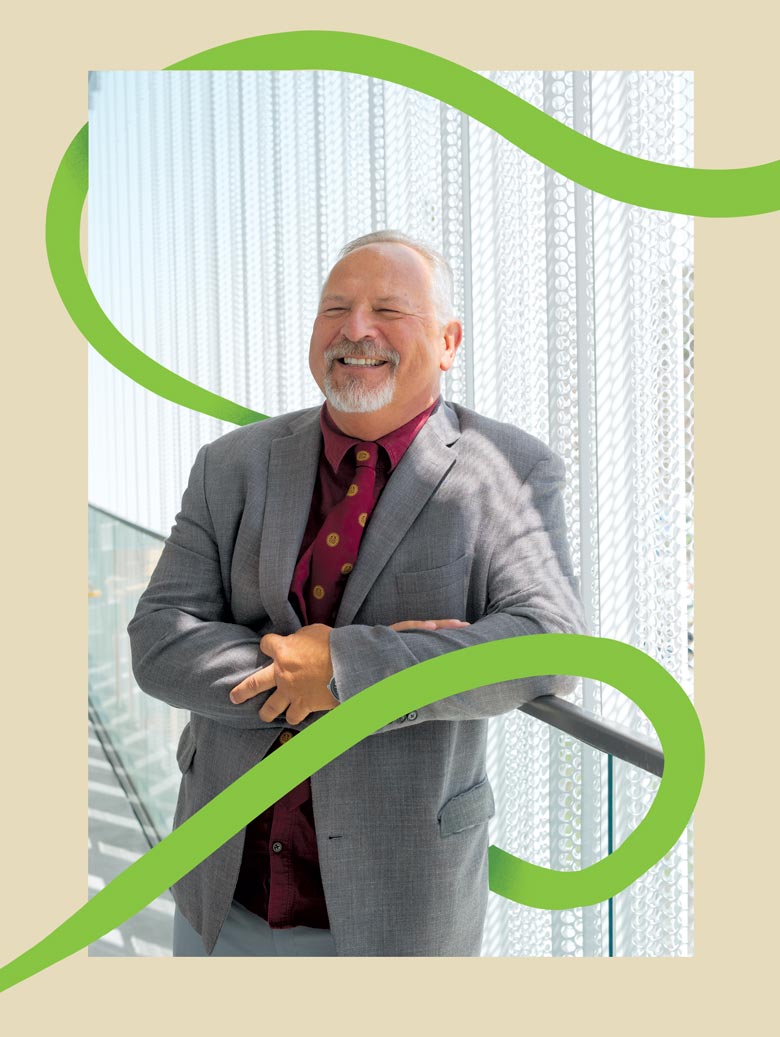 Fr. Motyka has been at USF since 2010. He teaches French and Italian language and literature courses, focusing his research on foreign language pedagogy as a theological reflection on the world's diversity.
"There is something in the DNA at USF that retains the original charisma of the Jesuit institution," he says. "When we hire faculty, we pick the best specialists and open-minded people who are receptive to the mission of the university. From the president's office to the classrooms, Jesuits and lay colleagues work to recast their teaching closely to the foundational mission of the university."
Fr. Motyka has seen the evidence of success in these efforts. "One father of a student told me, 'I can tell you that we are bringing back home a much better person, thanks to you.'"
Joseph Nguyen, S.J.
Assistant professor of systematic theology and Christian spirituality; Lo Schiavo Chair in Catholic Social Thought of the Lane Center for Catholic Social Thought and the Ignatian Tradition
Image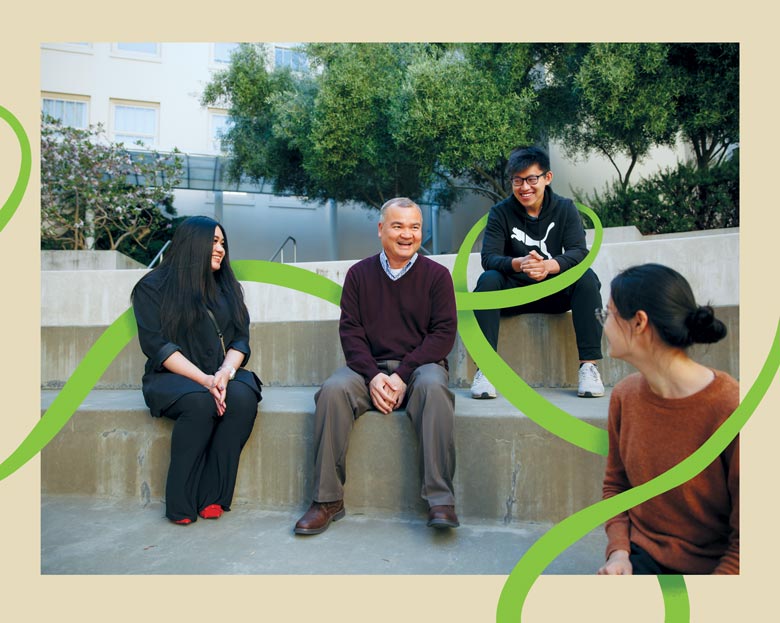 To Fr. Nguyen, teaching students means helping souls, an approach inspired by St. Ignatius himself.
"Ignatius didn't mean just the religious soul. For him the term soul really meant intellect, emotion, senses, memory, imagination, and will. And he helped people to be more confident, self-reliant, and to trust themselves more," says Fr. Nguyen, who was born in Vietnam and moved to the U.S. with his family in 1990.
"That concept really informs our understanding of education at USF. Each person is a soul, so we are teaching not just academic concepts. We train students in the intellectual life, but also the moral life, spiritual life, emotional life — all aspects of what it means to be a person."