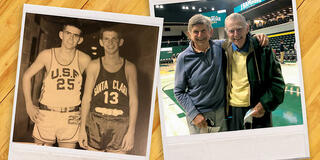 Undergraduate
'50s | '60s | '70s | '80s | '90s | '00s | '10s | '20s | Graduate | In Memoriam
'59
Robert James Ferrera EDD is a professor at Notre Dame De Namur University in Belmont, California.
Jerome P. Finnigan writes, "My wife, Jo Ann, and I returned July 5–7 to Evergreen Lodge (near Camp Mather, California) where we first met and eloped in 1961, for our 60th anniversary. We were joined by our three children and five of our six grandchildren. Our actual anniversary is August 27, but the grandkids are all educators and wouldn't have been available."
---
Image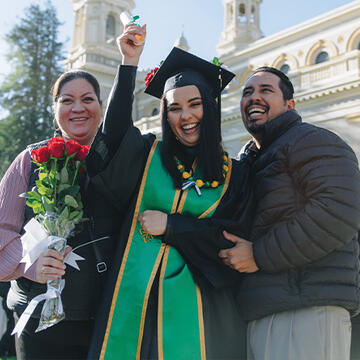 @USFCA: "Thank you to Carol Graham, professor of accounting. She helped me with my resume, cover letters, and interviews. I have a job lined up in October. And thank you to my parents. As a first-generation student it feels amazing that they can celebrate graduation vicariously through me. And I'm an example to my three siblings who are following in my footsteps."
---
'66
Douglas A. Sears JD retired in July 2021 after practicing law in Sacramento for 50 years.
'67
Michael G. Borelli writes, "After 15 years I am still enjoying retirement! After 47 years as an RN, my amazing wife (and best friend) Meg will be retiring in the fall. At the end of February, we will be taking our children and grandchildren to Kauai for a family vacation. We have been blessed in so many ways."
'69
Nancy H. Edwards is an adjunct faculty member at State College of Florida Manatee-Sarasota.
Michael J. Krentz MA '95, a physician and health care consultant, has published his second novel, Angels Falling, a neo-Gothic psychological thriller with religious and cult themes. His first novel, Dead Already, is a medical and legal thriller derived from his experience as an emergency physician. He credits his studies at USF as a major influence on his love of writing.
Virginia Nicolai Wallace is a community volunteer at St. Joseph's Medical Center in Stockton, California.
'71
Antonio Alvarez-Urriola is retired from his position as regional manager for the Administracion de Seguro Social in Panama. He is interested in connecting with his USF classmates.
'72
Cox Ferrall MBA '74 "After a glorious career as a management consultant, I have been retired for about six years and enjoying it immensely!"
Al Raddi published April 1945 in Patriotic Covers, a collection of mailing envelopes printed with patriotic messages during April 1945 when the U.S. Army was closing in on Nazi Germany. The book includes designs postmarked on every day of that month and represents artists both widely known and relatively obscure.
Linda Hidy Wyner JD '94 writes that she "sold Pans on Fire (Pleasanton, California) in January 2020 and relocated to Tucson, Arizona, where I founded Southern Arizona Gourmet Experiences (SAGE), a new venture focused on private cooking events, parties, and classes." Linda continues to occasionally blog at FoodByways.com.
'73
Jesus F. Ruiz Torres is director and general manager of Automotriz in Sinaloa, Mexico. He writes, "I have 40 years living in Guasave, Sinaloa, Mexico. If you have a vacation in Sinaloa, I will be glad to see you. USF was a real good education, and San Francisco is my city."
'74
Robern Kenneth Closson MBA '94 is president of the Closson Group, based in Sacramento, and he advocates on behalf of special needs students throughout California, Nevada, and Oregon.
The Rev. Canon Debra Low-Skinner MS '91 was appointed in the Episcopal Church to serve as the Diocese of California's permanent canon to the ordinary in October 2021. A resident of the San Francisco Bay Area, she represents the bishop, serves as secondary diocesan spokesperson, and oversees diocesan work related to congregational development and vitality for the missions and parishes of the diocese.
'76
Bruce Barton has written a book, Breaking the Boundaries of Impairment, about his life's successes while living with albinism and low vision.
Randal M. Stewart MA '93 is an interventionist with the Independent School District in Alief, Texas.
'77
Kevin R. Olover MA '91 is vice principal and a first-grade teacher at Saint Charles School in San Carlos, California.
---
VICTORIA YVONNE MARTINEZ '06 #USFCAALUMNI
Image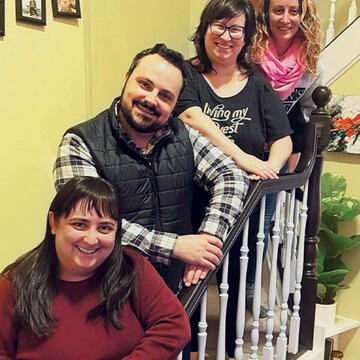 @victoriayvonnemartinez: "Reunion with some of the best people in my life. #GoDons"
---
'78
Louis G. Ugarte is president of Van Transport Company Incorporated in Manila, Philippines.
Autumn M. Wagner MBA '83 writes, "It's been a year of change for me. I sold my home in Lucas Valley, San Rafael, and moved to Washington state's Kitsap Peninsula, to Port Orchard, near Bremerton, an easy car or ferry to Tacoma, Seattle, and the whole Puget Sound. I am still working and aim to retire in a couple of years. In my spare time, I am finishing up my debut novel. I have a grown daughter who recently relocated to New Jersey."
Robin Williams-Rositani, of Sacramento, retired after 35 years as a nurse with Kaiser Permanente, working in home health and hospice. She now focuses on social justice activism and attending more San Francisco Giants games.
'80
Dwight D. Williams MS '88 is retired from the Turlock Irrigation District in Turlock, California, as division manager of the electronics division.
'81
Mark P. Schreiber JD '84 is chair and managing partner of Cooper, White & Cooper in San Francisco and Walnut Creek.
Barbara Elaine Small JD '86 is owner of Cal Trust and Estate Law in Los Altos and Santa Cruz, California, where she works as a trust and estates lawyer.
'82
Matthew D. Koch is an executive director at Morgan Stanley in Sydney, Australia.
'83
Alan Harry Garcia MBA '90 is senior director of customer acquisition at NW Natural, an energy company based in Portland, Oregon.
Gonzalo Rafael Torres '88 is senior director of legal and commercial transactions at Equinix Inc. in Redwood City, California, where he cofounded and leads Equinix GenteConnect, an employee resource group that encourages, develops, and advances the talents of all Latino and Hispanic employees.
'84
Mike Ruyle has coauthored a book, The School Wellness Wheel, a framework to address trauma, culture, and mastery to raise student achievement.
'86
Kevin B. Evans MBA '88 is senior software developer with Rainmaker Systems in Campbell, California.
'87
Dana L. Ciraula is vice president of strategic partnerships for One World Play Project and writes, "I would love to be part of any seminars or events that focus on what successful folks with law degrees do besides practice law!"
Teke Kelley JD '90, a partner and founder of Gordon-Creed Kelley Holl & Sugarman LLP in Oakland, California, writes, "I have recently become the chair of the national board of directors of Summer Search. The mission of Summer Search is to help low-income teenagers transform what they believe is possible for themselves and develop the skills they need to become college-educated leaders who give back to their families and communities."
---
Image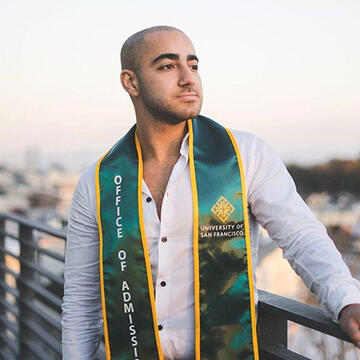 @jacob.sidaros: "Thankful for all the memories and friends I have made during my time here! It's been a great 3.5 years, but I am ready for the next chapter of my life. Thank you everyone for the support and love showed to me over the past years!"
---
'88
Leilani Gayles MS '02, joined Redwood City, California's Impossible Foods as chief people officer, overseeing talent acquisition; compensation and rewards; talent and leadership development; diversity, equity, and inclusion; and strategic people initiatives. She takes on the new role after a decade at the San Francisco Giants, where she served as senior vice president and chief people officer.
'90
Seiichi Takeuchi is a manager at the investment firm SegueGroup Co., Ltd. In Tokyo.
'91
Gary Jemal Anderson JD '95 is assistant city attorney for the city of Long Beach, California.
E. Michael Chelsky MA '09 is a digital media teacher at Independence High School in the San Francisco Unified School District.
'93
Maury McFadden MPA '98 is a senior commercial and residential broker at Starboard TCN Worldwide in San Francisco.
'94
Anne Kiyomi Sakamoto is marketing manager for development engineering at Sun Microsystems in Menlo Park, California.
'95
Karina L. Inga-Kamienski MBA '99, senior director of capital markets at Gilead Sciences in Foster City, California, writes, "USF provided me with a strong foundation that has led me to always aim high while staying true to my values and to who I am."
'97
Barbara Anita Harris MPA '08, MA '09 works in instruction support for the Oakland Unified School District.
William M. Hilow is a biomedical engineer with the U.S. Department of Veterans Affairs. He writes, "I was fortunate to find steady employment after graduation. Life in San Francisco has been challenging, but through all the trials I have prospered. Jesus is with me every day."
Mhare Ohan Mouradian is a law partner at Husch Blackwell LLP in Kansas City, Missouri.
'98
Yuo Chin Lin is a loan processor for City Mutual Financial in New York.
'00
Thomas Becker, senior clinical supervisor of the University Network for Human Rights, has co-authored the Book Coup: A Story of Violence and Resistance in Bolivia.
Rebecca Hoyes JD '06 is a shareholder in the Polsinelli law firm in San Francisco. She focuses on health care litigation.
'02
Jason Elliott Fellner JD '06 has opened a law firm, Millstein Fellner LLP, in San Francisco.
Daniel S. Sharp is an associate on the litigation team at Jordan Ramis PC in Portland, Oregon.
'03
Timothy L. Reed is office managing partner for FordHarrison LLP in San Francisco and was featured by the Profiles in Diversity Journal in its 2021 Black Leaders Worth Watching issue.
'04
Iris M. Jacinto works in development and marketing for Morgan Lewis & Bockius LLP in the Bay Area.
'05
Victoria I. Andujar is director of rentals for the San Diego Symphony.
---
Image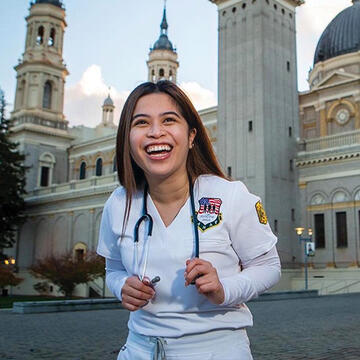 @ricabaccay: "All smiles because I'm done with nursing school!"
---
'06
Lindsay E. Ingham JD '11 cofounded the law firm McFadden, Ingham and Ohmart, LLP, based in Sacramento, to conduct impartial workplace and campus investigations throughout California.
Jennifer K. Dingeldein MNA '09 is director of development and philanthropy programs at the University of California, Davis.
'07
Robin D. Wilkey Gregory is director of communications for Sierra Nevada Brewing Co. in Chico, California.
Zachary J. Maxey is a flight attendant with Delta Air Lines.
Jennifer Moshman O'Connell is a physician with Providence Newberg Medical Center in Newberg, Oregon, after graduating from an internal medicine residency in June 2021 at the University of Nevada. She and her husband, Nathan, have two sons, one 2 years old and one 4 months old.
Kathryn Ann Williams is CEO and cofounder of Rapha Science, based in Cleveland, Ohio, which provides technology, innovation, and research and development services.
'08
Nicole Elliott is director of the California Department of Cannabis Control, after serving as the director of the San Francisco Office of Cannabis from 2017 until 2019.
Cheryl F. Lewis-Mouzon is a senior human resources manager with Tides Foundation in San Francisco.
'09
Erin N. Holliday is global enterprise marketing manager for Cisco Systems in San Francisco.
Maura B. Kelly, a film and TV producer, married José Barcelona on Oct. 3, 2021 in San Clemente, California. They were joined by fellow alumni Liz Carroll '09, Lulu McAllister Churchill '08, and best man Fernando Barcelona '05.
'10
Lina I. Calderon-Morin is deputy director of the Southern California College Access Network.
Sean K. Mahoney is director at MFS Investment Management in Spokane, Washington.
'11
Antony D. Erlec is a realtor with Compass Real Estate in San Francisco.
Shauna R. Madison JD '14 is managing partner at Medina Orthwein, LLP in Oakland, and was selected for inclusion in the Top 40 Under 40 Black Lawyers in California by The National Black Lawyers network.
Jake E. Nagasawa completed a PhD in religious studies at the University of California, Santa Barbara in September 2021. He is a postdoctoral fellow at Macalester College in Saint Paul, Minnesota.
Gillian Marie Rose is director of alumni relations at the Francis Parker School in San Diego.
'12
Robert Thomas Curl writes, "On my 46th birthday, I began a position as a deputy public defender in Blaine County, Idaho (Sun Valley/Ketchum). It's a dream to live and work in such a beautiful place."
'13
Fina Esmeralda Mora is strategic partnership manager for Kidango, an education nonprofit in Fremont, California.
Emily Katherine Tavcar is a research manager for Deerfield Institute, a health care market research company based in New York.
'14
Julieta Prado is chief nurse for the U.S. Army at the Vilseck Army Health Clinic in Vilseck, Germany.
'15
Kelsey Hannah Magana MA '16 is a teacher at Redding Elementary School in the San Francisco Unified School District.
Angela Kylee Van MS is regional vice president at Equitable Distributors Insurance Agency for California, Hawaii, and Alaska.
'16
Chloe Reid Campbell is coordinator of exhibition operations for the Water Environment Federation, based in Alexandria, Virginia.
Nathalie Lissett Moreira-Ramirez, assistant director of undergraduate admission and recruitment at USF, writes, "One step closer to becoming a double Don! I will be pursuing my doctorate of education (EdD) in organization and leadership!"
Kai Alexander Thompson, a management analyst with the U.S. Environmental Protection Agency, will serve overseas communities without leaving the U.S. as one of the first-ever Peace Corps' virtual volunteers.
---
Image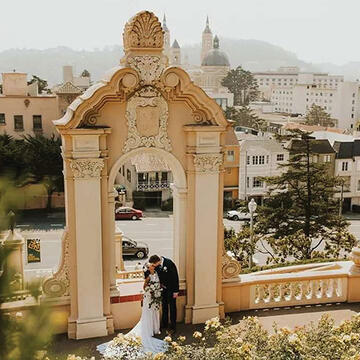 @parisbwrites: "From 2013 alumni to married woman — @usfca has a place in my heart."
---
'17
Vanessa Chen, a photographer and illustrator, opened an online greeting card and print shop during the pandemic, offering handpainted cards with handwritten messages.
Kelsey Breanna Green is a registered nurse working for the California Pacific Medical Center in San Francisco.
'18
Andy Chan writes, "After completing a master's in social work at California State University, Long Beach, I'm leaving USF after working with Educational Technology Services for the last three years, where I've helped prepare faculty to teach virtually throughout the COVID-19 pandemic. I'm starting a new role as a learning and development facilitator with Think Together, an education nonprofit based in Orange County, California."
Elise Tanyag, a vocal coach at Songbird Studios in San Francisco, writes, "Shortly after the shootings in Atlanta in March 2021, I co-founded an organization called AZN Coffee Co. that seeks to uplift and elevate Asian voices in the specialty coffee community. We educate coffee consumers about Asian-grown coffee and common misconceptions surrounding it."
'19
Nyla Noel Leonardi is a medical student at Wayne State University in Detroit, Michigan.
Veronica Lobkina writes, "Shortly after graduating, I joined Vanguard Properties as a realtor. I love helping buyers find their dream home, and sellers make the most of their investment. My primary focus is San Francisco but I grew up in Contra Costa County, so I know that area as well. I started my career right before the COVID-19 pandemic began, and I've learned the values of patience and perseverance."
'20
Ari J. Heinemann is enrolled in an MBA program with a concentration in entrepreneurship and international management while working full time as an analyst at a Bay Area venture capital firm, Alamo Equities. There, he works to secure funding for an ongoing private fund with three tech companies.
Francis Robert S. Lee is a business development representative for Zendesk, based in San Francisco.
'21
Jennifer Sarkany MSN '21 is a staff nurse at Kaiser Permanente in San Francisco.
Ethan S. Tan is a legislative research analyst at the U.S. Department of Defense in Washington, D.C.
Graduate
'70s | '80s | '90s | '00s | '10s | '20s
'75
Clifford J. Picard LLM, of San Francisco, is self-employed as a tax law attorney.
'78
Dexter A. Lee JD is a United States attorney in Miami, Florida.
'83
Evelyn LaTorre EdD was awarded the 2021 Moritz Thomsen Peace Corps Experience Award for her memoir Between Inca Walls: A Peace Corps Memoir. Her second memoir, Love in Any Language: A Memoir of a Cross-Cultural Marriage, was published in September 2021. She is retired from 32 years as a school psychologist and a special education administrator.
'89
Mark Hurtubise EdD had a short story included in "The 50-Word Stories of 2021" anthology.
'91
Kristine M. Cirby JD, a self-employed lawyer in Larkspur, California, received the Marin Trial Lawyers Association's 2021 President's Award for her career-long commitment to assisting families and children in need of critical legal services.
'93
Charles Anthony Christofilis MBA is general counsel and chief compliance officer at CoinZoom, based in Holladay, Utah.
Harry T. Tagomori EdD, University of Hawaii lecturer, writes, "Although I received my doctorate from the USF School of Education in 1993 my doctoral research is still alive and well."
'96
Paul W. Hamann MNA wrote "One Man's Mission to Provide Housing and Human Connection" for U.S. Catholic in October 2021, about his work as president and CEO of  The Night Ministry in Chicago, with which he has worked for 19 years. In 2012, the Obama administration honored him as a champion of change in the fight against youth and family homelessness.
---
Image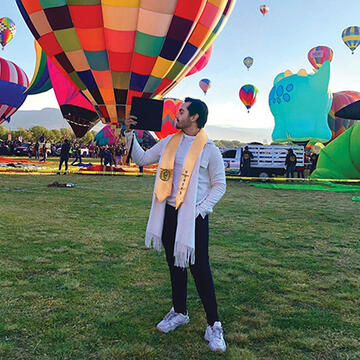 @bryanmunguiardz: "Life Update: Six months ago, in May 2021, I graduated from the University of San Francisco (@usfca) with a Bachelor of Arts in architecture. Although my academic experience at USF was affected by the coronavirus pandemic, I will always be grateful for the long-lasting friendships I made and the memories that I now carry with me. After graduating, as global restrictions started to ease, I decided to do what I love most: to travel. However, the most important thing to highlight is that during that time, I also started my own wedding planning business in Mexico!"
---
'97
Lisa Rehburg MA writes, "I have been in the insurance industry for over 30 years. I started my own company, Rehburg Life Insurance Settlements, several years back." Her firm is based in the Los Angeles area.
Diana Marie Robinson MBA is founder of Restorative Wisdom where she combines her experience as a chief executive officer, board director, venture investor, and consultant with her expertise in integrative health and spiritual well-being.
'00
Trishanne B. Lininger MA is executive director and clinical supervisor at Counseling Solutions in Chico, California.
Cynthia Marie Strickland MA is founder of C&S Consulting in Atlanta, Georgia.
'03
Leanne Chapman MA writes, "As a graduate of the master's in education program, I spent 20-plus years in education, with my last assignment as an instructional reform facilitator in the San Francisco Unified School District. I worked with teachers at low-performing schools in San Francisco, and I worked for an assistant superintendent for two years." She is now retired.
Elinor Leary JD is trial team leader for The Veen Firm, PC in San Francisco. She joined Daniel Mulhall, the ambassador of Ireland to the United States, in hosting members of the Irish Legal 100 (an annual list of legal professionals with Irish roots) to recognize the contributions that Irish immigrants and their descendants have made to the legal profession in the U.S.
Courtney D. Riddle MS is a government affairs manager in the environmental services department for the city of San Jose, California.
'05
Sriya Chakravarti MBA, EdD '11 was given India's Dr. B.R. Ambedkar National Award in 2021 for her contribution to the field of international education. She has worked on educational projects for the United Nations and has researched, developed, taught, and led educational initiatives in the U.S., United Arab Emirates, United Kingdom, India, Germany, Malaysia, Mexico, Thailand, Vietnam, Laos, and Cambodia.
Lena Tran EdD became the president of Columbia College in Sonora, California, in March. Tran most recently served as vice president of strategic partnerships and workforce innovation at San Jose City College for four years.
'06
Karlene Navarro JD was appointed as a judge to the Sonoma County Superior Court, where she will join her husband, The Hon. Christopher Honigsberg '05, who is also a judge on the Sonoma County Superior Court.
'07
Amanda Christoff is founder and CEO of a San Francisco recruiting firm, Bloom Talent, that is run by women.
H. Glenn Kim JD has been appointed as a judge to the Contra Costa Superior Court. He was with the Alameda County District Attorney's Office since 2011.
'08
Sarah L. Poletto MNA is co-executive director of the Blue Rose Foundation in Glen Ellen, California.
'10
Cynthia L. Fong MSN is a school nurse with the Oakland Unified School District.'11
Eli J. Flushman JD is a partner at Burke, Williams & Sorensen, LLP, in the Bay Area. He served as deputy city attorney for the city of Vallejo before joining the firm.
'12
Johnson LaVoria Chandler EdD is an independent contractor with the Robert Half management consulting company in Menlo Park, California.
'13
Diane BaoLinh Ngo MPA is program manager of space and research infrastructure for the surgery department at UCSF.
'14
Brian Rodney Littlejohn MSis founder of Sherwood Wealth Management in Glenwood Springs, Colorado, where he is a fiduciary financial adviser who specializes in inherited wealth.
'15
Joel E. Keylon MA writes, "I'm starting a new job at Crypto.com to help lead their sponsorship activation initiatives throughout North America."
---
Image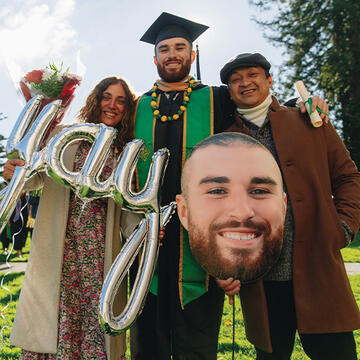 @browtowski: "Thanks to my mom, and to my father who passed away a few years ago. Special thank you to the late John Durham, professor of marketing. He chose me to be an intern at his branding agency, Catalyst SF. His support and his contacts put me on a path to a career here in the Bay Area."
---
'16
Kristel E. Blanchard MA writes, "When I graduated from USF with my master's in counseling psychology, it felt like the road to licensure as an MFT would never end. I'm happy to say that I am now double licensed as both a marriage and family therapist and a professional clinical counselor. My current passion is helping people overcome their anxiety."
Kenyon M. DeVault MNA is deputy director of Summer Search in San Francisco.
Anuj Gupta MBA is principal program manager for Genentech in South San Francisco.
Laura Maria Holford MSN launched QueensCare to build reflective spaces for women in health care.
Maya Kazuko Kageyama MPH is director of Third Plateau, a social impact strategy firm based in Berkeley, California.
Lissette Aurora Lizarraga MA is a project manager at Airbnb in San Francisco.
Katy Tang JD, a San Francisco supervisor from 2013–2019 representing District 4, became executive director of the city's Office of Small Business in January after the office's longtime leader, Regina Dick-Endrizzi, retired.
'17
Daisy De La Torre, a labor nurse at Glendale Memorial Hospital in Southern California, was honored for her work with new mothers and newborns during the early days of the pandemic, as well as for her work to organize donations of PPE from local businesses near where she works in Glendale. De La Torre was named by Congressman Adam Schiff as one of the 2020 women of the year in his congressional district.
Nandi M. Peterson MPH is a laboratory communications specialist with the California Department of Public Health in the Bay Area.
'18
Rose A. Heredia MFA is a recruiting assistant and freelance writer for Earthjustice in San Francisco.
Pathkonn Banang Kombate MS is an economist at MVM Inc. in Washington, D.C., and CEO of Awoode, a clothing brand that celebrates African pride.
Nannaphas Rungrueng MA is program associate at the Aspen Institute, a nonprofit organization based in Washington, D.C.
Derrick Allan Sanchez MA writes, "I was recently promoted to senior manager, digital marketing for the San Francisco 49ers. I started with the 49ers in 2017 and have elevated from email marketing coordinator to email marketing manager. I'm responsible for email marketing and mobile app strategy for the organization and Levi's Stadium.
'19
Jamie Lynn Wallen MA is academic director at NorthStar Education Partners based in Decatur, Georgia.
Aleeya Rae Wilson MFA works in client services at Fidelity Investments in Greenwood Village, Colorado.
'20
Bin Chen MS is founder of Foodee Burger, a restaurant in San Francisco.
'21
Ayush Arora MS is a data engineer at LiveRamp in San Francisco.
Claudia Patricia Flautero PSM is a production specialist with PACT Pharma Inc., based in South San Francisco.
Michael Lopez MFA is an English and humanities teacher at Headlands Preparatory School in Sausalito.
Somuadina C. Ojeh MPH is a program manager at Blue Shield of California in Sacramento.