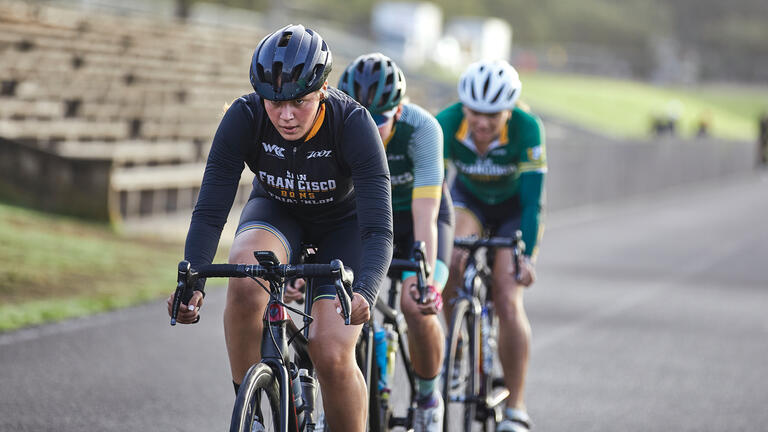 It Takes a Team
USF triathletes use Jesuit values to win
In the final stage of the women's triathlon national championships in Tempe, Arizona, last fall, Kira Gupta-Baltazar '24 was leading — but she was also hurting.
"The pain that you feel on the run is lots and lots of fatigue built up in the legs mixed with a very high heart rate," she says. "Basically, your entire body is burning by the time you get to the last kilometer. Throwing up is common but I usually don't have the energy to do that. You just keep going. I wasn't racing for myself. I was racing for my team."
Gupta-Baltazar held on to win the individual national championship, crossing the finish line in one hour, four minutes, 20 seconds. Teammates Gillian Cridge '24 and Molly Elliott '24 finished third and fourth. Team USF, with its finish of second in the nation, shows that Jesuit values have a place in sports.
All for One
The road to victory started in 2019 when Coach Gina Kehr launched the USF women's triathlon program with three student-athletes. Kehr says she attracted them to the Hilltop with the beauty of San Francisco, with small classes, and with her culture of camaraderie.
"My vision from the start has been to put the team first," says Kehr. "I truly believe the body can perform at its highest level when we are operating from a place other than ourselves."
Image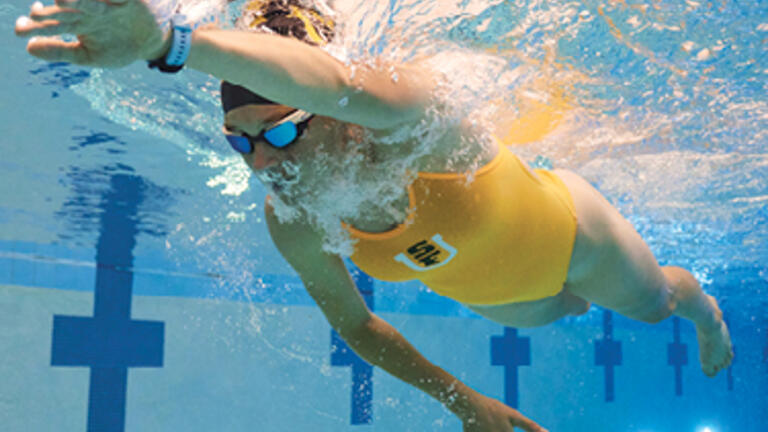 Kehr speaks from experience. She swam at Cal Poly San Luis Obispo. She was a professional triathlete from 1998 until 2009. She coached club triathlon at Stanford for 10 years.
"Competing for something other than yourself opens up the limits you set on yourself," she says. "The ladies proved it at nationals when each one had her best performance."
One for All
Behind every victory lies a lot of training. One morning, 10 women on bicycles meet in the fog outside War Memorial Gym. On the schedule today: the Marin Headlands. Ride west, turn north through the Presidio, cross the Golden Gate Bridge, and then climb Hawk Hill — 600 vertical feet in 1.7 miles. At the summit above the bridge, turn around. Fly down Hawk Hill. Climb it again. And then again.
This is life for the student-athletes on the USF women's triathlon team. During the collegiate season that runs from August through November, they train 14 to 20 hours a week. Swim, ride, run. The ratio of time spent training to time spent on school: about 1 to 1.6. The ratio of time spent training to time spent competing: about 60 to 1.
"My favorite thing about triathlon is that training never gets boring," says Elliott. "You always have something different to do with swimming, biking, or running. As just a swimmer, cyclist, or runner it isn't as fun."
Cridge says that in training, the team makes all the difference. "Swimming is a weakness for me, but Kira and Molly are both phenomenal swimmers, so having them next to me in the pool and seeing them really pushes me to stay at a consistent interval or hit times that I know I would not be able to hit if I were training by myself. When you have a group of people doing it, it almost calms you. If they can do it, I can do it."
The team typically has four or five swims a week, plus three long rides and three long runs, says Gupta-Baltazar.
"Daily it'll be swim, bike, run, and sometimes there's a fourth element with strength training. We put our literal blood, sweat, and tears into training."
Blood?
"There was one time we had a little bike pile-up on the bridge," says Elliott. "We ended up all on top of each other. So yeah, literal blood."
"There was a family of tourists on the bridge taking up the whole path," says Cridge. "We yelled at them like 'on your left' and they wouldn't move, so it was either we run into them or slam on our brakes and run into each other."
When the student-athletes go on a training ride, they sometimes ride in a pack within 18 inches of one another. The riders at the front of the pack bear the brunt of the wind and the bulk of the burden. The riders who follow are pulled in the slipstream of those ahead of them, just as geese flying in formation pull each other across the sky. A rider in the slipstream can expend about 30 percent less energy than the riders in front of her. Then, when her turn arrives, she moves to the front and takes her "pull."
Some riders in a pack pull longer than others do. On any given day, each rider gives what she can and takes what she needs. Together, the riders move at high speed and at high risk, each drafting the rider in front of her, each trusting the others to stay close, to keep the pace, to do their part. The whole pack moves at a speed greater than most riders in the pack could sustain on their own.
Strength in Numbers
Gerdenio "Sonny" Manuel, S.J., a USF Jesuit priest and professor emeritus of psychology, says he is glad but not surprised to see the women's triathlon team succeed.
"They flourish because they care about one another. They're like the Golden State Warriors in that respect. The Warriors have proven it for years now — with their team-first mentality, with their strength-in-numbers slogan, with the way they share the ball," he says.
"One critical variable behind success is always social support," adds Fr. Manuel. "The deeper and closer that support is — in a family, on a team, in a community — the greater the success.
We grow by supporting one another, by seeking the common good. This is a well-grounded psychological principle."
Cridge says that she and her teammates use Hebrew slang to encourage each other. "One of our teammates, Noga Gottlieb, is from Israel, and in Israel they say 'sababa' which means a lot of things like 'yes,' 'it's all good,' 'good job.' One cool thing we did on the course this year was every time we passed each other we would say 'sababa' or make sure to give a thumbs up, if we're not dying of exhaustion."
Cridge adds that the team-first mentality helps her in school.
"My marketing professor Dr. [Mohammed] Nadeem had us do everything in teams. He was like, you're not going to make it in the business world if you don't learn to work with each other. He said, you can have a team leader, but everyone has to do the work and you're all going to get the same grade. I think that is a pretty good parallel to triathlon."
If You Win, We Win
Still, triathlon is an individual sport as well as a team sport, and there's only room on the podium for one winner, right?
"There's always that little part of you that's like, I wish I was first, because we're all really competitive athletes. But if anyone's going to beat me, I want it to be my teammate," says Cridge.
"When we finished nationals, we were one, three, and four," says Gupta-Baltazar. "I almost cry when I tell this story because we were all crying on the finish line. We were one of the only teams that waited at the finish line for every one of our teammates to cross. Everyone could tell how close we were to each other. It was such a hard time because it was right before final exams and we were all stressed out, but that moment made it all worth it."
Elliott describes how that moment felt to her. "I went into nationals without having run for four or five weeks because I was injured. I was super nervous to get off the bike because I didn't know what was going to happen. I was running and Kira was in the lead, then there was a girl from Arizona State, and then it was me, and there was a huge pack behind me. I was like, OK, I just need to hold off this pack. There's a ton of ASU girls in there, a lot of our competitors. But, as I was running, Chelsea Burns, one of our coaches, yelled, 'Gillian's right behind you!' and I looked behind and she's right there and I'm like, phew. I was so relieved that it was Gillian passing me and not one of our competitors. We got to cross the line basically together, and then I puked. But that was my fault for eating yogurt before the race."
Zoe Binder '23 contributed reporting to this story. Photos by Vincent Balgemino '20, Ian Pearman, and Julian Smart '22.