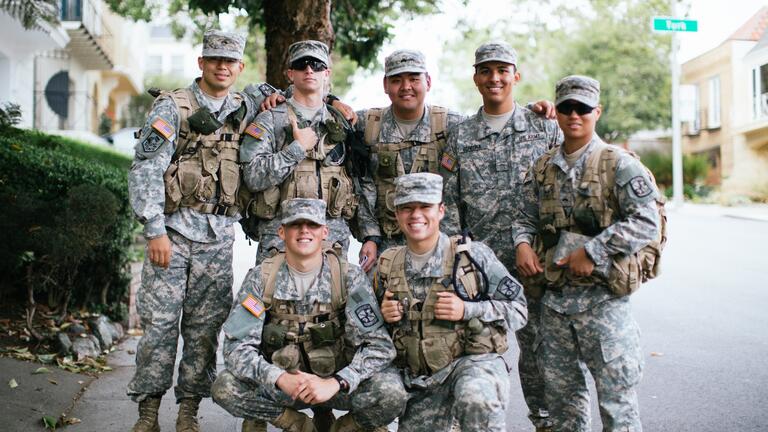 The program has been designed to meet the country's requirement for officer-leaders in the Army (Active Duty, National Guard and Reserve). It is, therefore, multifaceted with distinctive sub-elements to meet individual needs and requirements.
ROTC is traditionally a four-year program, but individuals with prior service, members of Reserve or National Guard units, participants of JROTC in high school, and summer Leader's Training Course attendees may receive advanced placement credit and complete the program in two years.
ROTC provided me a structure and approach to life that allowed me to excel in college, as well as skills that will carry on in whatever career field I find myself in afterwards - be it in the military and civilian life."
- CDT JAMES JOAQUIN
Curriculum
Normally all students enroll in one military science course, leadership laboratory and physical training per semester. They also study Military History one semester during their participation in the program, prior to commissioning.  Physical fitness is a key learning/developmental portion of ROTC. The program focuses and thrives on helping cadets build and improve on overall health and fitness.  Cadets will balance academic excellence in their degree-related classes, as well as in their Military Science classes, field experiences and physical fitness training.
If you are looking for a challenge or seeking to excel beyond the academic college experience, send us an email at ArmyROTC@usfca.edu or call (415) 422-2483.
Military Science Courses
Typical Cadet Week
Monday
Degree Course Work
Physical Training
Tuesday
Degree Course Work
Physical Training
Wednesday
Degree Course Work
Military Science (MILS 101-102/201-202)
Thursday
Degree Course Work
Physical Training
Friday
Degree Course Work
Military Science (MILS 301-302/401-402)
Leadership Lab (on or off campus)
Saturday
Field Training (1-2 times per semester)