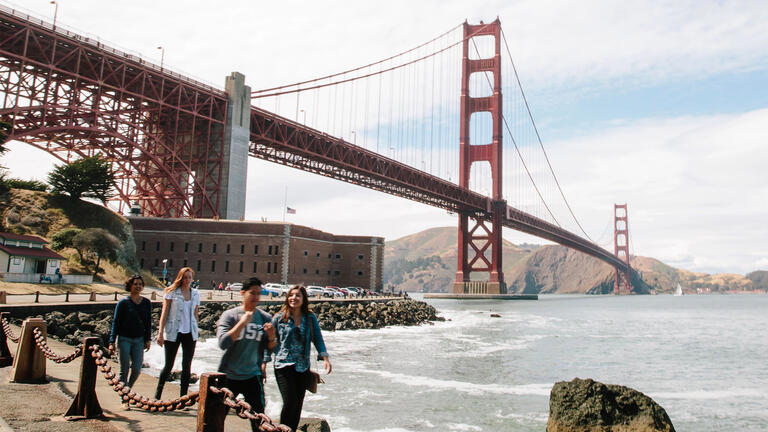 CENTER FOR ASIA PACIFIC STUDIES
Visiting Scholars
The Center for Asia Pacific Studies welcomes domestic and international scholars (PhD preferred) to apply for its Visiting Scholars program.
During this 3-6 month program visiting scholars will be in residence at the Center pursuing independent research and interacting with USF's faculty, students, and staff. Faculty on sabbatical are particularly encouraged to apply. Please note that this is not a fellowship program; visiting scholars do not receive a salary/stipend and must be self-funded. This program is not intended for MA or PhD students.
Selection Criteria
We welcome applications from active academic researchers and university faculty members in the humanities and social sciences whose proposed research meets the following selection criteria:
Research is relevant to the study of the Asia Pacific (especially China, Japan, Korea, India, and the Philippines)
Research is in one of the fields of history, literature, philosophy, religious studies, art history, political science, sociology, anthropology, and economics
Preference will be given to applicants whose research is transnational, border-crossing, or comparative in nature
Must be affiliated with an established institution
Responsibilities
Visiting Scholars are:
Responsible for conducting their own independent research while at the University of San Francisco
Expected to be in residence at the Center a minimum of two days per week during regular work hours
Encouraged to present their research or otherwise take part in seminars or conferences organized by the Center if such opportunities arise during their stay
Asked to acknowledge the Center for Asia Pacific Studies in any publications that result from research performed while affiliated with USF (The Center appreciates copies of publications or papers completed during a fellow's affiliation with the Center.)
Asked to submit a short (two page maximum) final report on the outcome of their research affiliation
Expected to bring their own computer to use for their work
Responsible for finding and making arrangements for their own housing for the duration of their stay
Privileges
Full access to USF's libraries and electronic resources
Use of desk in shared office space in the Center's office suite
A USF email account for use during the duration (1-6 months)
Attendance at all Center sponsored public events (optional)
Please note that this program is not intended for scholars to participate in classes at USF. Auditing classes is at the discretion of individual faculty and must be arranged independently by Visiting Scholars.
International Scholars
Successful international applicants will be asked to pay the required non-refundable Center for Asia Pacific Studies visa processing and affiliation fee of $705 prior to the Center submitting a request for a Certificate of Eligibility for J-1 Exchange Visitor Status (Form DS-2019).

Fees

J-1 Visa Administrative Fee: $180
Affiliation Fee: $525
Total: $705

Fees must be paid in U.S. dollars and can be in the form of an international money order, cashier's check, or personal check payable to "University of San Francisco."

We are not able to accept wire transfers or payment by Western Union.

Upon receipt of payment and secondary application materials, the Center will submit the DS-2019 request to the International Student and Scholar Services Office for processing. Once issued, the DS-2019 will be mailed directly to the visiting scholar who will then use this document to obtain the necessary visa.

After receipt of the DS-2019 and related materials, applicants are required to pay a one-time U.S. government Homeland Security processing fee of $160. Instructions on how to pay this fee will be sent to applicants with the DS-2019 and may also be found on the website for U.S. Immigration and Customs Enforcement.

Once this fee has been paid, applicants will then contact the local Consulate or Embassy to apply for a J-1 exchange visitor visa. To find the address, phone number, and business hours of the nearest Consulate or Embassy, please visit the U.S. Department of State website. Usually an interview with the American authorities is required to secure the J-1 visa.

Once an invited Visiting Scholar has the visa in hand and travel plans scheduled, they should inform the Center of their arrival dates and schedule an appointment to complete the arrival verification process required by the U.S. government.
Costs & Requirements
Application Fee (non-refundable): $150
Affiliation Fee: $525

The Center does not provide a salary/stipend to its visiting scholars.

Federal regulations require USF to obtain certification that the prospective J-1 Exchange Visitor have adequate financial resources to meet all expenses while in the United States.

Minimum Monthly Funding Requirements

$2300 for the exchange visitor
$600 a month for a spouse
$400 a month for each child

As per U.S. Department of State regulations and USF requirements, all J-1 Exchange Visitors are required to purchase Health Insurance or provide adequate evidence specifically indicating insurance plan coverage in the United States for their entire duration of stay, prior to the start of their program at USF.
How to Apply
The Center for Asia Pacific Studies invites applications for stays from two weeks to six months during the following time periods:

Fall Semester (August 15 – December 15)

Deadline: February 1
Applications accepted: Jan. 1 - Feb. 1
Applicants will be informed of decision in March

Spring Semester (January 15 – May 15)

Deadline: August 1
Applications accepted: July 1 - August 1
Applicants will be informed of decision in September

Step 1

Send a preliminary visiting scholar application to centerasiapacific@usfca.edu with the subject line, "Visiting Scholar Application" containing the following:

Which semester you are applying for (fall or spring)
A cover letter/letter of self-introduction (in English)
A research proposal (2 page maximum) addressing the following:

Project title, research goals during period of affiliation, and brief statement on importance of affiliation
Proposed arrival date, end date and length of stay (2 week minimum, 6 month maximum)
Names and affiliations of any USF faculty with whom you have had contact about your proposed stay (optional)
Curriculum vitae (in English)

If you are not a US citizen, please answer the following questions:

Where are you now? (U.S., home country, different country?)
If you are in the US, what nonimmigrant visa classification do you currently hold?
Have you been in the US in J-1 or J-2 nonimmigrant status in the past two years?
What is your country of citizenship? What is your country of legal permanent residence?
Do you have plans to engage in other activities (lectures, consultations, research, etc.) at any other U.S. institutions/organizations either prior to, during, or after your visit to USF. If yes, please provide as much detail as possible (e.g. institution(s), dates, anticipated compensation [if any])

Step 2

Applications are reviewed by the Center for Asia Pacific Studies (once in the fall and once in the spring).

Step 3

Applicants will be notified of the Committee's decision in writing within a reasonable period of time.

Step 4

Applicants who receive an invitation to apply to our program will then be asked to:

Complete the online visa application form
Provide supplementary materials (scanned copy of passport, certified statements of financial support, and documentation certifying English language proficiency, etc.)
Pay the $150 non-refundable application fee. The Center charges this fee to defray the administrative costs of processing and evaluating your application

Step 5

Once your application is approved by the University of San Francisco, you will be mailed your DS-2019.

Step 6

Payment information will be sent to you with a due date prior to the appointment start date.

Step 7

Once you have obtained your visa, please inform us of your arrival date and schedule your check-in and orientation.

The application process, from acceptance as a visiting scholar until arrival in the U.S., often takes at least three months and can take up to six months to complete due to visa regulations. Scholars should plan their arrival date accordingly.

Scholars will be required to provide documentation of English language proficiency.
Limited Space
Due to space and administrative limitations, there is a 6 scholars/year limit on the number of visiting scholars who may be invited by the Center. As a result, the Center may not be able to accommodate the requests of all qualified candidates in a given year.