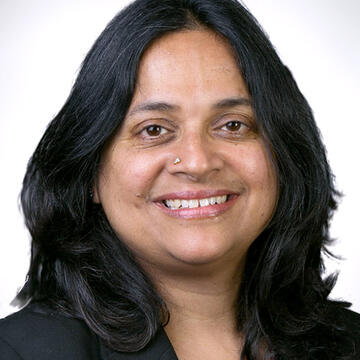 Vijaya Nagarajan
Associate Professor
Biography
Vijaya Nagarajan is an associate professor in the Department of Theology and Religious Studies and in the Program of Environmental Studies. In addition to teaching at the University of San Francisco, she has also taught at the University of California, Berkeley and Harvard University.
Vijaya's academic interests weave among the fields of Hinduism, Environment, Gender, Ritual, and the Commons. She received her PhD in South Asian Language and Literatures from UC Berkeley. Vijaya has received grants, fellowships, and awards from University of San Francisco (Davies Chair, Jesuit Foundation, NEH Chair, Post-Sabbatical), Harvard University, UC Berkeley, Fulbright-Hays, Oxford University, American Institute of Indian Studies, California Tamil Academy, American Academy of Religion, Djerassi Resident Artist Program, and MESA Refuge.
Vijaya has been devoted to the environmental movement for several decades in both India and the Bay Area. She is the co-founder of The Recovery of the Commons Project and the Institute for the Study of Natural and Cultural Resources, where she has co-organized events with a large range of scholars, activists and artists.
Her book, Feeding A Thousand Souls: Women, Ritual and Ecology in India, an Exploration of the kōlam, launches during the Fall 2018. Every day millions of Tamil women in southeast India wake up before dawn to create the kōlam, a ritual design made of rice flour, on the thresholds of homes. This thousand year old ritual welcomes and honors the goddesses Lakshmi and Bhudevi. Propelled by a lifelong wonder, and fueled by deeply informed research, Vijaya Nagarajan provides a poetic and surprising entryway into the layered complexities of this ritual practice. Braiding Tamil women's voices and the author's own stories, Feeding a Thousand Souls brings into conversation different knowledge traditions––beauty, history, literature, religion, anthropology, mathematics, and ecology. You can find more information on the Oxford University Press website.
Full CV available upon request.
Research Areas
Hinduism
Religion and Ecology
Women and Ritual
Enclosures, Recoveries and Languages of the Commons
Tree Temples, Mangroves and Temple Forests
Education
PhD, South Asian Language and Literatures, UC Berkeley
MA, South Asian Studies, UC Berkeley
BS Political Economy of Natural Resources, UC Berkeley
College of Engineering, Honor's Program, Women's Studies University of Maryland College Park
Selected Publications
Twins in Hindu Mythology and Everyday Life in the California Diaspora. Twins in Mythology, edited by Kimberly Patton. London: I. B. Taurius. (forthcoming)

2018. Feeding A Thousand Souls, Women, Ritual and Ecology in India, an Exploration of the Kōlam. New York: Oxford University Press.

2017. On the Multiple Languages of the Commons. Worldviews: Global Religions, Culture and Ecology: 2 (1): 41-60. In Special Issue: Wicked Problems in a Warming World: Religion and Environmental Ethics.

2013. Rangōli and Kōlam entry. Brill's Encyclopedia of Hinduism (Netherlands), Editor, Jean- Louise Ruijters. (selected and republished on Sahapedia in India with the permission of Brill, Leiden, Netherlands)

2007. Threshold Designs, Forehead Dots, and Menstruation Rituals: Exploring Time and Space in Tamil Kōlam, 85-105. Women's Lives, Women's Rituals in the Hindu Tradition, edited by Tracy Pinchman. New York: Oxford University Press.

2006. The Thinning and Thickening of Places, Relations and Ideas, in "Post-Field Positioning". Guest Editor, Susan Seizer, Indian Folklife, Serial No. 23, National Folklore Support Centre, 10-13, Chennai, India. Aug.'06

2003. Floor Designs. In South Asian Folklore: An Encyclopedia, edited by Margaret Mills, Peter Claus and Sarah Diamond. New York: Routledge Press, pp. 197-198.

2003. Kōlam. In South Asian Folklore: An Encyclopedia, edited by Margaret Mills, Peter Claus and Sarah Diamond. New York: Routledge , pp. 340-343.

2001. (In) Corporating Threshold Art: Kōlam Competitions, Patronage and Colgate. In Religions/Globalization: Theories and Cases, edited by Lois Lorentzen, Dwight Hopkins, David Batstone and Eduardo Mandieta. Duke University Press, pp. 161-186.

2000. Rituals of Embedded Ecologies: Drawing Kōlam, Marrying Trees and Generating Auspiciousness. In Hinduism and Ecology: The Intersection of Earth, Sky, and Water, edited by Christopher Chapple and Mary Evelyn Tucker. Harvard University Press, pp. 453-468.

1998. The Earth as Goddess Bhudevi: Towards a Theory of Embedded Ecologies in Folk Hinduism. In Purifying the Earthly Body of God: Religion and Ecology in Hindu India, edited by Lance Nelson. New York: State University of New York Press, pp. 269-298.

1993. Hosting the Divine: The Kōlam in Tamil Nadu. In Mud, Mirror and Thread: Folk Traditions of Rural India, edited by Nora Fisher. Middletown, New Jersey: Grantha Corporation and Santa Fe, New Mexico: Museum of New Mexico Press, pp. 192-204.