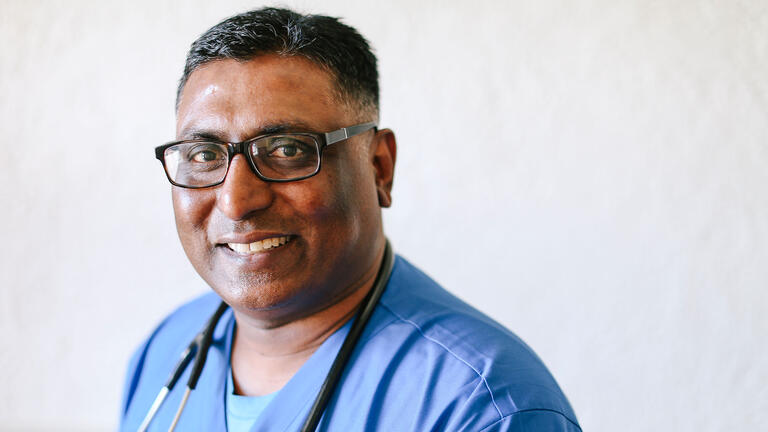 Called By Mother Teresa
Nurse leader trains to save lives
Vincent Samuel began caring for others as a junior high Catholic student in his native India in the 1980s. He volunteered with Mother Teresa's congregation of sisters where he visited orphans and helped them with homework. Later, he volunteered at health clinics, hospitals, jails, and a leper colony. Yet, cultural and gender stereotypes kept him from pursuing a career in health care, even though that was his first choice.
Instead, he became an accountant and worked as a project manager for companies like design firm Zawaya in Abu Dhabi. He did that for 16 years.
In 2006, he decided to make a change and moved to the U.S. Today he's a registered nurse and part of USF's graduate nurse leader program offered through the Kaiser Permanente Nurse Scholars Academy.
"I always had a passion to care for people, and I was fortunate to have a few days where I worked with Mother Teresa herself, without knowing she was going to be such a big figure in our lives," Vincent says.
Growing up, he was deeply moved by Mother Teresa's mission. But he didn't pursue nursing because it was a career mainly for women in his country.
Return to a calling
In the U.S., Vincent saw a chance to recast himself. He embraced the calling he was drawn to at an early age and went back to school. He became a registered nurse and excelled in the career with such enthusiasm that last year Kaiser leaders asked him to join an advanced nurse leadership program at USF and offered to pay for it.
"I started at USF on Aug. 26 [2015]," Vincent says, a proud smile spreading across his face. "I remember that date particularly because it is the birthdate of Mother Teresa."
I always had a passion to care for people, and I was fortunate to have a few days where I worked with Mother Teresa herself…"
Before learning of the Master of Science in Clinical Nurse Leadership (MSN/CNL) program, Vincent considered an MBA as a degree he might be able to adapt to his health care interests. But USF's MSN/CNL program — one of the best in the country — offered business skills and specialized leadership training aimed at building coordinated teams to improve health care systems.
"For me, it was a no-brainer," Vincent says. "I've learned leadership and management expertise, the business and finance of hospitals, a host of computer skills, and how to conduct health research and implement evidence-based practices."
A new breed of nurse
When Vincent graduates next August, he'll play a key role in health care efforts to reduce the 100,000 deaths caused by medical errors each year in the U.S., and he'll be part of efforts to modernize health care in the era of the Affordable Care Act.
That's because CNLs are a new breed of nurse. Traditionally, nurses have filled specialty roles inside a hospital or clinic: surgery, medication, pediatrics. Clinical nurse leaders' expertise is broader. They're middle managers who oversee a dozen or so beds. They mentor other nurses. And they look for protocols and systems that can be advanced with better data and with best practices.
"This training makes CNL's ideal for improving care at the bedside, not only by helping to prevent errors but by helping nurses reflect on how they can deliver more personal and culturally sensitive care," Vincent says.