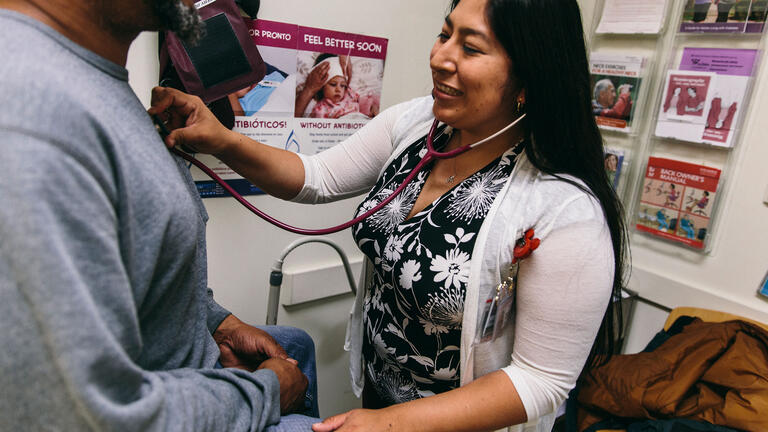 Discover the rewards of graduate nursing at the University of San Francisco (USF) School of Nursing and Health Professions. Unlike traditional programs, the MSN program emphasizes leadership, quality, safety, and evidence-based education.
You will learn from a framework that integrates the humanities, public health, and physical and organizational sciences into nursing practice. As a nurse with a USF master's education, you are prepared to lead and succeed in today's complex and dynamic health care system, while also keeping in mind the idea of cura personalis, or "care of the whole person". This particularly Jesuit approach to a nursing education ensures that you have a global perspective when making health care decisions.
Which Program Is For You?
The School of Nursing and Health Professions offers two (2) entry points toward a master of science degree in nursing. Choose a track that is appropriate for your background to learn more about admission requirements, deadlines, curriculum patterns and more.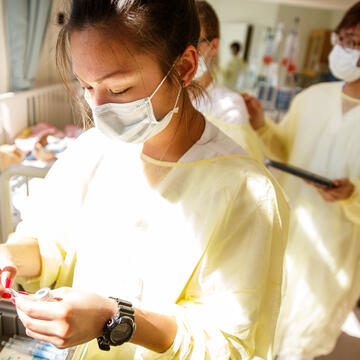 MSN - Clinical Nurse Leader (MEO)
The University of San Francisco offers a Master's Entry - Master of Science in Nursing (MSN), Clinical Nurse Leader program for individuals who hold a bachelor's degree in a field outside of nursing.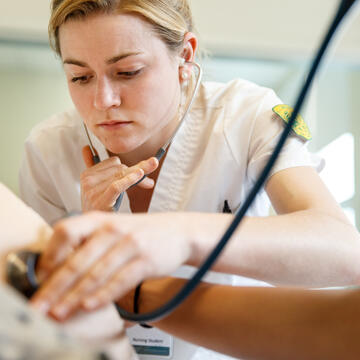 MSN - Registered Nurses (RN-MSN)
The Master of Science in Nursing (MSN) program prepares RNs already holding an associate's or bachelor's degree to advance within the field.
Why Get a MSN at USF?
As the city's first university, USF has served San Francisco since 1854 and inspired students' passion to apply their education as a vehicle of positive change in the world. Located at the heart of San Francisco, the university provides unparalleled access to a city that is the birthplace of progress and big ideas. The School of Nursing and Health Professions of the University of San Francisco advances the mission of the university by preparing health professionals to address the determinants of health, promote policy and advocacy, and provide a moral compass to transform health care in order to further equity and positively influence quality, delivery, and access.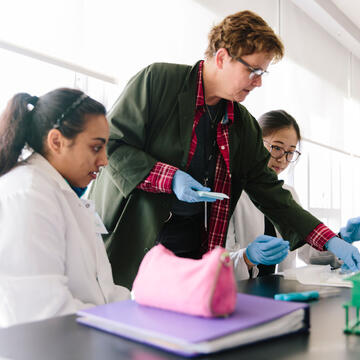 Learning Resources & the San Francisco Advantage
Combining classroom learning and clinical practice, undergraduate and graduate programs at the School of Nursing and Health Professions utilize a hands-on approach to nursing education. Additionally, San Francisco's booming economy and cultural resources provide our students with unique professional and personal opportunities in a collaborative and challenging environment. 
USF's state of the art Nursing Simulation Lab transforms the way nursing is taught by allowing students to learn from their mistakes and improves their on-the-job performance
We partner with organizations and communities around the San Francisco Bay Area to improve the quality of health care and to provide our students with hands-on clinical experience
Students in our graduate programs have the opportunity to gain clinical practice in more than 200 top healthcare organizations, including: Alameda County Health Systems, Alameda County Public Health Department, John Muir Medical Center, Kaiser Permanente, La Clinica de la Raza, Stanford University Medical Center, the San Francisco Department of Public Health, San Francisco General Hospital, UCSF Medical Center, and Veterans Affairs
Students play an active role at the University and in the larger Bay Area community through student organizations that promote student engagement, support the unique needs of all students, help develop professional networks and support innovative programs, community partnerships that serve traditionally underserved and marginalized communities through excellence in research, clinical practice, and systems development
USF boasts a healthy 14: 1 student-faculty ratio - allowing students to develop strong relationships with their teachers to receive guidance and mentorship towards their career goals
SONHP Students
Take Their Case

to Capitol Hill
Five USF students — including three master's in nursing students — traveled to Washington, D.C., with Dean Eileen Fry-Bowers of the School of Nursing and Health Professions. They visited with federal policymakers and attended the American Association of Colleges of Nursing annual meeting.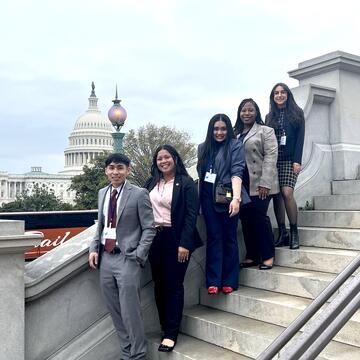 State Authorization
Please check our State Authorization Status List for the states and territories from which we can enroll students in specific online degree programs.
School of Nursing & Health Professions
2130 Fulton St.
San Francisco, CA 94117