Campus Life
When Outrage Inspires Action
USF law professors discuss heartbreak as a catalyst for change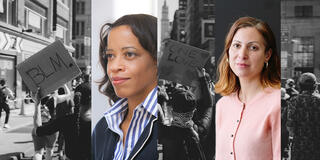 More than 200 people, including students, faculty, and members of the community, joined a USF discussion about racism and injustice on June 11. One question was asked over and over.
Why are we having these conversations again?
"What you feel is this sense that we are not making the kind of progress that we should be and that maybe, horribly, we are moving backward," said Lara Bazelon, USF School of Law professor and director of the Racial Justice Clinic at USF.
Bazelon and Professor Rhonda Magee, also of the School of Law, led the Zoom discussion. Magee, author of The Inner Work of Racial Justice, a book published last year that applies meditation practice to racially charged interactions, said, "My heart is kind of broken by what we have seen in terms of George Floyd and what I will call, what seems to me to be, a lynching."
Work to be Done
Still, Magee said, George Floyd's death at the hands of the Minneapolis police has clarified the work that remains to be done to address anti-Black racism in the U.S.
"Had we not witnessed that, we would not see these calls for police reform," Magee said.
There are other outcomes, too. Communities are pushing for removal of Civil War monuments and reimagining how police budgets can be distributed in the community so that policing has a smaller footprint, Magee said.
Tools like mindfulness and working for restorative justice are ways to address racism and make change in the United States, Magee and Bazelon said.
"Bringing mindfulness to biases, blind spots, habits, and conditions is a way of thinking about this issue," said Magee.
Restorative Justice
Bazelon, author of Rectify: The Power of Restorative Justice after Wrongful Conviction, said restorative justice — when victims, offenders, and community members meet to decide how to repair the harm caused by a crime — may also be a way to work on structural racism.
At the same time, we as a society should continue having these conversations, Bazelon and Magee agreed.
"This is democracy in my view," said Magee. "These big noisy conversations that you have to have again and again and again. Democracy in action."