Campus Life
Welcome Back, for the First Time
Second-year students arrive for an in-person semester on the Hilltop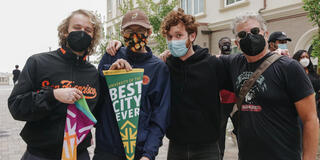 USF welcomed its newest residents to the new Lone Mountain East Residence Halls on August 14. After more than two years of construction, including setbacks caused by the COVID-19 pandemic, the halls were finally bustling with students arriving to the Hilltop for the first time.
"It's alive again," said Torry Brouillard-Bruce, senior director for student housing. "We've waited a long time to say, 'Welcome home.'"
The New Arrival
When second-year student Freddie Rhodes '24 arrived from Memphis, Tennessee, it was his first time seeing Lone Mountain in person. It was also his first time in San Francisco.
His parents, Ray and Tanya, were there to help him settle into his suite, which he'll share with three others and includes four single bedrooms, two bathrooms, a living room, and a kitchen. Freddie moved 2,000 miles from Memphis for several reasons.
"I knew I wanted to be in a big city. I knew I wanted to go into finance. And I knew the finance program at USF was top-level," Rhodes said. After he earned some scholarships, his decision was easy. "I was coming to San Francisco."
It was a journey that he didn't want to believe would happen until he'd made it.
"Last year, finding out that I wouldn't be spending my first year of college on campus was devastating," Rhodes said. But that wasn't going to stop him.
Rather than coast through his first two remote semesters, Rhodes doubled down on core finance classes. He'll be taking an equally heavy load this fall in a hybrid fashion: half of his classes will be in person, and half he'll attend from his room overlooking the Marin Headlands.
"I'm just so excited to finally be here," he said. "I'm ready to explore this city."
The Third Don
Rhodes' new roommate Vincent Alfaro '24 is also ready for adventures around the city he can finally call home.
Alfaro, a second-year student and computer science major, is a Sacramento native and the third in his family to attend USF, so he was familiar with San Francisco before he arrived. His decision to become a Don, however, was cemented by watching older brothers Max '18 and Quinn '21, both data science majors, enjoy their time on the Hilltop and in the city.
"USF was the place to be, for me," Alfaro said. He wasn't expecting it to be quite like Lone Mountain East, though. "My brothers are definitely jealous that I'm getting to live here."
His biggest worry about campus living? "I need to make sure I find all my in-person classes!"