Don Shines on The Great White Way
USF grad appears in Here Lies Love at the Broadway Theatre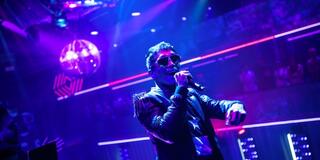 As he debuts on Broadway this fall, Moses Villarama '04 credits the acting classes he took at USF and the mentorship he received as a student for preparing him to perform in a new musical.
Villarama beat out a thousand other actors to land the role of "The DJ" in Here Lies Love, a musical about Ferdinand and Imelda Marcos' reign in the Philippines that was created by Talking Heads frontman David Byrne and DJ Fatboy Slim.
It's a featured role that Villarama has been preparing for since his days on the Hilltop, he said. "I've always remembered a specific thing [Professor] Peter Novak said one day about why we tell stories that have social impact: All great art is socially conscious."
The New York Times described Here Lies Love as an "immersive disco-bio-musical about Imelda Marcos… [that forms] a theatrical-historical knot." It has an all-Filipino cast, a first of its kind on Broadway, and Filipino producers, too.
Novak, co-founder of the Performing Arts and Social Justice (PASJ) program, praised Villarama as an actor.
"Moses was one of the first students I cast when I started at USF," Novak said. "He dedicates himself to every project with an enormous appetite for learning everything he can because he understands how that helps him be a better performer. He was always one of the most talented, dependable, and giving performers I taught at USF."
Villarama's favorite audience so far? A contingent of USF alumni attended the show in August.
"That was the absolute best," Villarama said. "I was so flattered that the alumni group chose Here Lies Love as their outing in New York. I got to meet USF alumni from many different years, and it was so inspiring to get to know all of them. I hope I made them proud to be a Don. I'm proud to be one."
San Francisco Calling
Villarama, who was born on a U.S. naval base in the Philippines, got his first taste of San Francisco at the age of 3, when his father was assigned to a naval base on Treasure Island in San Francisco Bay.
"That was a very important time in my life, and the reason I'll always call San Francisco home," said Villarama. It's also the reason, after moving to Guam with his family at age 7, that USF was on his radar when he applied to colleges.
Once he became a Don, he majored in media studies because he loves storytelling. He took some acting classes that first year and found that he also loved telling stories via performance. During his second year, Novak, co-founder of the performing arts and social justice (PASJ) program, became director of the program and Villarama joined as a double major.
"Peter is the reason I became an actor," Villarama said.
Novak guided Villarama through his PASJ courses and also prepared him for an audition with the National Theatre Conservatory, which Villarama attended after graduating from USF. Villarama also credits the USF performing arts community with supporting his career.
"Professor Novak was a big influence on me, but there was a wide community of people in theater," he said. "College Players was where I first did a play. I was in glee club, and I was part of a student-run improv team."
After USF, Villarama was a company member of the Oregon Shakespeare Festival and also performed at the La Jolla Playhouse, the Denver Center, and Seattle Rep. He had a role in the off-Broadway musical Cambodian Rock Band when he auditioned for Here Lies Love.
Broadway Calls, Too
Most hopefuls who try out for shows on Broadway hear back fairly quickly, "within a day or two, one way or the other," Villarama said. For Here Lies Love, from the time he taped his first demo (since the COVID-19 pandemic, in-person auditions are rare), it was almost three months of back-and-forth.
"They'd have notes on the way I played it, and ask that I change certain things about the performance." He'd do what they asked, send in another demo, and on it went. "I tried to forget about it after a certain point, to be honest," Villarama said. "You have to move on to the next role."
It wasn't until he was singing in front of David Byrne that he allowed himself any real hope that he might be part of the show.
Here Lies Love runs at the Broadway Theatre in New York City through January 2024.