Passion for Justice
USF Graduate Wins Equal Access to Waves
Adriana Guerrero-Nardone MNA '18 helps open a local beach to surfing students of color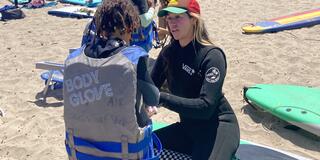 On a foggy morning in April, when a group of young women from Oakland paddled out to take a surfing lesson at Linda Mar Beach in Pacifica, they broke a barrier that had stood for more than 15 years.
"Before that, we weren't allowed to give surf lessons in Pacifica," said Adriana Guerrero-Nardone MNA '18, executive director of Brown Girl Surf, a nonprofit based in Oakland.
Four commercial surfing schools were the only groups permitted.
It took Brown Girl Surf more than a year to change the status quo. They worked with the city council of Pacifica, with other surf nonprofits, and with the California Coastal Commission to gain access to Linda Mar Beach and its beginner-friendly surf.
The city of Pacifica initially said that it had issued permits to just four surfing schools in 2005 because it was concerned about water safety and overcrowding but later acknowledged that it had excluded nonprofit surf organizations including Brown Girl Surf.
Access for Everyone
Guerrero-Nardone said she hopes the new permitting rules will serve as a model for other beaches in California.
"For decades now, many of our communities have seen inequities in access to the coast and to the outdoors in general, whether blue spaces or green spaces," she said.
It's hard to get to the ocean when you live two hours away by public transit, she said, and it can be hard once you get there because not all the people there are welcoming.
"We advocate for the coast to be open to everyone — for recreation, joy, mental health and physical health," Guerrero-Nardone said. "And we want surfing to be accessible to girls and women of color in particular, because they've been excluded and underrepresented for so long."
The USF Connection
In her time in the master of nonprofit administration (MNA) program at USF, Guerrero-Nardone worked full-time on weekdays and attended classes on Saturdays. "I loved going to school to see my professors and my cohort — I learned so much from my classmates. Just talking with them and listening to their experiences was an education," she said. 
Why USF?
"I was raised Roman Catholic and I went to Catholic schools, so the Jesuit call to social justice spoke to me," Guerrero-Nardone said. As for the MNA program in particular, "the program was like 12 of us in a classroom, right? We're all in that safe space and we're all rooting for each other to succeed."
After she graduated in 2018, Guerrero-Nardone served as the annual fund manager at Outward Bound California, a nonprofit that offers adventure education to young people. Then, in 2020, she started working for Brown Girl Surf.
"It took me years to go from a surfing spectator to calling myself a surfer," she said. "I think it took me that long to surf because deep down I didn't think I belonged. I thought surfing was for other people, not for me."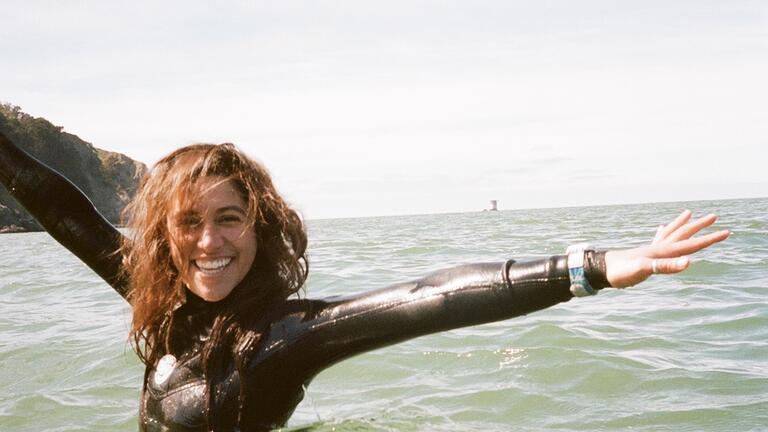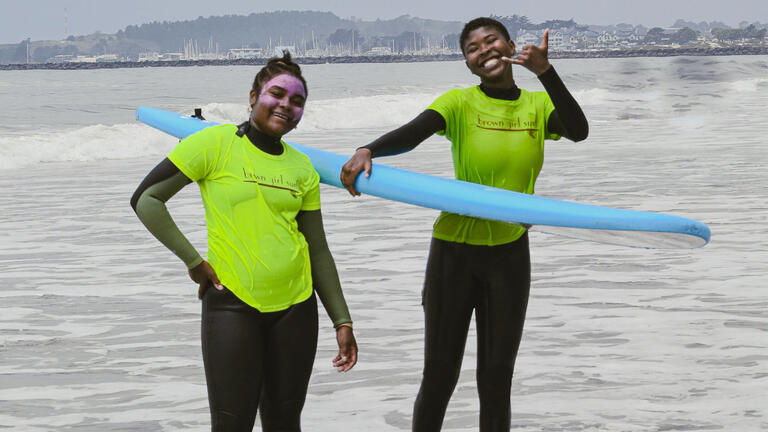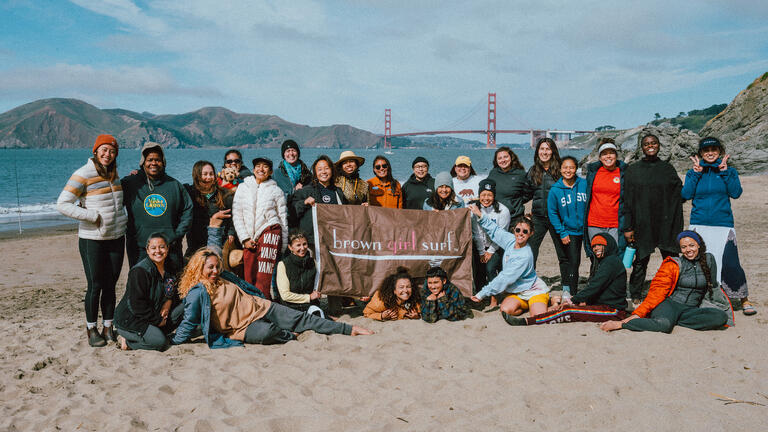 Adriana Guerrero-Nardone MNA '18
Surfers with Brown Girl Surf
Staff and volunteers of Brown Girl Surf