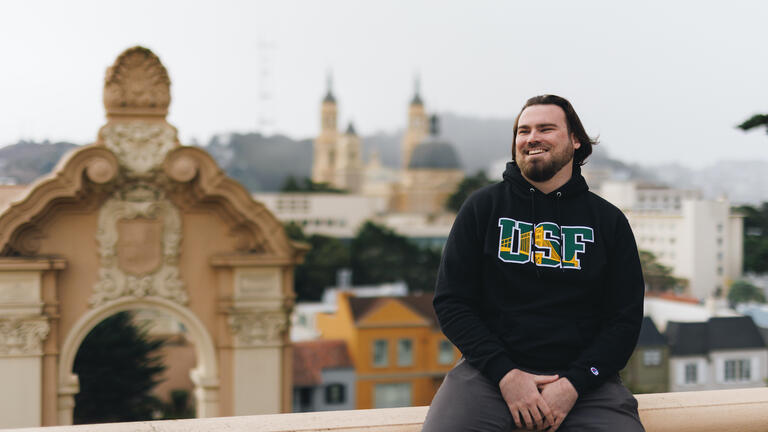 Campus Life
Veteran Finds Community at USF
Colton Alexander '24 grew up in the Bay Area and signed up for the Army when he was 17 — something he needed his family's permission for because he was still a minor. After four years, including a deployment to Afghanistan and several traumatic brain injuries, Alexander retired from service and turned his sights to college.
What did you do in the Army?
I was an infantryman, specialist rank E-4, when I got out. I was put into leadership roles pretty early on. I had just turned 20 when we deployed to Afghanistan and was a team leader there. Six months into deployment, I was a squad leader and in charge of eight other guys. 
I sustained several traumatic brain injuries while fighting the Islamic State group in Afghanistan. As a result, I ended up in rehab for the next year and a half and had to undergo multiple brain surgeries as well as spinal procedures. This resulted in me being medically retired in 2019 and coming back home to the Bay Area. It's been extremely tough since then. I've continuously worked with the Veterans Administration while trying to navigate my new life as a disabled veteran, but there aren't many people here in the Bay Area who have been in my position and who I can talk to and get advice from.
I'm OK talking about it. The more you talk about it, the easier it gets. And hopefully other vets who may be feeling the same way as I am will find some relief knowing they're not alone and can even reach out to me personally.
I'm working with SDS (Student Disability Services) at USF, and they have been so unbelievably helpful. Everything was ready for me.
Why did you choose USF?
I had an interest in USF for a long time. Even in the Army, USF caught my attention. Mostly, the School of Management. I met another veteran who went to USF and graduated two years ago, and he was telling me about his experience here, especially the small class sizes. He said it's more tight-knit that way.
When we get out of the military, veterans don't have that community feeling any more. Lecture halls with 500-plus students won't work, because you're not really meeting anyone. At USF, I know almost every single person's name in my classes, and my professors know my name.
I went to CCSF (City College of San Francisco) knowing I was going to transfer to USF. I spoke to USF counselors first to get the list of transferable classes for USF. I wanted to get my feet wet, though, at CCSF.
Another reason for USF is the diversity. It's been a prominent reason for me to stay in the Bay Area. In the Army, I had friends from all over. I am a strong believer that diversity is the best thing you can surround yourself with. You gain varying perspectives — I mean, I might never think like this on my own. I absolutely love that.  
What's your major, and why?
Finance. I've always been kind of business-oriented and interested in finances. I would help my soldiers be financially responsible. It comes pretty easy to me. A lot of people do need help planning their finances. I work as an insurance agent, too.
Your favorite spot in the city?
I think my favorite hiking spot is Lands End, but my favorite go-to spot is Golden Gate Park. We just go out there on the weekends and sit with friends for five or six hours. It's amazing. It's my favorite part. 
Fun fact?
I have a little black cat named Poe (for the author, Edgar Allen Poe). And we got a cat backpack for her, and we like taking her to the park. I'm one of those San Francisco people that takes their cat to the park.