Giving
USF Women and the Power of Giving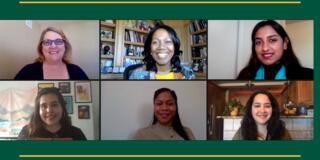 Giving Tuesday is a global day of generosity where people from around the world give to organizations that aim to better our communities. This year, the University of San Francisco Women in Leadership & Philanthropy Board of Directors came together and raised over $21,000 for USF scholarships.
Led by Sascha Rosemond, Chair of the Fund Development Committee, the board pledged to match gifts made to scholarship programs like the new Marin Diverse Educator Scholarship, the USF Scholarship Fund, and the Saber es Poder scholarship. Their collective effort to support student scholars contributed to the University's overall fundraising total of over $73,000.
"As a leadership board, it's important that we encourage giving within the USF community to support students, especially in these difficult times. A board match doubles the impact of every gift!" says Rosemond
Mary E. Stutts, celebrated speaker, philanthropist, former USF parent, and author of The Missing Mentor — Women Advising Women on Power, Progress, and Priorities, provided the virtual keynote address. Stutts discussed the value of philanthropy and the importance of women mentoring each other as it relates to personal development and philanthropic priorities. Her robust discussion on the power of philanthropy and mentorship aligns with the boards' values of empowering women to become transformative leaders and contribute to a more equitable and humane world.
Women are Changemakers
The Women in Leadership & Philanthropy initiative strives to amplify women's voices and encourage others to become agents of social change. A strategic priority of the initiative is to democratize philanthropy throughout the USF community. The board and their subcommittees promote the concept that giving — at any amount — is for everyone. It invites all individuals to the table to give their time, talent, treasure, and testimony to those in need and important social causes. By promoting this strategy, the board intends to be more inclusive and create a diverse culture of philanthropy at USF.
"We hope to make giving a collaborative social experience, no matter what your income level, race, or socioeconomic status. No matter the gift, fostering a life habit of generosity and gratitude will serve the giver as much as the recipient," says Cheryl Smith, Women in Leadership & Philanthropy board member.
During her keynote, Stutts reminded women that when they find themselves in leadership positions, it's important to send the elevator down and help others. "That is what mentorship and philanthropy are all about. By inspiring each other to help those in need, leaders are mentoring others on their path to personal, professional, and philanthropic development," says Stutts.
Learn more about Women in Leadership & Philanthropy and how you can support scholarships to USF students »