USF Grad Plants Seeds for Healthy Eating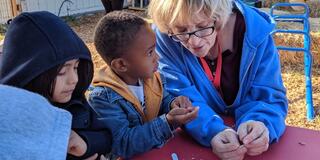 Teresa Fogolini MA '11, MA '13 inspires children and their families to dig in and play in the dirt as a way to build healthy habits.
"I think gardens hold the potential for more than fresh air and academic experiences. Gardens are a place where everyone is equal, whether you know about gardening or not," Fogolini said. "Gardens and outdoor nature spaces can be democratic strongholds, neutral ground for children and adults to grow and learn and be collaborative."
Fogolini is director of the Garden of Eatin' program at the North Bay Children's Center. The Garden of Eatin' serves more than 700 children, as young as six months and up to eight years old, at more than 14 sites across Northern California, with additional sites in Southern California.
Founded 13 years ago to address childhood obesity, the program now also addresses children's emotional needs, provides academic learning opportunities, cultivates nature stewardships, and offers families educational events. Most events are free and offered in Spanish and English.
Fogolini co-authored a curriculum for the garden program that creates hands-on education in gardening, nutrition, and nature. Schools, agencies, and nonprofits can purchase the curriculum to integrate into their existing programs.
In addition to serving several schools in the Bay Area, the program has partnerships across the country with Appalachian Children's Network in Kentucky and the Easter Seals program in Southern California. Several school sites in Uganda recently signed on to the Garden of Eatin' program, and Fogolini will train teachers and staff there this summer.
"We started as a very nutrition-centric program, and that is still one of our central drivers, but we also leverage all the diverse ways a garden can be in service to children, families, and staff," she said. "Our newest curriculum is a soup-to-nuts approach for someone who's never been in a garden and maybe doesn't even like nature."
Fogolini said families are having new and positive experiences with food and nature. Children are willing to try new foods and want to be involved in cooking meals with fresh ingredients. Parents ask for support shopping for and preparing meals with fresh fruits and vegetables. Students embrace learning about composting and reducing waste.
Maria Sabido was so inspired by the Garden of Eatin' approach in her preschool classroom that she became a trainer on the Garden staff.
"The Garden of Eatin' not only impacts my teaching style, but also my life," said Sabido. "It's changed how I cook and what I feed my kids, and I myself have tried new foods I never thought I'd like. I'm more aware of having healthy foods in my house, and I teach all the people around me how important it is to recycle and compost."
Fogolini said her USF master's degree in teaching, her multiple subjects credential, and her master's degree in reading and literacy from the university changed her life.
"My education at USF was like someone taking a can opener and opening my mind to humanity," she said. "The professors, USF's mission, all of it came back to the core values of equity, equality, diversity, and inclusion, and encouraged us to look through that lens every step of every day. There's not a day that goes by where I don't reflect on how I can make a positive impact on children's learning and help them make meaningful and enduring connections to their world."