Equipped to Lead and Succeed
Proud to be Pinay
How Evelyn Obamos '12, MA '14 found herself and her heritage at USF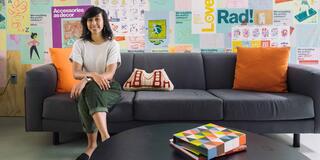 In college Evelyn Obamos '12, MA '14, studied abroad in the Philippines. After graduating, the media studies major and Philippines studies minor landed a job at Pinterest helping the company expand its presence in the island nation. She also co-produced a documentary short featuring Filipina-American rapper Ruby Ibarra.
But growing up, Obamos was embarrassed about being Filipina. For Filipino American History Month, USF News talked to her about how she came to find pride in herself and her heritage at USF.
You said you used to feel conflicted about your heritage. Why?


Despite growing up in Guam and Hawaii, surrounded by brown people, I was actually embarrassed of being Filipino most of my childhood. There was a lot of internalized oppression in my own community. I used to scrub my skin with papaya soap to be lighter and pinch my nose so it wasn't flat. I did all this when I was 7 years old. As an adult, I'm more open to recounting these stories, especially knowing my story isn't unique.


When you don't see enough of yourself represented on television, in magazines, or in positions of power, your interpretations of beauty and leadership are influenced by institutional forces. It wasn't until college that I learned what "colonial mentality" meant and started to unpack it for myself. 
USF helped you discover your identity?
I'll never forget when Philippine studies Adjunct Professor Irene Duller had our class look for books written on pre-colonial Philippine history at the library. Most of us came back empty-handed. I realized how much I didn't know about my own history. 
I ended up minoring in Philippine studies. I became super active in USF's Kasamahan club and in the Bay Area Filipino-American community. In the last year of my master's program in educational technology, I co-taught an introductory Philippines studies course. From being someone who didn't like being Filipino growing up, I had a total 180. I'm hella proud to be Pinay. 
How did you end up at Pinterest?
My entry point to Pinterest can be credited in part to Philippine studies. When I joined Pinterest about four years ago, the company was looking for someone who knew Filipino language and culture to improve the experience for Philippine users. As my role expanded, I'm fortunate to still work on helping Pinterest grow outside of the U.S. on the international team. 
You produced a video that's screening around the world? Tell us more. 
If my day job is my bread and butter, videography is my jam. I was a media studies major at USF and always enjoyed storytelling in different mediums. My most recent project was co-producing a documentary short with Ruby Ibarra, a Bay Area-based Pinay rapper. Her music video, Us, went viral in the Filipino community. 
Our documentary was a behind-the-scenes of how Ruby orchestrated the whole production.
The documentary premiered at San Francisco's Center for Asian American Media Film Festival (CAAMfest) in May, and will show at films festivals in New York; Paris; Toronto; Boston; Hagatna, Guam; and Atlanta this fall.
Know someone with a powerful USF story? Let us know! usfnews@usfca.edu | Twitter @usfcanews