To Infinity and Beyond
USF grad uses history's most powerful telescope to explore the dawn of time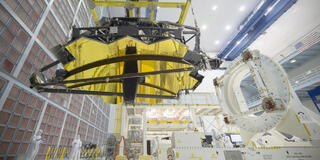 When NASA's James Webb Space Telescope is launched into space on Dec. 18, 59 days in the future, Aaron Yung '14 will get to see 13 billon years into the past.
"I'm super excited," he said. Once the telescope reaches orbit about 900,000 miles away from Earth, "we'll get to look way out in space," he said. "Because light travels at a finite speed, the farther out we look, the farther back in time we can see."
Image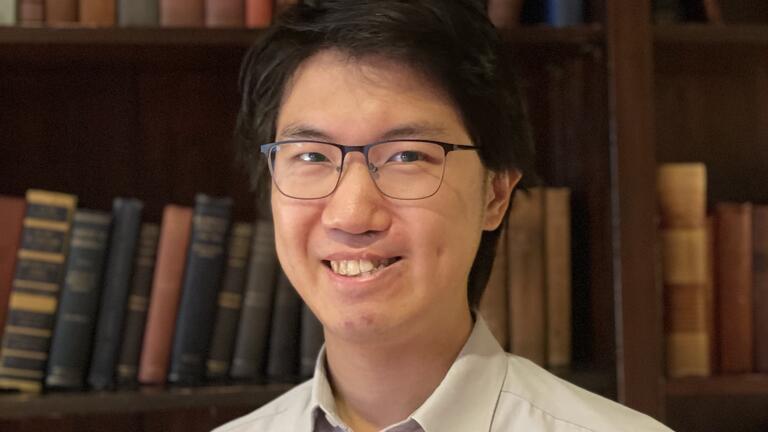 Yung is an astrophysicist at NASA. In his work as a postdoctoral fellow at Goddard Space Flight Center near Washington, D.C., he said he gets to pursue his three chief passions: "galaxies, early universe, and space telescopes."
Because the James Webb Space Telescope (JWST) is about 100 times more powerful than the Hubble Space Telescope, "we can look at the first generation of stars, black holes, and galaxies ever created, in the first 10 percent of history," said Yung.
Yung is among the theorists at NASA who have predicted what the new telescope will see. Now he'll be among the first to analyze data that the telescope collects.
He's particularly interested in the formation of galaxies.
"Galaxies are born small, just like ours was," he said. "For the first time, the JWST will reveal the nature of galaxies formed in the early universe. How bright are they? What color are they? How old? How big? How did they start? How did they evolve?"
From the Islands to the Mainland
When Yung, who was born in Hong Kong, was a teenager in Hawaii, he had no inkling of a career in astrophysics, and "I had a much simpler goal: to make it to one of the local universities," he said. But a representative of USF visited his high school and told him about the dual degree program in physics and engineering at USF and USC, and he applied.
"My first flight by myself to the mainland was my flight to San Francisco," he said.
In his first semester at USF, "I wasn't sure I would survive, truly," Yung said. But with the help of professors including Brandon Brown, Aparna Venkatesan, Horacio Camblong, and Tristan Needham, he came to love physics and math — so much that he dropped his plans for engineering at USC and declared two majors, physics and mathematics, at USF alone.  
After USF he earned a PhD in physics at Rutgers in 2020. From Rutgers he went straight to NASA.
Career From Here
Yung's career advice to students who don't yet have a major?
"Take advantage of the core curriculum," he said. "You have freedom to take different classes and try different subjects. I took astronomy without ever knowing anything about astronomy before, and it became my career." 
His career advice to students who study astrophysics?
"Check out what's happening in big science agencies. Look at the websites for NASA and the National Science Foundation and the European Space Agency and JAXA, the Japanese counterpart of NASA. If you're interested in Mars and Venus, NASA already has plans for going back. If you're interested in the vast universe, we have more powerful telescopes on the ground and in space planned for the next 10 years. Look at the projects on those websites and then see where your passion leads you."
Aparna Venkatesan, professor of physics and astronomy, said she could tell that Yung had a future in space. "He was extraordinarily talented, and he was the first student to graduate in both our astronomy and astrophysics minors," she said. 
Venkatesan invited Yung to collaborate with her as a research assistant for three years while he was a student, and to this day she works with him on research projects and papers, she said. "With Aaron, the past is in good hands."
Image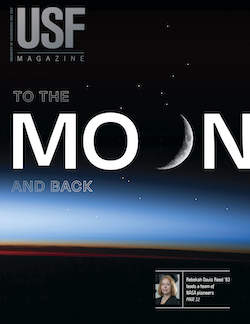 Featured in USF Magazine
This USF News story was published in USF Magazine, where you can find feature stories about university life, alumni Class Notes, and information about events at USF.