Exploring the Lives and Experiences of Mixed Race Individuals in Asia and the US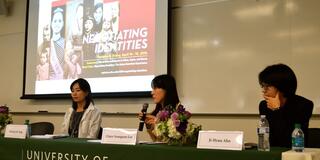 On April 14-15, 2016, the University of San Francisco Center for Asia Pacific Studies hosted its spring symposium, "Negotiating Identities: Mixed Race Individuals in China, Japan, and Korea." This international symposium gathered together scholars representing fields ranging from sociology to history, Asian Studies, cultural studies, Japanese studies, global media studies, and international education to share the latest research on the history and life experiences of mixed race individuals in China, Japan, and Korea. The symposium provided a venue for academic conversations on the topic, promoting greater understanding of the cross ­cultural encounters that led to the creation of interracial families and stimulating research examining how mixed­ race individuals living in East Asia have negotiated their identities. In an effort to create stronger links between Asian Studies and Asian American Studies, the symposium also featured a panel discussion on contemporary perspectives on mixed race studies in the US. This ended with a lively audience discussion where several students shared their own multiracial experiences and perspectives.
Shedding light on important themes such as definitions of race (both historical and contemporary) and issues of class, gender, identity, citizenship, and legal rights, the symposium emphasized the importance of mixed race studies to our understandings of society as a whole. Mixed race studies examines the movement of peoples and the sharing of cultures at the most intimate levels of society – within families. Many of the individual and family histories discussed at the symposium were a result of relationships that challenged societal norms. As society questioned their origins and identity, multiracial children – and their descendants – have continued to challenge these norms. Speakers also explored how multiracial individuals have negotiated their identities and the challenges they have faced, ranging from society's constant questioning of their social belonging, to legal issues (especially citizenship), to their personal senses of self and identity. By examining the roles played by families, societies, and governments and the reception (or lack thereof) which multiracial individuals have encountered in their lives, presenters revealed how mixed race is more than an individual matter: it is a reflection of the workings of society, the nation, modernity, war, transnationalism, and globalization.
Participants represented universities and research institutes in Korea, Japan, Hong Kong, Canada, the United Kingdom, Australia, and the United States. The highlight of the symposium was a keynote lecture by Emma J. Teng (Professor of History and Asian Civilizations, Massachusetts Institute of Technology) on the hidden histories of transnational and mixed families in the US, China and Hong Kong (1842-1943). Panels focused on themes such as: Multiracial Pasts in Hong Kong and China; Nation, Modernity, and War: Mixed Race Identities in Japan; Categorization, Social Status, and Legal Aspects of Mixed-Race Groups in South Korea; and Asian-American Experiences.
Thanks to the the generosity of our main sponsor, Suzanne Wu Zurinaga, Luis Zurinaga and the Wu Chen Lew Zurinaga Fund, registration was free for USF faculty, students, and staff. The symposium topic also drew in faculty and students from other universities and members of the interested public. The USF MA in Asia Pacific Studies and Asian Studies Programs, co-sponsors of the symposium, also sent students and provided volunteers.
Participants have been invited to submit their research for consideration in the Center's online peer­ reviewed journal, Asia Pacific Perspectives. We welcome other scholars working in the field to submit their papers for our upcoming special issue on the topic.
For further questions, please contact the conference organizer, Melissa S. Dale, at mdale3@usfca.edu.
Agenda
---
THURSDAY, APRIL 14, 2016
MCLAREN CONFERENCE CENTER, ROOM 250
10:30 a.m. – Opening Remarks
11 a.m.–1 p.m. – Session 1: Multiracial Pasts in Hong Kong and China
Discussant: Stephen Murphy-Shigematsu, Stanford University
Eurasians in Hong Kong and China (1870s - 1970s): Embracing Erasure, Solidarity or Duplicity?
Vicky Lee, Hong Kong Baptist University
Girls not Sisters: Race, Gender, Disease and the Early History of Nursing in Hong Kong, 1880-1910
Angharad Fletcher, University of Hong Kong & King's College
Looking Relations: Photography, Institutionality, and Multiracial Pasts
Nadine Attewell, McMaster University
1–2 p.m. – Lunch Break
2–4 p.m. – Session 2: Nation, Modernity, and War: Mixed Race Identities in Japan
Discussant: Hwa-Ji Shin, University of San Francisco
One Family's Experiences in Navigating Multiracial Identities During its 145 Years in Japan
Leslie Helm, Author, Yokohama Yankee: My Family's Five Generations as Outsiders in Japan
Mixed Race Experiences in Meiji and Taisho Era Japan
Kaori Mori Want, Konan Women's University
Risk or Resource?: Half-Japanese Caucasians and Half Caucasian Japanese in Wartime Japan
William Puck Brecher, Washington State University
5–6:30 p.m. – Keynote
Crossing Boundaries: The Hidden Histories of Transnational and Mixed Families in the US, China and Hong Kong, 1842-1943
Emma J. Teng, Professor of History and Asian Civilizations, Massachusetts Institute of Technology (MIT)
FRIDAY, APRIL 15, 2016
FROMM HALL, MAIER ROOM
9:30–11:30 a.m. – Session 3: Mixed Race Groups in South Korea: Categorization, Social Status, and Legal Aspects
Discussant: Keiko Yamanaka, University of California, Berkeley
The Social Status of Honhyeolin in South Korea
Onjung Joy Yang, University of Sydney
Differentiating "Foreigners" from "Mixed Blood" in South Korean Society
Claire Seungeun Lee, Korea Institute for International Economic Policy
The Social Production of Mixed-Race Population and State Racism in South Korea
Ji-Hyun Ahn, University of Washington
11:30 a.m.–12 p.m. – Lunch
12–1:30 p.m. – Roundtable: Negotiating Identities: The Asian American Experience
Moderator: James Zarsadiaz, University of San Francisco
Evelyn Rodriguez, University of San Francisco
Dana Nakano, California State University, Stanislaus
Dawn Lee Tu, University of California, Berkeley
1:30 p.m. - 1:45 p.m. – Closing Remarks