Campus Life
Top 10 Zoom Moments of 2020
Professors share stories of remote learning during the pandemic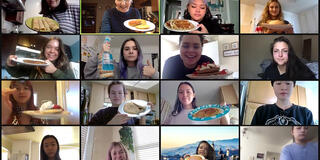 While the past year of remote learning had its challenges, it also had its moments. Here, professors share their favorite Zoom memories.
"The morning after the November elections I emailed my class and said we'd be starting class a little late. I told them to use the time to find ingredients and be ready join the Zoom from their kitchens. We made pancakes together. It was such a stressful time for everyone; I knew that no one would be able to focus on class. I also didn't want to make the class all about the election — we just needed a break and to connect as a community. Students' roommates, parents, and pets popped in, which sort of made it feel like running into people on campus." —Rachel Beth Egenhoefer, Design
"On Veteran's Day, I mentioned that one of the students in the class is in USF's ROTC program. As soon as he confirmed that he was getting commissioned this semester, our screens filled up with Zoom hearts, and the chat was filled with messages of support to him." —Eve-Anne Doohan, Communication Studies
"With a forecast of high winds that can topple electricity lines and cause fires, Pacific Gas & Electric announced an impending 'public safety power shutoff' on a Sunday evening in my area. While I was packing my family's food into an ice chest, I wondered what to do about my Monday class. Because of COVID-19 restrictions, all the coffee shops in my area were closed except for takeout, so I couldn't use their Wi-Fi. So I drove 20 minutes to Whole Foods, connected to their Wi-Fi from the parking lot, and taught Zoom class from the front seat of my car." —John Perez, Psychology
"My class covered three time zones, and one day I learned that we had a bunch of dogs off camera. One started barking at something outside a window, and soon we had a transcontinental bark-off. I'm still trying to figure out if I should award participation points to humans for their dogs giving voice." —Brandon Brown, Physics
"We had class on the Saturday after Election Day and students logged in just as the winner was called in the presidential race. One young woman, who is a Latina first-generation American student, got a call from her mother and forgot to mute herself. She was crying, laughing, and yelling with joy while talking with her mother on the phone." —Billy Riggs, Master of Public Administration
"I dropped into a Zoom breakout group to find a heated debate taking place between one student in Uganda, another in Pakistan, and two in the Bay Area. Watching them wrestle with scenario analysis, an idea that we'd just covered in class, I was inspired by how these new USF students simply refused to let the pandemic stop them from learning." —Vijay Mehrotra, School of Management
"Last spring, in an office hours session, some of our international students spoke about their fear of going to the grocery store or walking their dog or simply going outside due to the possible spread of the virus or chance of encountering racist treatment. This conversation reminded us that any course needs to take into account the full impact of the pandemic on our students' lives — on their ability to focus, to feel safe." —Brian Komei Dempster and Genevieve Leung, Asia Pacific Studies
"One day the Zoom universe split in two. We started the class in breakout rooms for a community-building activity. When it was time to return to the main room, one student and I found ourselves in a different room than the rest of the class. To stitch our universes back together, everyone had to leave the meeting and return. When the whole class was back in the same room, we had a good laugh. This class epitomized this year's slogan: Keep calm and log back on." —Gennifer Smith, Engineering
"On the last day of my Nursing Senior Seminar class, in spring 2020, I took a screenshot of the class — they were all about to graduate. That photo started a new tradition of taking 'graduation photos' of all of our senior seminar participants each term. Looking at their pictures on Zoom and just knowing that these graduates are now nurses — bless them all and keep them safe!"—Mary Lou De Natale, School of Nursing and Health Professions
"One day I had my students log off the video Zoom and call in to the phone number so we could all go on a walk together. We talked as we walked — everyone in their own neighborhood, in different cities and time zones. Afterwards we shared photos of where we were as we walked." —Rachel Beth Egenhoefer, Design
Image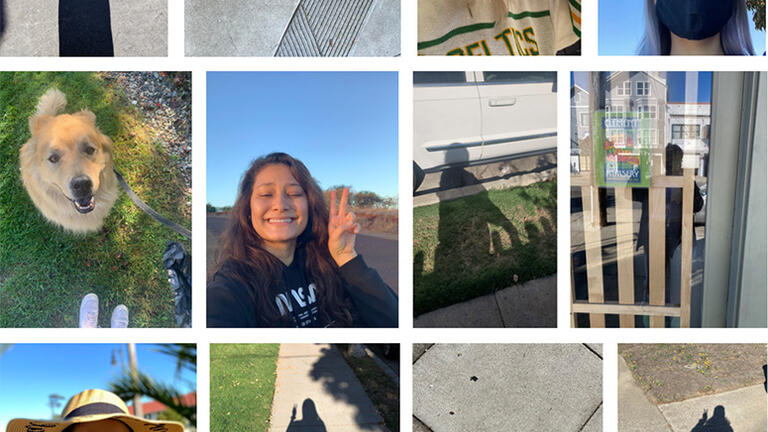 Image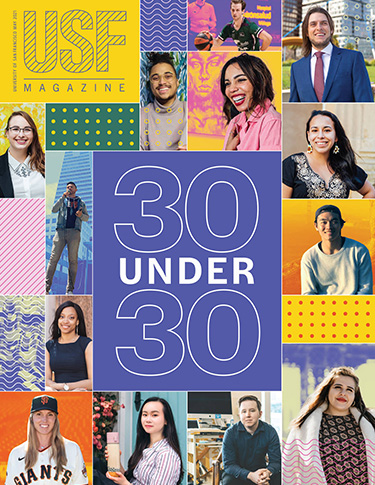 Featured in USF Magazine
This USF News story was published in USF Magazine, where you can find feature stories about university life, alumni Class Notes, and information about events at USF.