Global Perspective
Spring Events Explore Migration, Art and Global Security Issues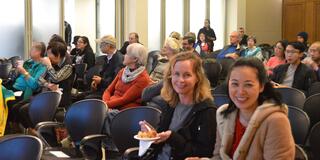 The Center for Asia Pacific Studies kicked off the 2017 Year of the Rooster with a special Lunar New Year event. Guests enjoyed dumplings, noodles, and a screening of the documentary film Last Train Home. The film follows the world's largest human migration as millions of urban workers return to their families in rural areas to celebrate the New Year. An emotionally wrought narrative, Last Train Home reveals the dramatic changes happening inside the divided lives of families in modern China.
The Center's February 8th lecture "Tomb Treasures: New Discoveries from China's Han Dynasty" featured Asian Art Museum's Senior Associate Curator of Chinese Art, Dr. Fan Zhang, who provided a sneak peek of the current exhibition. On view for the first time in the U.S. are over 100 rare selections from recent excavations — including a jade coffin, rare bronze bells, elaborate crafts and much more. Dr. Zhang's talk shed light on daily life and courtly entertainment of the Han nobility, their ideas on the afterlife and a preoccupation with hygiene, beauty and intimate relations. "Tomb Treasures" runs until May 28, 2017.
The highlight of our 2017 spring semester programming was a presentation by Marie Kondo, Japanese organizing consultant, author and visionary entrepreneur. Kondo spoke about the philosophy behind the home organizing techniques she wrote about in both her NY Times #1 bestseller The Life-Changing Magic of Tidying Up (2011) and her latest book, Spark Joy: A Masterclass on the Art of Organizing and Tidying Up (2016). Her message, promoting mindfulness and optimism, addresses more than just how to tidy up our homes, but also how to improve decision-making skills in order to live happier, more fulfilling lives. Read more about her March 6th visit to USF.
On March 22, the Center screened Miss Hokusai, an anime film focused on the famous Japanese artist Hokusai and his little known daughter, O-Ei. USF faculty member Professor Karen Fraser introduced the film with an overview of Japan during the Edo period, the life and work of the artist, and ukiyo-e prints (including popular subjects such as the entertainment quarters, celebrities of the Edo period - kabuki theater actors and geisha, and landscapes and travel prints).
The Center for Asia Pacific Studies welcomed Mr. Chae-Hyun Shin, Consul General of the Republic of Korea in San Francisco, to campus on April 19th. Consul General Shin's lecture reflected on the many decades of positive relations between the United States and the Republic of Korea, highlighting economic successes, international peacekeeping missions, and increased cooperation on environmental initiatives in the region. With his prior experience as Ambassador and Director-General for North Korean Nuclear Affairs, Consul General Shin offered unique insights into the mounting tensions on the Korean peninsula and solutions for de-escalating disputes between its neighbors in Northeast Asia.