Equipped to Lead and Succeed
Student Helps to Change the Color of Health Care
She joins a nationwide program that promotes diversity in medicine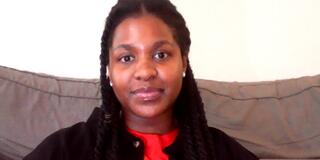 Sheillah Tumusiime '23 has been chosen by the National Institutes of Health to address health care disparities among people of color.
In her work as a member of the NIH's All of Us Research Scholars program, Tumusiime will address a problem that she proposed to the NIH: a lack of dermatology treatments for people of color.
"When I was growing up, I had acne, but my parents didn't see the need for me to go to a doctor for help with my skin because their experiences going there didn't yield any success," Tumusiime said. "And even when they changed their minds and allowed me to go see a doctor, all the treatments that I tried either didn't work for my skin color or didn't work at all. I took matters into my own hands and started doing my own research. I pretty much became obsessed with dermatology." 
If a dermatology textbook mentions a red rash as a symptom, it usually means that the rash looks red on a white person's skin, she added. "That same rash might not look red on a Black person. It might look purple. It's hard to diagnose or treat a disease if researchers haven't studied how that disease affects people of different colors."
Tumusiime is now exploring and evaluating dermatology research in the NIH's All of Us research database. At the end of March, she'll present a poster of her findings at the All of Us Researchers Convention. In May, she'll graduate with a degree in biology. Next step: medical school and, she hopes, a practice in dermatology.