Passion for Justice
USF Undergrad Wins Fellowship for Community Engagement
She'll join students across the U.S. and Mexico who work toward change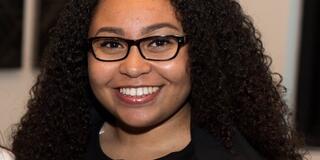 Jada Curry '22 has volunteered in the Fillmore community of San Francisco for years, and now her efforts are being recognized on a national level.
Curry became a Campus Compact Newman Civic Fellow in February. When she saw her name on the list of fellows, she said, she couldn't believe she had been chosen.
"When you do work in and for the community, you don't really think about getting recognized in this way," she said. "I'm super excited and so appreciative."
Collaboration for a Better Future
The Newman Civic Fellowship creates a network of students from 39 states, Washington D.C., and Mexico, who solve problems in their communities. Curry was nominated by the McCarthy Center, which supports and prepares students for public service.
For most of the yearlong fellowship, students meet online and brainstorm ways to create positive change.
In our monthly meetings, the focus will be on local economies," Curry said. "So in my case, whatever issue we're looking at, I'm going to see it through the lens of improving economies in the Bay Area."
The fellowship culminates in a week of in-person presentations in which the fellows share the work they have done and what they plan to do in the future.
Community Advocacy
Four years ago, Curry joined the New Community Leadership Foundation (NCLF), a nonprofit in the Fillmore that works to lift the Black community throughout the Bay Area. She helps organize community events like chess matches and art events in the mini park on Fillmore Street, and an annual commemoration of the lives lost in the Jonestown massacre of 1978, led by Jim Jones, head of the San Francisco-based Peoples Temple.
Curry wants to continue working with NCLF during her fellowship to engage disenfranchised communities in the city, particularly the Fillmore, she said.
She helped to do that two years ago. "We took locals on a walk down the Fillmore corridor to show them how many Black-owned businesses are still operating there," she said. "I want to help the growth of the Fillmore, especially seeing how COVID has impacted small businesses there."
While her time at USF is dedicated to physics, Curry said her coursework and community work are connected. "At USF, social change is really embedded into all courses — even as a physics major," she said. "There's a lot of work to do in the world of physics to improve diversity, and that topic comes up in my classes all the time."
Curry has a year left at USF, but her thoughts are already on her future.
"I hope to continue to give back in whatever ways I can, no matter where I land in the physics field."