Faculty & Staff Achievements
5 Things to Know about Dean Fung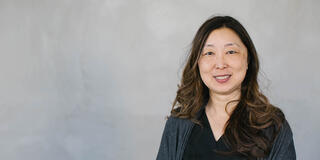 Dean Fung has something in common with a third of USF students. She is first in her family to graduate from college. (Dean Fung is the daughter of Chinese immigrants.)
Her education reflects her interest in diversity. Dean Fung earned a BA in English literature with a minor in Asian American studies from UCLA and a PhD in medieval English literature — with specializations in feminist and post-colonial theories and ethnic American literature — from UC Santa Barbara.
She helped develop the Honors College. Dean Fung is founder and associate dean of the Honors College, which was funded with a $15 million endowment gift from Gordon Getty '56.
Liberal arts is a passion for her. "As a liberal arts university, it is critical that we sustain the integrity and creativity of the arts and humanities traditions," she said. "At the same time, we must also underscore the energy and innovation from the social sciences and sciences.
USF's mission has kept her here for two decades. "As an immigrant, a woman, and an Asian American, I am not the typical image of a college dean," she said. "Twenty-two years ago, I came to USF for its mission in social justice, a commitment to diversity, equity, and inclusivity. Twenty-two years later, I still believe in USF." Dean Fung's interim term lasts until 2023.