Giving
Up From the Ashes
How the Santa Rosa wildfire sparked a mission to deliver aid at home and abroad
On Oct. 9, 2017, fire swept through Santa Rosa and destroyed large sections of the city. Tens of thousands of residents were displaced, two dozen people died, and nearly 5,700 homes and other structures burned in what was then the deadliest wildfire in California history. USFers, many connected to the university's Santa Rosa location, were among those affected.
Dons responded with an outpouring of aid. In the wake of the fire, a group of graduate marriage and family therapy students and faculty saw a chance to put their education to work helping people traumatized by the disaster. Drawing on their mental health training, they created a disaster response protocol and a rapid response team. They've since helped survivors of an earthquake in Mexico and refugees at the U.S.-Mexico border.
On the first night of the Santa Rosa fire, marriage and family therapy alumna Brittany Ratiani MA '18 and her husband raced to their car at 2:30 a.m. As the fire approached, she recalled braving 80-mile-per-hour wind gusts and falling embers the size of barbeque briquettes. They made it out, barely.
Another USFer, Jessica Hyles MA '20, was awakened by a phone call at about 4 a.m. She and her husband turned on the news and saw the fires raging seven miles away in Santa Rosa. "When we looked outside on our carport it was covered in black ash," she said.
Hyles, who had just started USF's Master in Counseling Psychology program with a concentration in marriage and family therapy (MFT) at USF's Santa Rosa location, began calling her cohort to make sure everyone was okay.
When one of her professors, Aaron Horn MA '12, EdD '08, saw on the news that the fire had destroyed entire sections of town, he too started calling students, including Hyles. Members of the cohort were safe, they learned, but scattered from the evacuation.
Classes at the Santa Rosa location were canceled, but students and faculty calling and texting to check in wondered how to help.
Horn, along with MFT professors and program coordinators Belinda Hernandez-Arriaga and Daniela Domínguez, decided to offer students class credit for volunteering.
"We made changes last moment to assignments in our community mental health courses, combining emergency work in the community with final papers about their experiences during the fire," Horn said.
Students in the MFT program leapt at the chance, and about 30 unloaded and sorted donations and handed out food and water alongside Horn, Hernandez-Arriaga, and Domínguez for several days at Santa Rosa's Elsie Allen High School — which had been converted into an emergency shelter. The effort was part of a partnership with the Teamsters.
"I'd never seen anything like it," Hyles said, referring to the hundreds of families at the school seeking water, food, clothing, and shelter. "The idea that they lost everything, that this happened in our own community, is what kept me going."
Image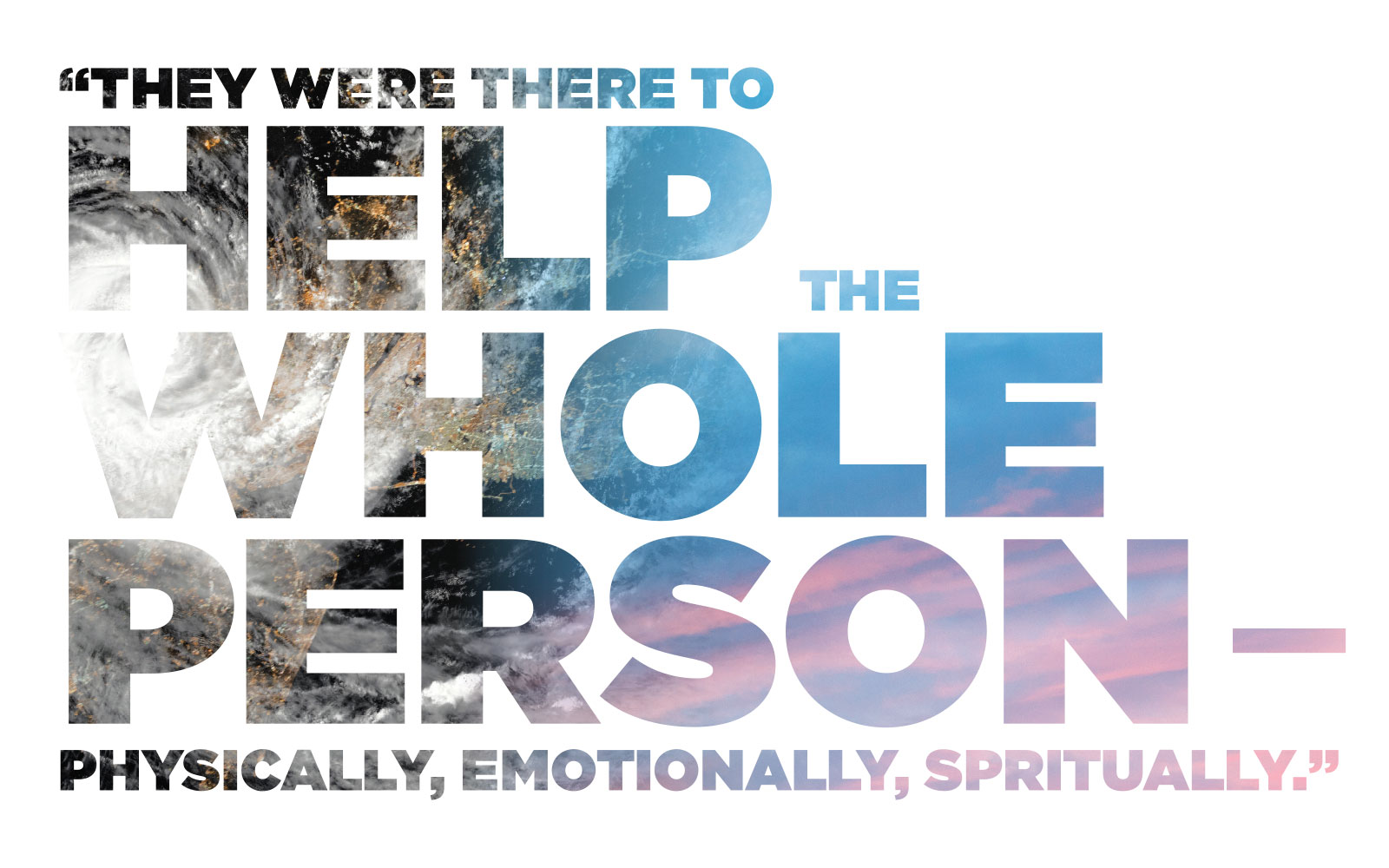 Healing can begin
The Santa Rosa fire wasn't the first time MFT students responded to a disaster. A few weeks earlier, five students and three faculty flew to Houston and spent five days assisting survivors of Hurricane Harvey.
"I kept seeing the footage of how bad it was. The need was so great," said Hernandez-Arriaga. "I remember thinking we have such a wealth of students who are rooted in the profession of mental health and the Jesuit tradition of serving others, and I asked myself, 'Why don't we go out and volunteer?'"
In Houston, students joined with local nonprofit BakerRipley to register survivors, do case management, and distribute supplies. "They were there to help the whole person — physically, emotionally, spiritually," Hernandez-Arriaga said.
When the MFT students gave a survivor a blanket or a bowl of soup, they didn't just set it on the table and move on quickly to the next person, Hernandez-Arriaga said. They acknowledged the survivors, looked them in the eyes, sat and talked to them, and asked them how they were doing, as they'd been taught by their professors.
"It opens a window," said Hernandez-Arriaga, noting that students weren't there to counsel survivors but to learn as future therapists. "People shared their trauma just because we were close to them and offering a hand. As student counselors, one of our objectives was to make sure people were seen and heard. It's through this active listening that the healing can begin."
Hierarchy of needs
In Santa Rosa, students, faculty, staff, and alumni from the MFT program and other USF programs rallied to help fire survivors. "We started with basic needs," Hernandez-Arriaga said. That meant sorting donations, loading and unloading, and helping get people to where they could register for hotel vouchers, receive first aid, and find clothes.
And while they did that, they listened.
"It's Maslow's Hierarchy of Needs," said Hernandez-Arriaga, referring to the psychological theory that humans' basic needs must be fulfilled before they will pursue a higher level of wellbeing. "In order to be effective clinicians in community mental health, counselors must understand the needs of their clients: food, clothing, shelter, and safety come before self-actualization. If we can help them with the primary concerns, we have a better chance of helping them with the mental health aspect."
That's vital because holding trauma in can lead to anxiety, fear, and depression down the road, research shows.
"I was just hearing them," said MFT student Luigi Valencia MA '18, who like many of the people he helped in Santa Rosa was forced to flee his house with just a bag of essentials. "And really, I just wanted to be human. Just let them know that I was there for them as I was helping them."
Image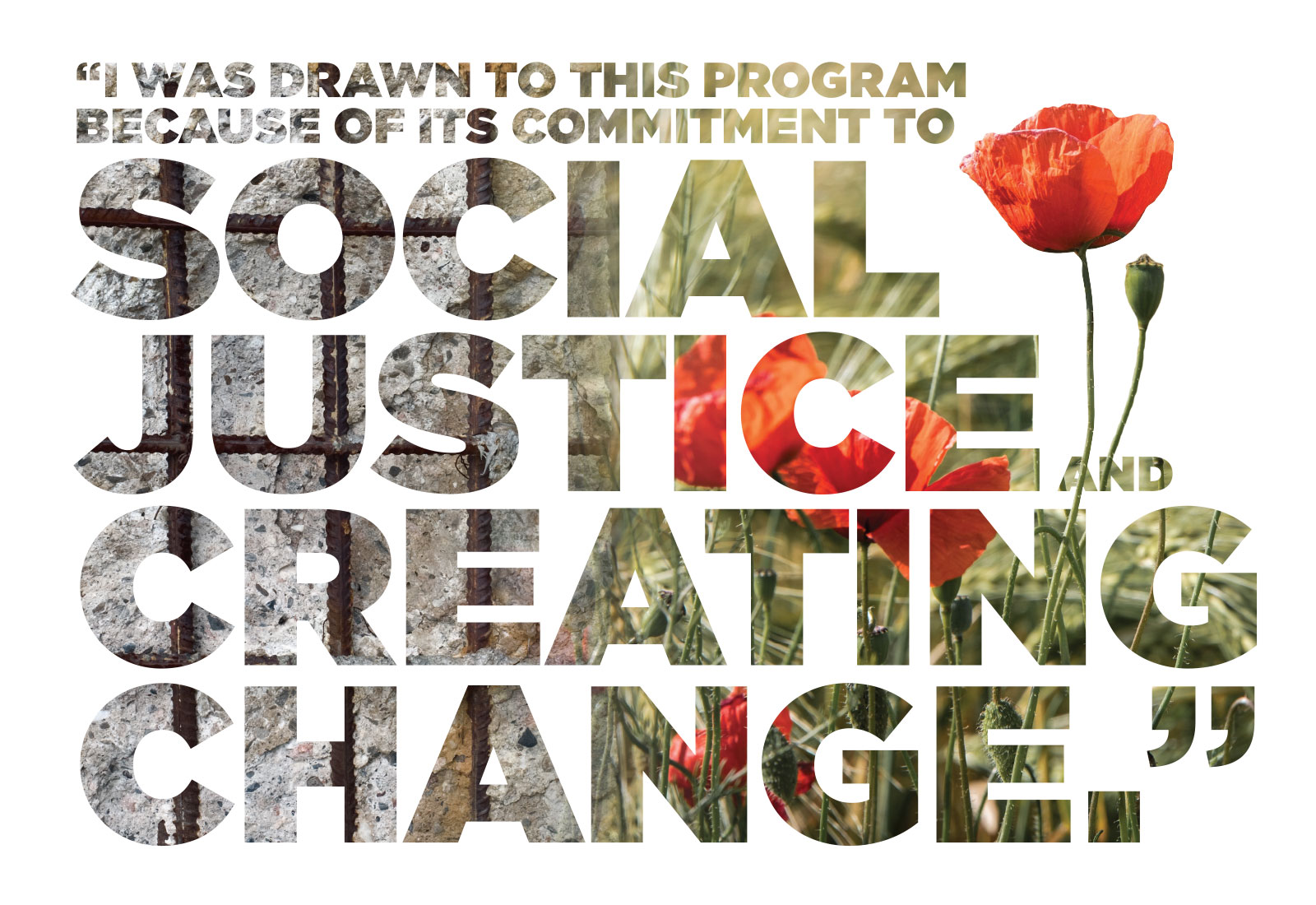 Grateful to live it
After the fire, Hernandez-Arriaga and Domínguez began to hear from students.
"They told us that rolling up our sleeves and getting out there was something they valued and wanted to do more of, and that they thought it was important as mental health professionals in training to help people who were experiencing emotional distress," Domínguez said.
Víctor Alfredo Kuri De Labra MA '19 was one of the vocal students. In May, he joined 15 MFT students, Hernandez-Arriaga, and Domínguez on a trip to Puebla, Mexico to help survivors of a 7.1 earthquake that killed more than 200 people and toppled more than 40 buildings the previous September.
"It was emotionally moving at varying levels, because a lot of the MFT students had connections to the Mexican culture," said De Labra, noting that many survivors were still sleeping in sheet-metal shacks six months after the temblor. "I myself am Mexican."
"One kid I met in Puebla, she is 16, she had the desire to come to the United States … to have a chance at better opportunities. I'm an immigrant myself. My mom came before me and my dad came after me. That resonated with me," De Labra said.
The Puebla trip, part of a partnership with Jesuit Universidad Iberoamericana, Puebla, radically shifted De Labra's appreciation for the MFT program.
"I was drawn to this program because of its commitment to social justice and creating change," he said. "I didn't always feel like that in the program. I kind of wondered when the social justice would happen. But this experience opened my eyes. I have to be part of the change. And I'm grateful to live it, not just read or talk about it."
Help without borders
Responding to students' requests to continue such efforts, Hernandez-Arriaga and Domínguez launched the MFT Rapid Response Team after the Puebla trip with a mission to travel and help victims of disasters and crises. The team is made up of a revolving group of 7–12 students and two or three faculty.
In addition to providing aid and assistance, the rapid response team is a training tool for students, Domínguez said.
"Doing community mental health often means working with vulnerable communities outside the confines of a therapy room," she said. "It raises issues of privacy, of cultural awareness and sensitivity, and how to partner with local groups and organizations and learn from those living in the community — all of which students encounter during these immersive emergency responses."
In July, the Rapid Response Team partnered with Catholic Charities to respond to a man-made crisis — the detention and separation of refugee children from their parents in centers in McAllen, Texas.
"We went to the border not knowing what to expect," said Stephanie Amaya MA '19.
There, the group heard horror stories about the centers, she said.
"Children 10 and older told us they were put into cages," Amaya said. "They told us how they were separated from their parents. We heard about families suffering because they were forced to sleep on concrete floors in very cold rooms without bedding. They hadn't been given regular showers, and they weren't being fed properly and were dehydrated."
Amaya said she was changed by the experience.
"A lot of us chose this school for social justice," said Amaya, who travelled to both Puebla and McAllen, Texas. "From these trips, I definitely am seeing what I want to do in the future. I want to follow in their footsteps," she said, referring to Hernandez-Arriaga and Domínguez. "They are so inspirational. They're willing to cross state and international borders to help people."
Be better counselors
While "parachuting in" to crises provides some immediate aid, MFT students and faculty agree that a long-term plan for helping survivors connect with local resources is essential.
That's why they returned to McAllen, Texas at the end of November and plan to return to Puebla, Mexico next spring.
"It's important that we stay connected with the local partner organizations, families, and individuals," Hernandez-Arriaga said. "Even after we left the border, for example, we were able to find one of the refugee families a place to live. There's still more we can do and more we can learn about being better counselors."
The need for a long-term plan is why Hernandez-Arriaga and Domínguez joined the Oxford Symposium in School-Based Family Counseling — a coalition of researchers and university faculty in Durban, South Africa; Ankara, Turkey; Stuart, Florida; and Los Angeles. They've applied for national funding to create university-based disaster coping resources teams composed of students and faculty who travel to communities in crisis and train teachers, parents, and others how to help children, families, and schools cope with trauma.
"We see this as the next natural step in the process. We want to respond to disasters taking place across the globe," Domínguez said.