Growing up in Oregon, I always wanted to go to college in California. But my dreams of the Golden State mostly involved sunny beaches and high temperatures — not a big city known for its chilly fog. Thankfully, the college admission gods had other plans, because USF turned out to be one of the best things that ever happened to me. Its array of classes, amazing internship opportunities, and location in the middle of a vibrant cultural capital shaped who this international studies major became in ways I never expected.
Today, I live in San Francisco and work as an editor at WIRED magazine. I spend my weekends discovering everything this city has to offer. Here are some of the places and spaces that I fell in love with during my USF years, including some I still frequent to this day. No wonder so many people leave their hearts here.
San Francisco treat
Image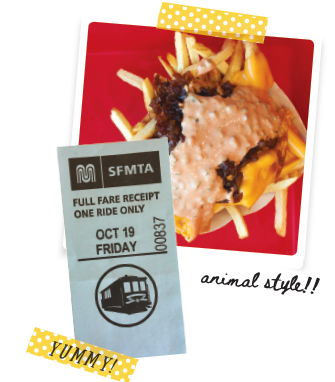 I still remember the moment freshman year when a friend told me we could use our USF-issued Muni passes to ride the cable cars. For a broke college student, experiencing the city's most famous attractions for free helped me to feel like a local. We boarded the Powell-Hyde line around 10 p.m. and nearly had the car to ourselves as we headed down Russian Hill to Fisherman's Wharf for animal-style fries at In-N-Out. In the distance we saw the Transamerica Building, and Alcatraz, and passed by Lombard Street.
Image

Don't Haight me because I'm spooky
Image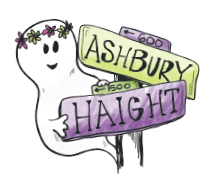 Yeah, it can be touristy and a bit crowded, but come Halloween there's no better place to track down a metallic wig or shimmery leotard. From Goodwill to Buffalo Exchange to Wasteland, the Haight's boutiques never failed to conjure the perfect costume. And the neighborhood's location, six blocks from USF, meant I could solve my last-minute procrastination freak-out between classes.
Beach break!!!
Hot weekends in San Francisco are rare. So when one happened I made sure to have a beach spot at hand. Only three miles from campus, Baker Beach was (and still is) one of my favorite places in the city, especially when it's warm enough to lie out on the sand. 
Escape from the cafe
When my college friends and I get together for dinner these days, we often end up having "the burrito debate" — arguing over which taqueria has the best burrito in San Francisco. My vote always goes to Papalote not only as a matter of taste but also nostalgia. When I was in school, the cafe would close early on the weekends and my dorm mates and I were left scrounging for eats that didn't require a microwave. Once we discovered Papalote, at Masonic and Fulton, we worried a lot less about that 7 p.m. cafe cut-off. The burritos have risen in price since then — from about $8 to $12 — but that doesn't make them any less delicious.
Harry Potter's library!
Ah, the Del Santo Reading Room on Lone Mountain, commonly referred to during my time as "the Harry Potter library." The reading room was one of my favorite study spots — as it has been for generations of Dons. I never discovered any hidden passages, but the banker-style desk lamps, painted ceiling beams, and gothic chandeliers left me with the feeling that the papers I worked on there might indeed last an age.
Motown at Madrone
I'm not sure what exactly it was about this art gallery by day, dance bar by night but Madrone was one of our favorite places to let loose. Motown Mondays, 80's Night, and a rotating mix of DJs meant there was always something to groove to. Plus, we could walk back to campus.
Point. Order. Eat.
Eugene, Oregon, my hometown, isn't known for diverse cuisine. So I was ecstatic to discover the culinary wonderland that is Clement Street when I moved to San Francisco. One of the best options for a student on a budget was Good Luck Dim Sum, where the ladies behind the counter were forever patient with my pointing and asking, "What's that?" Years of experience have taught me the difference between shrimp-and-chive dumplings and pork buns, but the low prices haven't changed. For less than $8, I can still stuff myself with all the greasy offerings my hometown never had.
Page turners
When my politics or international studies classes required a textbook the USF bookstore didn't have, I could usually count on Green Apple Books — another beloved shop on Clement. Its 7,500 square feet of nearly 200,000 books (plus all kinds of magazines, DVDs, CDs, and gifts) meant that all too often I ended up wandering the aisles, distracted from my original mission. 
In the beginning there were food trucks
The term "food truck" may evoke ideas of $13 falafel salads today, but it wasn't always so. When Off the Grid started in 2010, it was a weekly event with a handful of menu options per truck, each item for around $5 a pop. It was Food Fusion at its finest — ice cream tacos, anyone? During my last semester, heading to Fort Mason became a Friday night tradition, one where my friends and
I would sample as many foods as possible.
Sundae fun day
Speaking of ice cream. Everyone knows about Bi-Rite, but the best ice cream in the city is at family-run Joe's Ice Cream on Geary, which opened in 1959. I love ice cream, and when I came to San Francisco it was important to me to discover a new favorite place to get my double-scoop fix. Joe's boasts 50 flavors of homemade cream, its counter seats and wooden menu give off an old-time feel, and the staff exude community spirit (scoopers are often spotted sporting USF gear). Now if only I could decide on a flavor …
Do the social justice hustle
What could be more fun than teaching a group of fourth graders an interpretive dance you choreographed, and earning class credit for it? That's what I got to do in a semester-long dance education class my sophomore year. De Marillac, a private middle school in the Tenderloin neighborhood that serves low-income families, fed my passion for justice in education — a subject I've written about as a journalist. Today, I still volunteer there. Spending an hour a week hanging out with 10-year-olds, it turns out, is good for the mind and the soul.
Swing over the city
Before Uber and Lyft made rides cheap and quick, trekking to the top of Twin Peaks for its breathtaking views of the city was a hike few (read: me) had the stamina for. Instead, my friends and I headed to Buena Vista Park, eight blocks from USF, to enjoy great panoramas with much less effort. We cleaned the trails during University Ministry's annual day of service, hunted for wild blackberries on sunny weekends, and vied with the playground set for one of the park's swings, which thrilled us with a feeling of flying out over the city.
Birthday serenade
My residence hall floor in Hayes-Healy was filled with talented singers and musicians freshman year, and I got to know many by watching them perform each week in the dark, cozy space of Crossroads (before it was remodeled) during Thursday open mic nights. I was even serenaded with a John Mayer song for my 19th birthday one year by a floormate, an embarrassing but sweet reminder of how easily community can form even when you're far from home.
I'm not bitter
When I turned 21 (and perhaps a time or two before … shh), hanging out meant hitting the Geary bars, some of which have catered to Dons for decades. The Bitter End on Clement was a favorite, a quiet bar that got more rambunctious as the night went on. By the time "Senior Stumble" rolled around, my friends and I were already regulars at its weekly trivia nights.
Mission: Thrift (If you choose to accept it)
Outfitting an off-campus apartment with kitchen and bedroom essentials was difficult for a broke college student. Luckily, the Mission thrift stores never failed to provide what I needed — both practical (colander: check) and otherwise (cheetah-print sweater: check).
Bonus: Community Thrift, one of my favorite places to poke around for used books, old records, and kitchen supplies, donates proceeds to over 200 Bay Area charities — meaning I never felt guilty if I picked up a few extra items.
Paddle with sea lions
Tourists love Sausalito, but its best side is one that can only be seen from sea level in a kayak — in the dark! Even though it was nearly 10 years ago, I still haven't forgotten the time I attended an Outdoors Adventures excursion organized by Koret and paddled among the city's famous houseboats. Glow sticks on the ends of our paddles saved us from getting lost, and from paddling over the adorable sea lions that popped up to say "Hi."
Hidden splendor
It used to be that Sutro Baths had two sides: one was the ruins of the once-resplendent world's largest indoor swimming pool that travelers flock to view, and the other was a hide-away escape hatch, known only to those who explored beyond the chain barrier. Nowadays, that hidden side of the park is open for visitors to explore but it wasn't always that easy. As a daring undergrad, I learned the real fun was in climbing over rocks to an old brick staircase hidden behind a large boulder. There, thrill seekers were rewarded with unbroken ocean views. Even before Instagram, it was a perfect spot for a selfie.
Flowers in my hair
Multi-tasking might be one of the most valuable skills I learned at USF. On sunny weekends, I honed that skill by completing my reading assignments while also recharging and taking in the sights on the lawn outside Golden Gate Park's Conservatory of Flowers, the oldest wooden conservatory in the country. I was too easily distracted by the bikers and drum circles, I'll admit, but sitting among hundreds of flowers made spending the weekend studying more bearable.
Eating my roots
When I was growing up in Oregon, I always knew I had a Russian background on my mom's side, but I didn't know much else about the culture. That changed when I moved to San Francisco for college and discovered the plethora of Russian bakeries in the Richmond district. At Cinderella Bakery on Balboa, I ate my way through my cultural roots with pirozhki, blini, and pelmeni, and am still trying new foods to this day. Learning about the food of my ancestors was a history lesson no classroom could provide.
Come for the classes, namaste for the bliss
I loved my classes at USF. I never felt more challenged or excited than I did studying modern African history and conflict in the Middle East. I had also never felt so stressed. I learned that one of the best ways to tackle all those papers and reading assignments was taking a break each day to do something relaxing, which is how I discovered yoga at Koret. I loved that there was no additional membership fee for students and that Koret offered all kinds of classes at all times of the day.