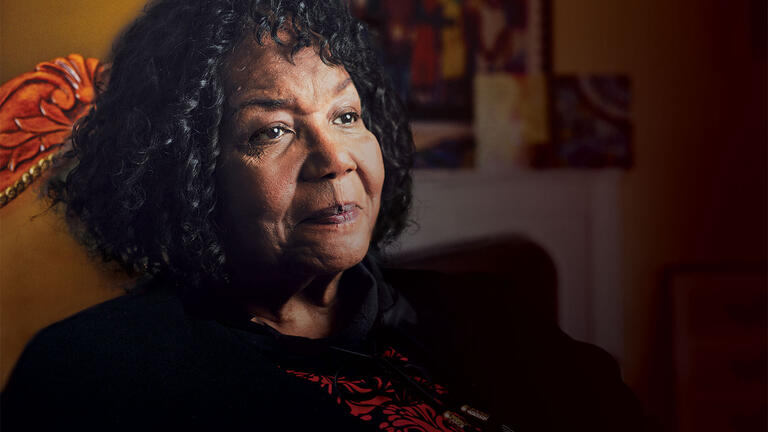 Alumni
March On
Melba Pattillo Beals, one of the Little Rock Nine, reflects on six decades of race relations in America
In the fall of 1957, Melba Pattillo Beals EdD '10 and eight other black teenagers braved a gauntlet of screaming, spitting white people to integrate Central High School in Little Rock, Arkansas. This summer, a year after white supremacists with torches overran the University of Virginia, I sat down with Beals to talk about racism in 2018, what it was like to return to USF as a graduation speaker, and why she's thankful for President Donald Trump.
Beals, who marched for civil rights with leaders in Little Rock and later with Cesar Chavez in San Francisco, is a former journalist for NBC and ABC, a retired Dominican University professor, a best-selling author, and a Congressional Gold Medal recipient.
You received an honorary degree from USF and delivered the commencement speech to the College of Arts and Sciences graduates in May. What was it like to be back at USF?
As an educator, it got to me deeply. On stage, I looked at the graduates and I was happier than I've ever been. It was like a wonderful rainbow of colors of people, like a tapestry.
I thought how much better prepared they are than I was to face the future. Look at the skills they have, their knowledge of computers. They're not going to sit at the back of any bus. They're not going to take one-hundredth of what I had to take. And I know — I know, know, know, know — that they're ready to move this country forward.
It reminded me of when I was a high school junior and complained to Dr. Martin Luther King Jr. about wanting to be a normal kid and attend junior prom. He told me, "Don't be selfish. This isn't about you. It's about those generations yet unborn." When I spoke at commencement, there they were in front of me. I mean, the way they danced up on stage — the happiness and the joy of that group was fabulous!
You write a lot about dreams. What did you dream?
I always ask young people, "What dream do you have? Is there a possibility of making it come true?" There's always the possibility of making it come true. After all, I'm just this little girl from Little Rock. I rode on the back of a bus marked "colored," and drank from a water fountain marked "colored," and I was separated in my schools. I started at ground zero. Yet I always had a dream. The dream was to get out of Arkansas and to make my life work. Here I am now, all this time later, graduated from USF with a doctorate.
What do you think when you see people of color, immigrants, women, members of the LGBTQ community, and their allies publicly and sometimes physically attacked by supporters of President Donald Trump without condemnation from the president?
Look, some folks out there are asking, "What's happened lately? How did we get into this mess? Who let the dogs out?"
The problem is this: I let them out. And you let them out. Because we paid no attention to what was going on. We released the ideology of hate, the ideology of racial supremacy, the ideology of discrimination, the ideology of resegregation, the ideology of "them and us." We did it.
We were busy taking care of the many material things we've achieved, and we were out in our driveway shining that car instead of voting. Okay?
So now how can we confront those who want to go back? Irrespective of who you are or where you came from and what you believe in, we are all responsible for each other. Whether berating females, berating gays, or talking bad about a particular religion, you have to stay aware. Little jokes and little nasty behaviors grow, and grow, and grow.
I say, "Thank you, Mr. Trump." He and his supporters have brought to the surface what's been lying just below all these years. Before, some of us were questioning what there was to fight for. Some of us said, "I don't know where the problem is." Well, now you've got the problem. The problem has come one thousand-fold.
As a public speaker, what do you tell young people who worry about their futures?
I think "march forward" is appropriate. That's what my mother and my grandmother said to me whenever I complained and it's the title of one of my two new books.
[Society] told me I couldn't go to Central High. I said, "Oh really?" So when they say you can't do something, that's what you're going to do. You keep moving. Count it as fuel. Because we're not stopping now. Do you really think that in this age a woman is going to give up her right to choose what happens to her body? I don't think so. Do you think that people are going to give up their right to insurance policies that help when they get ill? I don't think so. No, no. I am convinced we cannot stop, because to stop is to acknowledge defeat.
You were cautious about giving out your phone number and address when we discussed this interview. Why?
I'm a symbol of something some people want to undo. There are haters in the world. I've had people threaten me at speaking events, come to my door, send intimidating letters and emails. So, I'm a little bit careful.
While attending Central High, you had acid thrown in your face and you were stabbed. Do those memories haunt you?
Some people say to me, "You had such a violent childhood. You must really hate white people." I don't hate anyone. I know that the necessity to love others is really, really important.
Not everyone knows this but it was a white, Quaker family that rescued me when I came out of Little Rock. I have three white sisters, one white brother, and a mother and a father. My father helped to found Sonoma State University. They were poor. They had nothing. But they were the most incredible people in the world and invited me to come and live with them in their safety. They walked me over to the bridge of adulthood.
I don't hold grudges. Grandma said when you hold grudges it's like chewing on lemons and most of the time people don't even know you're holding it — so it hurts you more than them. No, I don't hold grudges against anybody. I think the only way out of this is love.
New books by Melba Beals:
March Forward, Girl: From Young Warrior to Little Rock Nine
I Will Not Fear: My Story of a Lifetime of Building Faith Under Fire