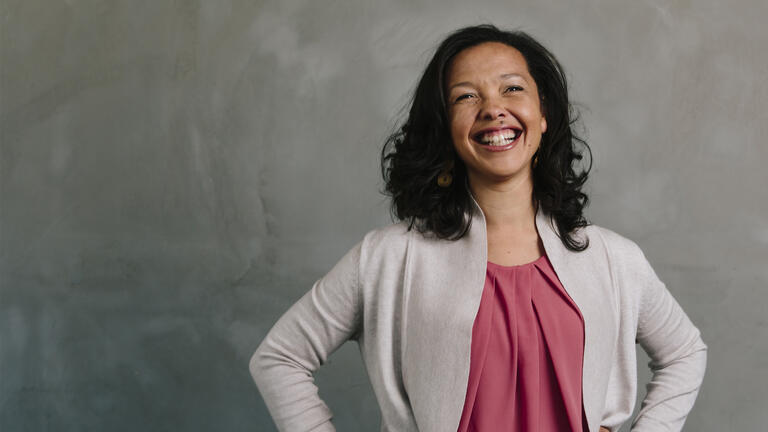 Equipped to Lead and Succeed
Changemakers
They come from varied backgrounds and they have different passions, but they were all drawn to USF by its mission to change the world. Meet five Dons working to create a more humane and just society.
Image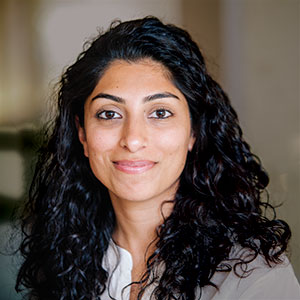 Sabeen Ali
Code as a force for good
For AngelHack founder and CEO Sabeen Ali MSOD '09, the power of technology is limitless. The challenge is to use that power for good — which is why her organization focuses on bringing computer coders and innovators together and educating the next generation.
"I want to teach people that they can have an important role in business and technology and still do good at the same time," Ali says. "I believe anyone has the ability to change the world. You don't have to have a PhD or hold a government position to create change."
Ali, who grew up in Fremont, Calif., founded AngleHack in 2011 with the idea of bringing coders together to compete, hack solutions to community problems, and create change. Today the nonprofit boasts a global community of 50,000 programmers and hosts hackathons in 52 cities around the world. AngelHack connects entrepreneurial coders to hackcelerator mentors — well-connected funders and entrepreneurs with the experience to turn ideas into businesses.
After winning a 2011 AngelHack hackathon, home-cleaning and repair-booking service Zaarly received $14.5 million in funding. Another AngelHack hackathon alum, restaurant website builder Appetas, was acquired by Google.
AngelHack is also launching an online educational platform where budding programmers who live in the developing world and those who don't have access to such training can advance their skills.
"We think of coding as a new, global language for change and innovation," Ali says. "We teach our community how to code and that coding can create empowerment, equality, and open up new opportunities for all."
---
Image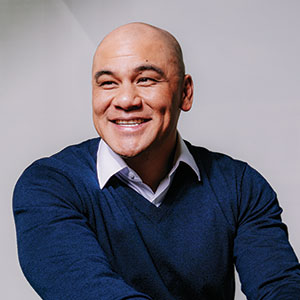 Phillip Leonerio
From sergeant to student to nurse
Returning to school after a stint in the U.S. Marines in the Middle East and western Pacific was daunting for Phillip Leonerio '17.
"The transition was kind of tough for me," he says. "I had to relearn and re-establish my study habits, and be in an environment where I'm around people who don't understand military culture."
However, USF has made the re-entry process as painless as possible. "The small classes are really valuable, especially when you're older and you're a vet," Leonerio says. "It's more comfortable having 10 sets of eyes on you rather than 50. And being able to stay with the same cohort — people who know me and know my learning style — has helped a lot."
Leonerio is working toward two bachelor's degrees from the School of Nursing and Health Professions. His USF experience has dovetailed with his background as a veteran. Most of his classes take place at USF's Sacramento campus, where the nursing school offers clinical rotations focused on care for veterans through the VA Northern California Health Care System. He also did an internship in neurology services at San Francisco Veterans Affairs Medical Center, where he focused on customer service and clerical support. His duties ranged from scheduling patients' appointments to analyzing data and sterilizing equipment.
After he graduates, Leonerio wants to be a psychiatric nurse and work with veterans, especially those with post-traumatic stress disorder.
"Veterans were coming back from war with PTSD and having issues, invisible wounds," he says. "I can tell with people I've met — and I've helped them out, encouraged them to seek resources. That's what led me to nursing. A lot about nursing is being an advocate. I'd like to bring awareness and hope to soldiers who have these issues."
---
Image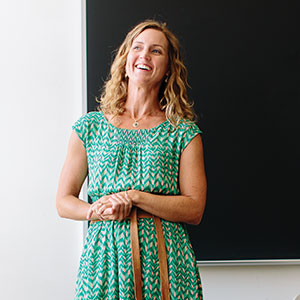 Katie Zanoni
Inspiring a new generation of women leaders
Katie Zanoni EdD '17 believes peace is as important a classroom subject as math or science. That's why she designed a curriculum for an all-girl secondary school in Kenya to teach students about powerful women working toward peace, human rights, and equality.
Zanoni hopes that learning about Kenyan women like environmentalist Wangari Maathai, the first African woman to win the Nobel Peace Prize, and human rights activist Alice Nderitu will inspire the girls to stretch beyond cultural norms that are likely to limit their education.
Working toward her doctorate in international and multicultural education (IME) with a concentration in human rights education, Zanoni created the curriculum for the Daraja Academy two years ago as part of a class on gender and globalization.
While working remotely has been a challenge, she has found plenty of support at USF. "The IME professors and students shared strategies that allowed me to honor the local wisdom of the Daraja Academy community and think through the curriculum to ensure it is relevant to the lives of the students," she says.
After finishing her degree, Zanoni wants to advocate for peace and human rights studies becoming a more regular component of formal education at home and abroad.
"I believe we can institutionalize peace and human rights education," Zanoni says. "I want to work with schools and ministries of education to find ways to integrate topics like nonviolent conflict resolution, human rights, social justice, and environmental awareness into their existing curricula."
---
Image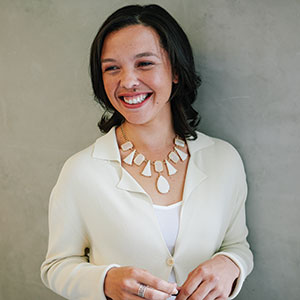 Candice Harrison
Studying the past, shaping the future
Candice Harrison hated history in high school. Bland and devoid of the diversity of human experience, "history just didn't apply to people who looked like me," says Harrison, who is African American.
A college course on immigration and U.S. history made her reconsider.
"It changed the way I understood the world," she says. "It's really when I discovered how powerful human agency is."
Now an associate professor at USF, she teaches American history. Her courses revolve around issues of race, gender, and class. She is also director of the university's African American Studies program.
"To me it's really about building more inclusive narratives," Harrison says. "That's my goal as a teacher and in my work as a scholar and community activist."
Her classes explore subjects that are often overlooked, such as African American history, radical labor movements, and race and slavery in the Atlantic world. And Harrison has helped change the core curriculum itself; students can now satisfy the core requirement for history by taking her African American history course or Ideals of Citizenship, a class she co-created.
She also applies history to current events, such as creating a teach-in after white police officers killed young black men in New York and Ferguson, Mo.
"It was important that we not just give students space on campus to emotionally process these tragedies, but also to analyze them critically," Harrison says. "The goal is to change things, not just to study the past."
Watch the video below to hear Harrison on history and how she found her calling.
---
Image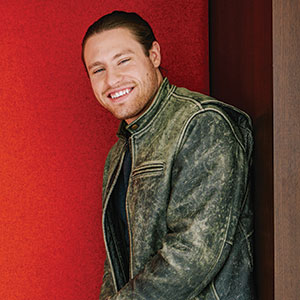 Cooper Findlay
Common law, uncommon lawyer
If you want to know what kind of lawyer Cooper Findlay JD '16 will be, simply ask him why he came to law school.
He'll tell you about his mother, who was told she couldn't go to school because she was born with only one hand. He'll tell you about how his grandmother had to fight to enroll her in classes. And then he'll explain how the 1990 passage of the Americans With Disabilities Act (ADA), which outlawed discrimination based on disability, changed her life and the lives of 57 million other Americans.
"With the ADA," he says, "I saw how the law could be ahead of the morality of society and push it forward."
Findlay chose USF School of Law because it's "well known for producing lawyers that actually have tangible impacts on the community," he says. Two years in, he is already using what he's learned to make a difference. Through USF's Criminal and Juvenile Justice Law Clinic, he represented clients charged with misdemeanors such as theft, trespassing, and assault and battery. And last summer, he interned with the 15th Judicial District Public Defender's Office in Lafayette, La. The experience crystallized something for Findlay: he decided to become a public defender.
"USF has given me real skills so that I can be an attorney that my community and clients can be proud of," he says. Just as important, he can be the type of attorney that helped his mom and millions of disabled Americans those many years ago.