Campus Life
The Cura Personalis of Design
New spaces on campus will engage mind, body, and spirit
Image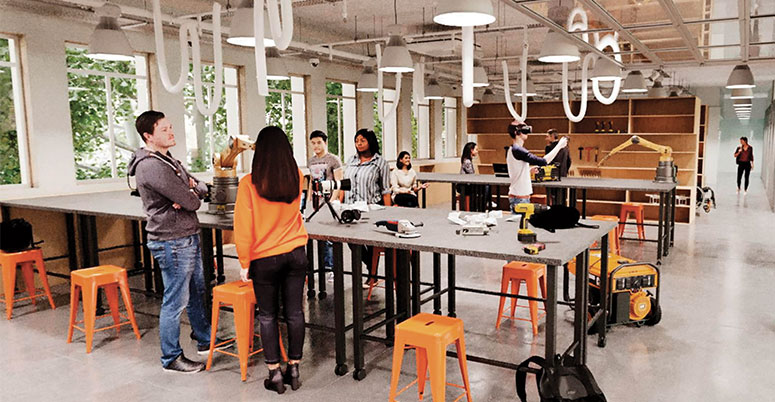 Picture Harney Science Center, the building on Golden Gate Avenue between the library and the student center.
It's 54 years old. It's beige and gray concrete. The interior is dim and lit by fluorescent tubes. It feels cold and cramped.
Architecture professor Hana Böttger puts it this way: "It's not huggable."
Fortunately, Harney is in for a makeover. As the home of USF's new engineering program, Harney will undergo a construction project that will give it a bright new look and create space for students to hang out, work on group projects, and use machinery for prototyping and designing.
The Harney remodeling is part of a campus-wide effort to construct new buildings and spaces to meet students' needs now and in the future. These projects — funded as part of the $100 million campaign to invest in campus infrastructure — include a renovated athletics center, a new biotechnology lab, and a new dining commons on Lone Mountain to serve the students who will live in the residence hall that's being built there.
Image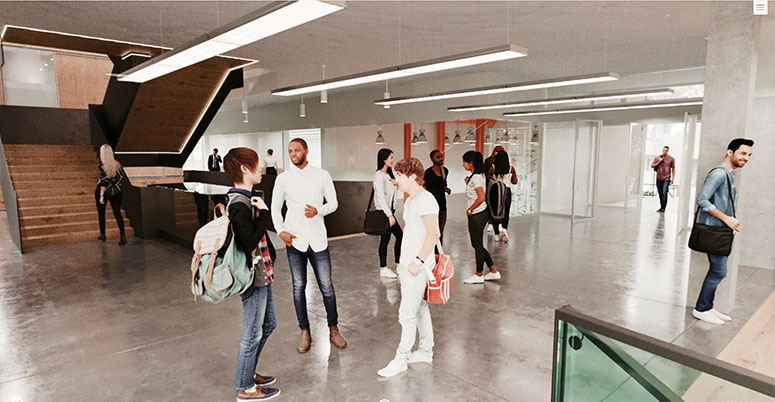 Innovation Hive
Right now, the north wing of the first floor of Harney is mostly administrative offices and hallways. But the Innovation Hive, still in the planning phase, will change all that.
The Innovation Hive, located at the entrance of Harney, will be sunlit and airy, with couches and tables welcoming students to drop in, study, and chat.
Beyond that, the area is separated into sections, including an "ideation space," where students can brainstorm using whiteboards, sketch pads, and even Legos, and several "working spaces," which will be equipped with 3D printers, power tools, and heavy equipment for wood and metal work.
"The Innovation Hive is paired with the engineering program, but it's meant to be for all students, faculty, and staff," says Böttger.
The engineering program plans to partner with programs across the university, and everyone will have access to the working areas.
Image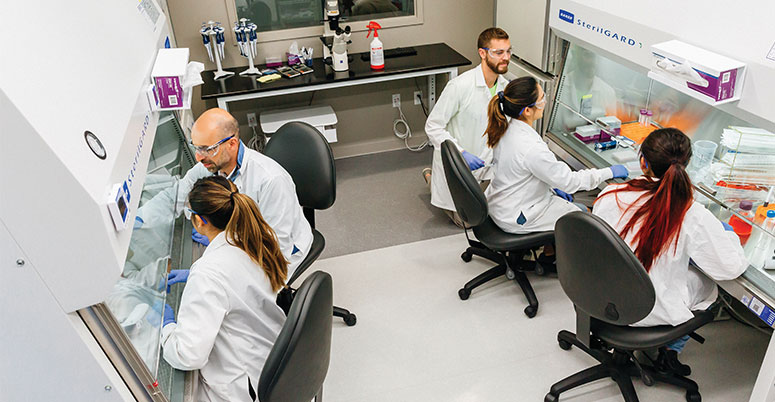 Biotechnology Lab
USF students will have a head start when they find jobs in the Bay Area's biotech industry.
Harney's new biotechnology laboratory, funded by a gift from biotech entrepreneur Kirk Schroeder and his wife, Nicole, is equipped with the latest technologies used by Bay Area life science and biotech companies and will prepare students to work on projects addressing unmet therapeutic needs, ranging from diagnosis and treatment of diseases such as cancer and neurodegenerative disorders to finding efficient ways of manufacturing energy or even food using biological systems.
The equipment in the lab includes the IncuCyte live cell imaging system created by Schroeder's former company, Essen BioScience, which he sold in 2017. Researchers are using IncuCyte to measure the behavior of living cells over hours, days, and weeks, gaining insights into how cells develop, mature, and respond under different conditions in health and in disease.
For instance, life sciences companies focused on slowing or reversing the aging of human tissues (such as the heart or the brain) are using IncuCyte to understand how different genes, environmental conditions, or nutrients may expedite or delay the aging of cells. Companies targeting cancer are using IncuCyte to understand how their treatments kill certain cancer cells, and to identify other cancer cells that evade treatment and cause a resurgence of the disease.
The lab is part of a biotechnology lab and lecture course — the first of its kind at an undergraduate level — that brings together physics, computer science, data science, chemistry, and biology majors.
Schroeder, who was an undergraduate physics major, knows how difficult it can be for undergraduates to know where or how to apply their skills. His goal is to provide this platform for practice while also bringing together students who might never interact to solve problems — in effect, to "break the language barrier across the sciences."
Image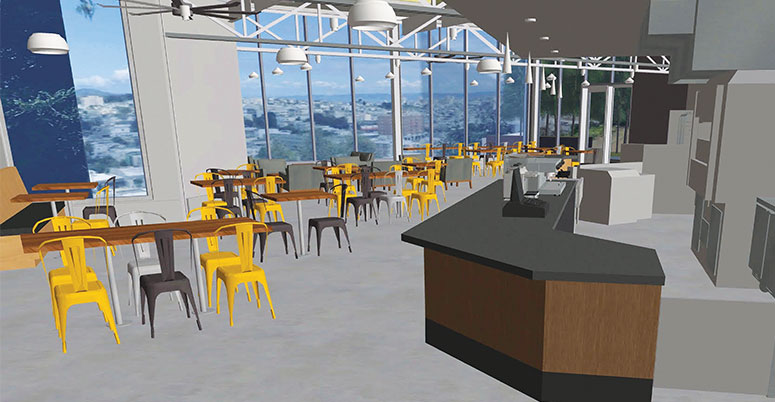 Lone Mountain Dining Commons
The different levels of USF's new 600-bed residence hall aren't called "floors," says Mike London, associate vice president of facilities management. They're called "neighborhoods."
It's fitting, since the building is meant to combine living, learning, and playing. In addition to the suites, which will each contain a kitchen, there will be themed courtyards (for example, a courtyard for contemplation and meditation) and themed rooms (like a music room with a piano). The building will also contain classrooms.
A short walk away, the Wolf & Kettle Café on Lone Mountain will be expanded into a full-on dining commons, and it will include a full selection of groceries, too. The dining commons is being designed by the architects who design Whole Foods locations in Northern California.
The commons will also serve as an event space for activities like movie or game nights.
Construction on both projects is expected to be finished in 2020.
Image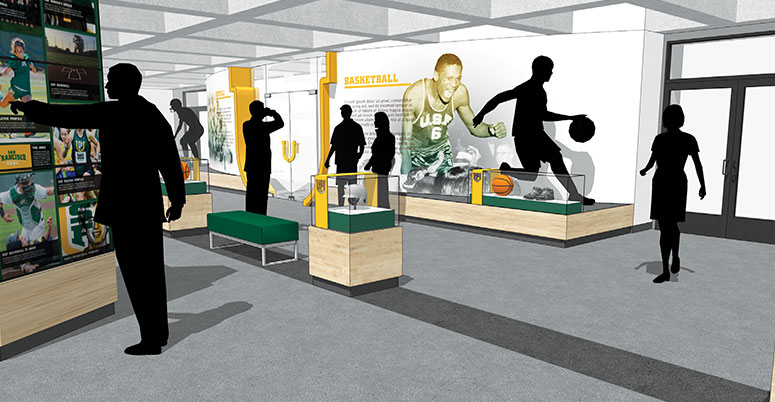 Sobrato Center
War Memorial Gymnasium is also getting a makeover. The Sobrato Center, as the athletics complex is now called, is expected to be completed in late 2019, with ongoing improvements continuing in 2020. The center, made possible by a $15 million gift from John A. and Susan Sobrato, will boast a premium seating level, a hall of fame, and expanded practice and weight-training facilities.
But it won't be all sports, all the time. Imagine spring concerts, big-name speakers, student dances.
"You name it, we'll be able to do it in the Sobrato Center," says newly appointed USF Athletic Director Joan McDermott '76.
While War Memorial Gymnasium has hosted sold-out lectures by Apple co-founder Steve Wozniak and NBA star Magic Johnson, the gym is primarily a practice and competition space. With the new Sobrato Center, USF events will have a home of their own, says McDermott.
"We'll also be installing brand new video boards and speakers," she says.
At the entrance of the new complex will be the USF Athletics Hall of Fame. Designed in coordination with USF's Master's in Museum Studies program, it will showcase USF's long tradition of leading social change through sports.
In the 1930s USF was one of the first racially integrated athletics programs in the country. Two decades later, a Chinese American student was the first Asian American basketball player to play at Madison Square Garden. The 1951 Dons football team was the first to have three African Americans starting, and rather than leave their black players off the field, refused to play in the Orange Bowl. USF also recruited female athletes before many other schools.
Our athletes are all educated in the Jesuit tradition of cura personalis — care for the whole person," says McDermott. "They're not only excellent athletes, but also hardworking students and good people."
Learn more about Changing the World From Here: Campaign for the University of San Francisco and track our progress