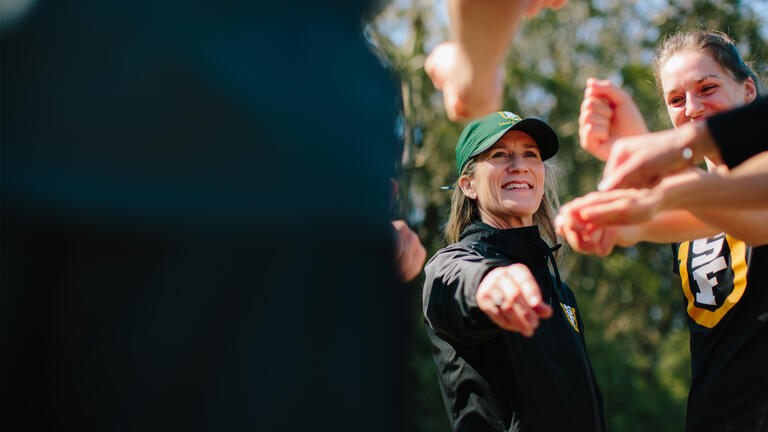 Athletics
Running Down a Dream
Led by a coach who won't quit, USFers race for the nation's top spot
It's a week before fall classes begin, and Coach Helen Lehman-Winters is kneeling in front of a whiteboard in her office at War Memorial Gymnasium at the Sobrato Center, quickly devising the day's drills for the women's cross-country team. Just a few feet from her, on top of a bookshelf, sits a massive NCAA trophy with the words "National Runner-Up."
Upstairs in the lobby adorned with green and gold, athletes are stretching, skipping, and lunging in place to warm up before practice. 
When Lehman-Winters arrives from her downstairs office, she shouts, "Athletes! … No coaches? Where are all the coaches?" She chuckles and then apologizes for being late herself, explaining traffic was brutal from Richmond, California, where she lives with her husband, John, and their three kids.
Before heading to the Polo Fields in Golden Gate Park for their workout, about a dozen women form a circle in the lobby and do toe taps in unison. They switch to calf raises, as two of the women count out loud in French.
The current women's roster includes athletes from France, Poland, Great Britain, Sweden, the Czech Republic, and Germany, as well as the U.S. "Every day we come to practice and every day is a new adventure," Lehman-Winters says. "It's pretty amazing for them to come together with a common bond of athletics and competing and representing the university."
Image
Six-time champs
All eyes are on Coach Lehman-Winters after the women's cross-country team finished second in the nation in 2017, its highest ranking in USF history. The team has won six West Coast Conference (WCC) titles in nine years — climbing the National Collegiate Athletic Association (NCAA) ranks from 26th in 2015, to sixth in 2016, to second last year.
"My goal as a coach, when I first came to San Francisco, was to contend for a national title," says Lehman-Winters, who took over as USF head coach in 2003 after spending three seasons as a volunteer coach at UCLA.
While the women's cross-country team has enjoyed a steady climb to the top, getting there has not been easy. "We were a team that was always in the conversation of getting to the national championships, but we didn't contend in the top 10 — our highest finish was 18th," Lehman-Winters says. That is, until the past few years.
Charlotte Taylor MS '18 led the team's recent success. The international and development economics student was named WCC women's runner of the year and very nearly finished first in the NCAA cross-country championships last season.
Enter the scout
Image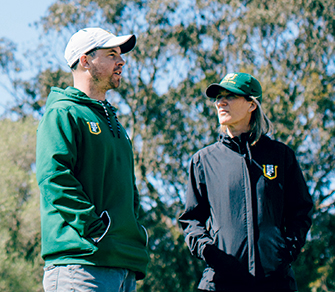 So how did Lehman-Winters, who earned her eighth WCC coach of the year recognition in 2017, take a conference powerhouse and turn it into a national championship contender? First, she hired Assistant Coach Benji Wetli, who has a nose for scouting the world's best runners. Then she built a team culture that's committed to constant improvement. Finally, she pushed athletes to new levels with regimented individualized trainings.
Wetli joined USF in 2014 from the University of North Carolina at Greensboro. He's an all-around utilitarian who devises drills, oversees practice sessions, and recruits, mentors, and coaches athletes.
To the runners, Wetli is probably best known as the guy who brought them to USF. And for good reason. As soon as he joined Lehman-Winters, Wetli began scouring the internet for runners from all over the globe.
"I like to find people nobody else finds," says Wetli, whose recruits have had an immediate impact.
"We actually look for athletes that, for whatever reason, are a little bit more under the radar, and we feel like, given their athletic background and given their mentality, they can be successful here," says Lehman-Winters.
I like to find people nobody else finds.
Taylor, for example, was running triathlons back home in Great Britain — not the 6K and the 10K she runs for cross-country. She won a gold medal at the 2013 International Triathlon Union World Triathlon in London. And that's how Wetli found her. 
"Kind of got lucky, really," says Taylor about being contacted by Wetli. "I had never been to the States before … best decision I ever made."
After coming to USF, Taylor went from 118th in the NCAA cross-country championships in 2015 to No. 3 last year. She graduated in May and plans to continue her running career back home.
Racing, writing, arithmetic
Not everyone Wetli comes across is as good a fit for USF as Taylor. Being an outstanding runner is just one factor, says Lehman-Winters. Mental toughness, intelligence, and a strong work ethic are essential parts of the team's culture.
The athletes who do fit learn that athletics and academics come first. "You know a lot of times people think they want to do this, but they don't understand all that it entails," Lehman-Winters explains. "They make a lot of sacrifices for their sport. They train twice a day, hit the training room daily to take care of their bodies, and travel every other weekend, so they have a lot on their plates on top of their school work."
Bottom line? "You cannot be a successful athlete and a successful student and be really, really social," Lehman-Winters says. "It's impossible."
To her point, the women's cross-country team turned in the second-highest cumulative GPA (3.56) among USF teams for fall 2017. The team earned more 4.0s than any other team, with 11 members of the squad turning in a perfect GPA.
"One of the things that's important for young athletes to understand is that they have a very small window of opportunity when they're in college," Lehman-Winters says. "It seems like they have this big window and all this time, but it goes fast."
She should know because she's been there, as a runner and as a coach at the high school and collegiate levels.
Lehman-Winters started running because of her brothers, who competed in cross-country and track and field. One of five siblings, Lehman-Winters trained with two of her three brothers at El Cerrito High School. "My family is really competitive, just in general. We had brutal card games growing up," she laughs.
She went on to compete in the California state championship before being accepted to UC Santa Barbara in 1982. "I was okay," she says. "But compared to the athletes that I coach right now ... they are at a completely different level of running."
Her first coaching job was at her alma mater, El Cerrito High School. Later, she moved to Carondelet High School in Concord, where she won three North Coast Section team titles and a state championship. In 2000, she decided to try college coaching and made the leap to UCLA, where she took on the role of volunteer assistant coach. 
Volunteering is a "pretty typical path for college coaching," Lehman-Winters says. "A lot of people start as volunteers because teams are limited to the number of coaches they can have."
As a volunteer, she helped UCLA's women's team qualify for back-to-back NCAA cross-country championship berths in 2001 and 2002. She also helped UCLA's women's distance medley relay team win the 2002 NCAA indoor track and field championship and star runner Lena Nilsson win two individual NCAA titles.
Image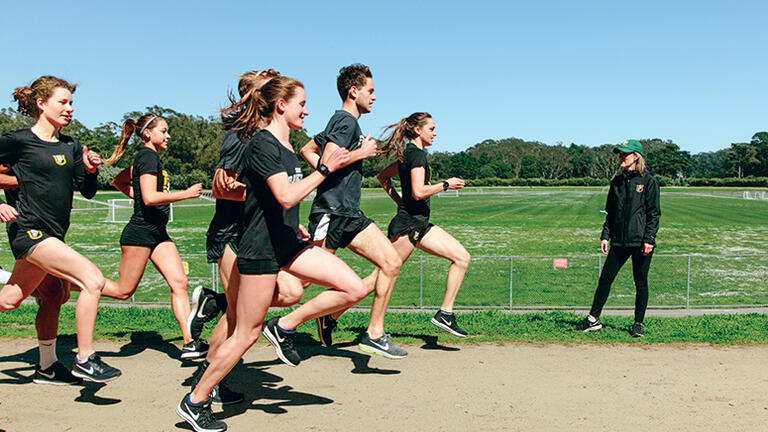 Rarefied air
In 2003, Lehman-Winters was named head coach of USF's women's and men's cross-country teams. She's one of just a handful of female coaches in the nation, less than 5 percent, to head a Division I men's team. As USF added more sports in the ensuing years — women's and men's track and field, and most recently women's indoor track — she took the reins of those too, with many of her athletes competing across disciplines.
To ease the growing burden, Lehman-Winters added Gary Newell of Texas Tech University to the coaching staff last summer. He recruits and works with the track and field teams' sprinters, hurdlers, and relay runners.
Lehman-Winters' early years as coach were not easy. "Starting from scratch was really difficult … there was no tradition of success. It's hard to get higher-level athletes to come when there's nothing. But I really, really enjoy working with young people who are passionate about something."
To improve her athletes' performance, Lehman-Winters focuses on aerobic capacity.
"Aerobic development takes time," she explains. "It's a process of increased training load, but increasing gradually over time and staying healthy as you increase that training load. That's how you reach the next level."
Image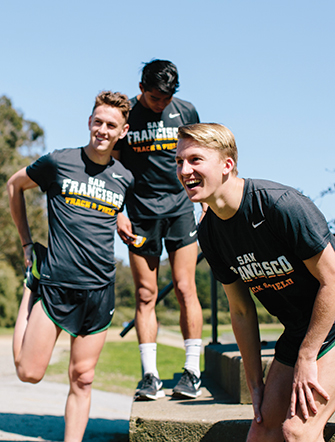 Lehman-Winters and her staff devise drills for both the women's and men's teams, but they also devise sessions for each runner.
"She knows what she's doing," says runner Isabelle Brauer '20, an international business major who is originally from Stockholm, Sweden and finished 15th in the NCAA cross-country championships in 2017. Brauer says she is much "stronger aerobically and mentally" at USF.
After the runners finish warming up in the Sobrato Center lobby, Lehman-Winters tells several injured athletes to take an easy run to the Golden Gate Park Panhandle and back. She and Wetli hop into a team van and head to the Polo Fields in Golden Gate Park, where they plan to run the healthy athletes through a more rigorous training.
Marie Bouchard MS '18, who is studying behavioral health, arrives first at the Polo Fields, just as a gray fog is falling across the track. She walks around to stay warm and waits for her teammates. She has just run 20 minutes from campus, passing stately Victorians before ducking into the tree-lined paths of Golden Gate Park. Yet the 24-year-old from France, who was among the team's top runners during the 2017 fall cross-country season, doesn't seem winded in the least.
"She's really good so she got responses from probably over 100 schools," Wetli says, explaining that he used the beauty of San Francisco and its international culture as selling points to recruit Bouchard. 
"Let's go four times 100 meters, and you've got a 20-second recovery in between," Wetli calls out, after the rest of the team arrives at the Polo Fields. "It's not a lot of recovery, so don't over-run it. Run a little bit faster each time."
When he hears what sounds like a slight groan, Wetli adds with a smile, "Do you want me to time your recovery for you?"
"No, we will be fine," a woman responds.
"All right" he says. "Don't puke."
Image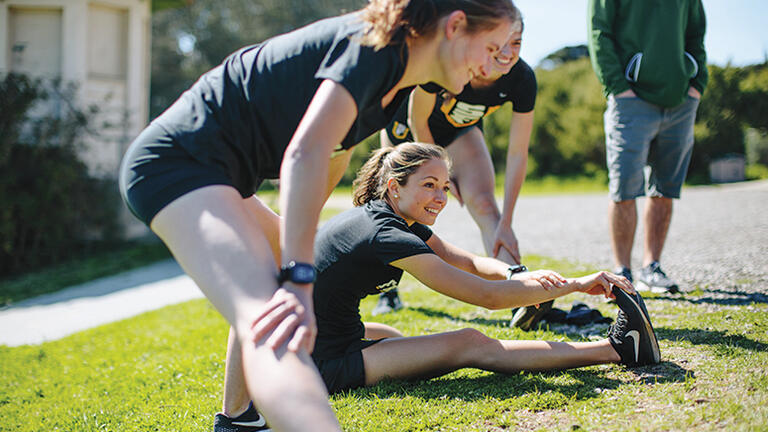 Lifting the trophy
Last season was extraordinary for the women.
On a windy November day in Louisville, Kentucky, the USF women's cross-country team was on the verge of winning it all at the 2017 NCAA championship. They'd already claimed the WCC title and the NCAA West Regional title, with Taylor setting a course record for the fastest 6K with a time of 19:10.05.
Halfway through the 6K NCAA championship, Taylor and her teammates, including  Brauer and Weronika Pyzik '19, a finance major, were running so strongly among the field of 250 women that MileSplit commentators announced that San Francisco was in the team top spot.
It looked like Taylor might be in range to catch the frontrunner, Ednah Kurgat of New Mexico. Taylor looked calm and confident throughout the race, edging out Allie Ostrander of Boise State, who had been favored to win.
As the race wore on, however, it was clear that no one would catch Kurgat. In the last half-mile, Amy-Eloise Neale of Washington passed nine runners to overtake Taylor and clinch the No. 2 spot.
Led by Kurgat, New Mexico placed four runners in the top 15 to claim the No. 1 team spot. 
Taylor came in third, Pyzik fifth, Brauer 15th, and Bouchard 49th, helping the USF Dons become the second-best women's team in the NCAA Division I.
Immediately after the race, Taylor, who's enjoyed a stellar career at USF, including winning the 2017 NCAA track and field 10,000 meter title, was all smiles, telling a reporter: "I'm happy with the outcome … it's better than we've ever done before."
Lehman-Winters was all smiles too, proud that her athletes did so well in such a competitive field.
"It's crazy, yeah," Lehman-Winters said about the team's meteoric rise. "But you know … we had the right foundation and we had the right culture. We just needed to keep adding the right kids. And that's what we've done a really good job of in the last couple years."
Image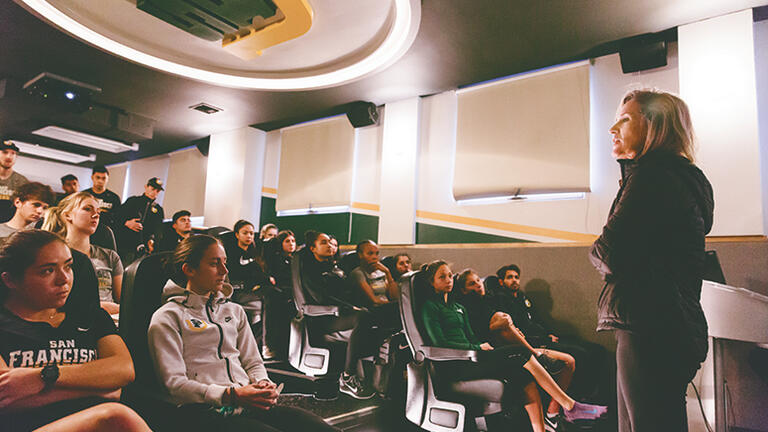 International aspirations
After the women finish at the Polo Fields, Lehman-Winters heads to the training room to check on the injured athletes who did a light run to the Panhandle. She walks over to Pyzik, who bruised her knee during winter break. The two talk in hushed tones before Lehman-Winters says proudly, "She shocked herself. We knew she could be good. She didn't necessarily know it until it happened."
Pyzik, who came from Poland to compete for the Dons, has gone from 87th at the NCAA championships to fifth. She's reached a new level, one that leads to national and even  international competitions, says Lehman-Winters.
"There is no better training ground for the Olympic Games than the NCAA. I think that's why a lot of international athletes want to come to America," she adds. "If you have the opportunity to compete in the NCAA and come to a place like San Francisco, you will improve tremendously."
Taylor, Pyzik, Brauer, Bouchard, Lea Meyer '21, a psychology major from Germany, and several other Dons are within reach of that highest of podiums. "Take your pick," Lehman-Winters says. "They are all potential future Olympians. Some for 2020 and some probably not until 2024, but they will all compete at their national championships in 2020 for a spot on their respective Olympic teams."
Taylor represented Great Britain in the 2017 World Championships. And she, Brauer, Pyzik, and chemistry major Elena Burkard '17 all placed in the top 10 for their age in the 2017 SPAR European Cross-Country Championships. On the men's team, Jack Rowe MA '20, in the sport management program, placed 31st in the under-23 men's division for Great Britain.
Meyer, considered a top prospect, said coming to USF has already paid dividends. "You have way more good runners here than in Germany," Meyer says. "This year, I want to improve. I want to run everything perfect … and make the nationals. Definitely."
It's no wonder the athletes are just as excited as their coach about the future. Just a few weeks ago, USF kicked off its first-ever women's indoor track and field campaign. Samantha Lind MA '20, who's studying sport management, broke the school's 400-meter record twice for track and field (indoor or outdoor). Bouchard broke two school records, one in the 3,000-meters and another in the mile. Alena Ulrichova MA '19, an Asia Pacific studies major, set the school record in the 600-meters.
We are going to win a title. It's just a matter of when it's going to happen.
"We are going to win a title. It's just a matter of when it's going to happen," Lehman-Winters says. "If we can consistently field teams that are in the top 10 in the country and contend to get on the podium, then at some point we are going to win it."