Passion for Justice
Take 5
Five questions with USF President Fr. Paul J. Fitzgerald
USF President Paul J. Fitzgerald, S.J., was interviewed on CNN recently, defending the rights of undocumented and Muslim students. USF Magazine sat down with him to find out what the university is doing to support these groups in the wake of a nationwide immigration crackdown and a proposed travel ban on citizens of several majority-Muslim countries.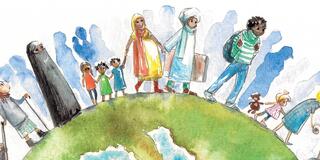 1. All 28 Jesuit colleges and universities have called for solidarity with immigrants regardless of citizenship status or religious allegiances. Why?
We are inspired by the grounding American notions of equal human dignity and the universal human pursuit of life, liberty, and happiness. We believe these to be an expression of the ancient Catholic teachings about the dignity of every person and the vocation of all to work for the common good.
2. What would happen if the Deferred Action for Childhood Arrivals (DACA) program ended?
USF could lose our DACA students — of which there are several dozen — if they or their families are deported. This would be a tremendous blow to our entire university community. It would also deprive our nation of hundreds of thousands of college graduates who are eager to contribute to the economy and promote the values of this nation.
3. Why did you think it was important, as USF's president, to oppose the Muslim travel ban?
Religious prejudice needs to be publicly opposed, and education is the key to cultivating an enlightened citizenry that lives up to our ideals.
The first amendment to the Constitution sets an ideal standard toward which we as a nation have slowly approached when it comes to religious freedom and equal treatment under the law. But violence against Muslim Americans and recent threats and desecrations of synagogues and Jewish cemeteries are reminders that we haven't reached that ideal.
4. On CNN, you said USF would protect its students. What did you mean?
We will protect the privacy of our student records, in accordance with federal law. Our immigration law clinic is offering pro bono legal counsel to those who need it. And faculty and staff members are educating students about their rights.
5. How do Jesuit values speak to these struggles?
A Jesuit education plants the seeds of engaged citizenship as a moral imperative. The moral uprightness of any community is judged by how they treat the most vulnerable members of that community. In Matthew 25, Jesus makes this the criteria by which we will each be judged.