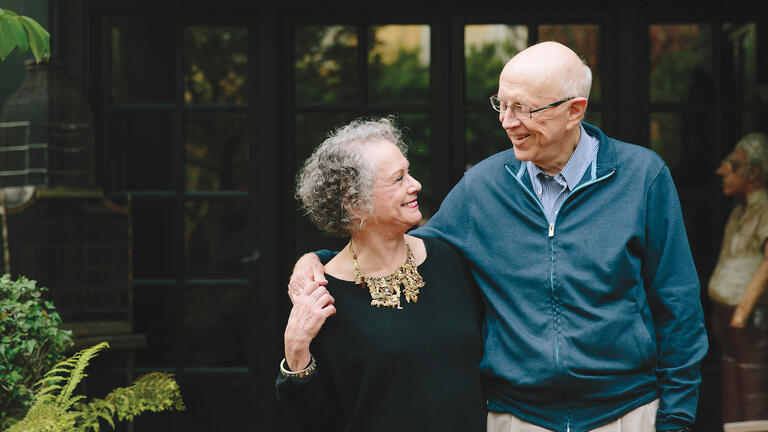 Giving
Faith in the Future
McGraths give $10 million to transform Catholic education
Joan and Bob McGrath have donated $10 million to dramatically expand scholarships for USF's Catholic school teaching programs, create a new multi-disciplinary student leadership institute, and expand international student immersion opportunities.
More than half the gift, $6 million, will endow scholarships for graduate education students in a new McGrath Center for Catholic Education, which re-envisions USF's Institute for Catholic Educational Leadership. The center will recruit teachers, counselors, and administrators committed to working at under-resourced Catholic schools and provide them with scholarships while they pursue an advanced degree. Coursework will focus on contemporary Catholic school issues, including school consolidation, management styles, finance, and multicultural education.
"We're passionate about our faith," said Joan MA '69, a USF trustee. "It's what drives us to support Jesuit Catholic education and students at USF."
Both Joan and Bob attended Catholic school from an early age and went on to earn degrees from Catholic universities. They're committed to seeing Catholic schools succeed.
The McGrath Center will support scholarly research and allow students to present at academic conferences and Catholic educational gatherings, as well as in local school communities through professional development workshops, said Michael Duffy, who will head the new center.
Cultivating leaders across disciplines
The McGrath's gift includes $3 million to create the Change the World From Here Institute and fund scholarships for students who show leadership potential, regardless of their discipline.
Another $1 million will endow scholarships for undergraduate students who want to enroll in University Ministry's international immersion courses.
"We are so grateful for the generosity of Joan and Bob McGrath," said Julie Dowd, director of University Ministry. "By establishing this endowment for the Arrupe Immersion Program, we will be able to send more students on these transformative experiences. The big dream is to eventually provide funding so that any USF student with need who wants to go on an immersion trip will have the chance to do so."
"When you find programs like University Ministry and the Arrupe Immersions, where they're always scratching for money, and you realize your support could let them loose and they could really do something important, that's the kind of program we like to support," Bob said.
Once a nun, always a Catholic
Joan grew up in the Bayview neighborhood of San Francisco. At 17, she entered the Sisters of St. Joseph of Orange as a nun. She left 13 years later, partly because she felt she could accomplish more outside the order.
"I imagined I had so much to do and to give to people," said Joan. "I just didn't know how to do it."
With a theology degree from Marymount College, she enrolled at USF in the graduate theology program, inspired by the progressive thinking of Vatican II. She was particularly inspired by one of her USF teachers, Rev. Albert Zabala, S.J., who regularly brought leading theologians to the university.
"It was one of the finest places to study theology at the time," said Joan, who credits her education with inspiring her to give to USF. "I have come to highly value Jesuit education. Their whole philosophy is so good and so balanced to me."
She went on to Fordham University to pursue a doctorate before returning to the Bay Area to teach high school in the 1970s.
We, too, are called to change the world. Now we have the chance to nourish that desire to serve in others."
A lifelong partnership
In 1982, Joan, who by then was principal of Sacred Heart Schools in Atherton, California, married Bob McGrath. He had an electrical engineering degree from the University of Notre Dame, an institution they also support generously, and started McGrath RentCorp, renting modular buildings, industrial liquid storage tanks, and electronic measurement equipment.
Joan joined him at the company as executive vice president, developing the sales team and helping to lead McGrath RentCorp to become a successful publicly traded company.
Now retired, the couple is intent on sharing the faith and values that served them so well, by giving back. "We, too, are called to change the world," Joan said. "Now, we have the chance to nourish that desire to serve in others."