Take 5
Five questions on the future of health care with Dean Judith Karshmer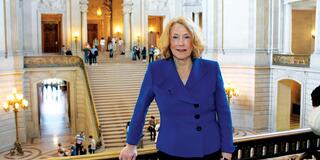 Six years into the Affordable Care Act (ACA) era, School of Nursing and Health Professions Dean Judith Karshmer sees many benefits and some drawbacks. USF Magazine asked her about what's working, what's not, and how the school is preparing students for careers in the new health care paradigm.
1. Has the ACA accomplished what it was supposed to?
The ACA was created to increase access to health care and decrease costs. It has been unequivocally successful at the former. About 20 million more Americans have health insurance coverage, thanks largely to Medicaid's expansion and a requirement that insurance companies cover people with pre-existing conditions. One government study found the number of uninsured adults ages 18-64 dropped to 12 percent from 20 percent, to date.
It's harder to determine ACA's impact on costs; comparisons are apples to oranges. The law changed the way costs are calculated by standardizing them. Before, hospitals and insurance companies charged for and reimbursed at different rates for the same service, depending on individually negotiated agreements.
What's clear is that health care costs have at least leveled off. Some studies show savings. But what's more important is that millions of Americans with chronic diseases such as diabetes, heart disease, and hypertension are being treated as less expensive outpatients instead of as more expensive hospital emergency room patients.
When you take into account that 75 percent of American health care costs are related to chronic illnesses, savings is almost guaranteed in the long run.
2. ACA is the biggest change to the American health care system since Medicare and Medicaid became law in 1965. What's changed?
ACA encourages doctors, hospitals, and insurance companies to deliver better health outcomes for patients and penalizes them for poor outcomes. How's it do this? With bundled payments. Under ACA, a hip replacement surgery has a single fee, no matter the exact procedure and days in hospital.
A single fee system encourages health care providers to be more efficient and to move patients out of the hospital more quickly, rather than make money on extra tests and extended hospital stays.
Yet, it penalizes rush jobs. If a patient is readmitted to the hospital within 30 days for the same issue, it's considered part of the same procedure. They can't charge more money.
3. Critics continue to attack ACA. What are the unintended consequences of the law?
One unintended consequence is that some employers have cut full-time employees' hours to part-time, to avoid paying health insurance costs. And some employers have opted to pay the penalty rather than provide health insurance to employees, calculating the penalty is cheaper. These are a minority, of course.
In addition, the health insurance exchanges encouraged by ACA to offer a menu of coverage plans to the uninsured have sputtered and are more costly than anticipated — although still cheaper than buying individual plans on the market before ACA.
4. In the new ACA paradigm, what changes do you see ahead for health care?
There is a major shift from hospitals to ambulatory/outpatient care. The result is that health care is poised to grow dramatically in five areas:
Telehealth: Call for health consultations

Primary care clinics: Treat the influx of new patients

In-home care: Reduce costs for seniors and less mobile patients over hospital care

Specialty clinics: Treat a few, often related, illnesses, e.g. diabetes and heart disease

Comprehensive health clinics: Bring different specialists together under one roof
5. Are USF graduates prepared for the changing job market?
The School of Nursing and Health Professions is a leader in preparing nurses and health professionals for careers in ambulatory care through its transition-to-practice programs. We have more than 60 community partnerships.
The result is that 100 percent of our transition program nurses complete ambulatory clinical rotations at primary care clinics, transition to care facilities (bridge facilities between hospital and home), and hospice centers, for example. Over 95 percent of the program's students find jobs within three months of graduation.