Lead Photo: Katie M. Flynn MFA '05 had no idea that she'd launch her debut novel about a pandemic in the middle of an actual pandemic. The Companions is about California under quarantine. Sequestered in high-rise towers, the living can't go out, but the dead can come in — and they come in all forms.
1950's
'50
Robert Spellmire writes, "To the USF seniors, from a 94-year-old senior — no matter how tough the situation is, hang in there. If you seem to be at the bottom, the only way to go is up but you still have to do the driving. You will find much consolation in the Jesuit teaching from USF."
'53
Andrew Reshke MBA '70 retired as a purchasing agent for Sacramento County.
'58
Dennis Johnson writes, "Still alive and kicking … my best to those of the class of 1958 who are still doing the same!"
Michael Johnson retired after 10 years in the military with the rank of captain and more than 30 years in accounting.
1960's
'62
Kathleen Farrell writes, "Thanks to the virus, trips to Europe are out, so I'm SIP except for golf and grocery stores. Zoom has become my middle name for all volunteer meetings."
'63
Dennis Lucey and his wife, Pam, met with House Speaker Nancy Pelosi at the annual American-Ireland gala in Washington, D.C. in March. The dinner honored both the speaker and the prime minister of Ireland, Leo Varadkar. The gala raises funds for more than 1,500 nonprofit organizations throughout Ireland.
'66
David Myers has worked more than 40 years in private practice as a clinical psychologist. He worked five years as team psychologist for the Portland Trail Blazers and also five years on Oregon Psychiatric Security Review Board.
'68
Anthony Graham is a retired lawyer and proprietor of an Irish pub. "After more than 40 years, I closed my law practice and now I own Patterson's Irish Pub in Mendocino. I am also now working on a master's program in ethics at Oxford University."
Charles LaCroix welcomed grandson Julian Leo LaCroix, born on June 29, 2020, in Mesa, Arizona to his parents, Jean-Paul and Haylee LaCroix.
Ken Pitetti is in his 33rd year as a professor in the physical therapy department at Wichita State University. In June, he and his wife, Carol Sue McConnell, celebrated their 50th wedding anniversary.
'69
Mike Brown is director of communications for the Archdiocese of San Francisco. He was named Communications Director of the Year in the 2020 Catholic Media Awards given by the U.S.–Canada Catholic Press Association (CPA).
Daniel Foley JD '74 is a retired judge who was appointed special master by the Hawaii Supreme Court to oversee Hawaii's jails and prisons during the COVID-19 pandemic.
Image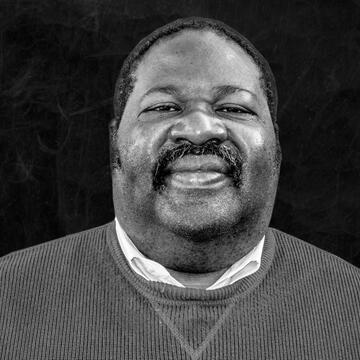 We Can't Breathe
A prayer and poem by Mike Watson '76, MA '79

Dear God, we beseech you to help us
we can't breathe
A people suffered through slavery for 400 years
They cried
we can't breathe
A people were told they were free
But their towns were burned down
They were victims of medical experiments without their knowledge or consent
Laws were enacted to re-enslave them
They cried
we can't breathe
Laws were enacted to restore their right to vote only to have them suppressed
They cried
we can't breathe
We watched George Floyd die while a policeman held his knee on his neck,
and we heard him cry
mama, I can't breathe
Jesus called for his mother as he struggled on the cross
He cried
I can't breathe
We Cry
I can't breathe
God, we ask you for guidance, not out of guilt but for justice
Help us find wisdom and our role in fighting for justice

Amen
1970's
'70
Joseph David retired as a lieutenant colonel from the U.S. Army. After graduation, "I was commissioned as a 2LT in the Army Corps of Engineers. My two-year obligation turned out to be 23 years. A good portion of my time was spent as a Japan foreign area specialist including two and a half years of language training and six and a half years of living in Japan."
Karen Carpenter Dunn has written a book, From Chaos to Bliss: Creating Clarity, Confidence, Control, and a Life You Love.
'72
Linda Magnetti-Barsel is a resident of the Satchidananda Ashram-Yogaville in Virginia and is director of the Satchidananda Prison Project.
William McShane retired from defense contract work and is now a part-time professor of chemistry for Gwinnett College in Georgia. "My wife of 48 years, Mary (Kelley '72), currently works for the Milk Market Administration of the USDA and plans to retire in 2021. We have five children and six grandchildren."
'73
Beatriz Lopez is senior staff attorney for Senior Adults Legal Assistance in Campbell, California.
'74
Michael Richards says, "My years at USF were transformative for me, and 46 years later, I'm still connected to the Hilltop, as the public address announcer for baseball and soccer. Go Dons!"
'75
Deborah Cano retired from her nursing career after 40 years. "I am currently a social activist and secretary of Spokane NAACP Branch #1137."
Image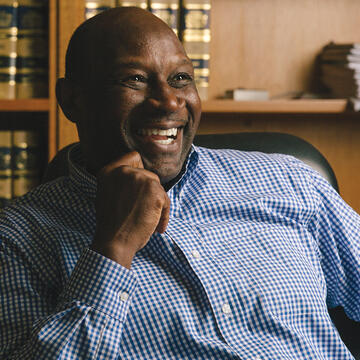 @USFCA: Gov. Gavin Newsom nominated the Hon. Martin J. Jenkins to the California Supreme Court on Oct. 5. If confirmed, the @usflaw alum would become the first openly gay man and third Black man to ever serve on the court.
MARTIN JENKINS JD '80 #USFCALAW
'76
Rae Gamboni Charos writes, "This year I am celebrating 44 years as an RN, 30 years working at St. Joseph's Medical Center, and starting my 20th year as their chief nurse officer! USF definitely prepared me for a successful nursing career and a way of thinking that has helped me come up with creative solutions and team development that are successful every day, but definitely needed in dealing with this ever-changing COVID-19."
Marie Podboy is an assistant professor of nursing at Azusa Pacific University.
'77
Charles William Fox Jr. was a U.S. Army urologic surgeon and retired as a brigadier general to join a nonprofit providing medical services overseas. During a mission to Basra, Iraq, where Project HOPE was working to build a children's cancer hospital, he sustained severe injuries when his vehicle was struck by an improvised explosive device. He is recovering from a traumatic brain injury in St. Petersburg, Florida.
Barry Shiller wrapped up a career in marketing, public affairs, and strategic communications, serving the last 15 years in leadership roles at five Northern California colleges and universities. "My wife and I split time between Burlingame and Santa Cruz, grateful for our three adult kids, three grandkids (a fourth is on the way), and a very needy golden retriever while maintaining a selective consulting practice."
Monica Small retired in 2015 from a 38-year nursing career, 35 of which were with Sutter Health in Sacramento. "My husband, Mike, and I will celebrate our 40th wedding anniversary in November! I've been 'nursing the soul' as a certified spiritual director since 2016. Our son, Greg, and his wife, and our three grandchildren live in Roseville where Greg is working as a Roseville police officer and on the S.W.A.T. team."
'78
Eliana Reeves left her role as a physical therapy aide at Kaiser Permanente because of COVID-19. "I cannot go back to work and will spend time with my two granddaughters. My husband, William Reeves EdD '95, is retired from the Department of Corrections. We are both happy grandparents."
Christina Ragsdale Webber LMA is a graduate of the final Lone Mountain College class. "I went on to earn an MA in communications studies from Sacramento State University and had a long career in communications and public relations. I still enjoy consulting from my office and ranch near Missoula, Montana with occasional visits to Northern California."
'79
Helen McHugh, an RN, writes, "I work with an amazing team in palliative care for Kaiser Permanente Washington. We were the first palliative care clinic to open in KP, Washington state, in October 2017. Our focus is helping patients with advanced cancer live their best life."
1980's
'80
Kevin Cronin founded a commercial real estate brokerage, CroninCRE Inc., in 2019 in the Bay Area.
'81
Richard Hedderman is a poet, author, and museum educator living in Milwaukee. He is on the education staff of the Milwaukee Public Museum, coordinating creative writing programming. His new book of poems, Choosing a Stone, was published by Finishing Line Press.
'84
Franklin Fong is a managing partner with the Lily Company in Sacramento.
'85
Cecilia Minalga writes, "After retiring in 2019 from my work as a temporary CFO, I have launched into working as an area director in the Bay Area for the California Democratic Party for the 2020 coordinated campaign. Not exactly the retirement I envisioned, but I'm doing whatever I can to make this a turning point for our country and getting out the vote in November."
'86
John Gwinn retired from the U.S. Air Force.
Caroline King-Saperstein is an account associate with Farmers Insurance. "My company already announced we will continue to work from home for the rest of 2020. Remember: The first wealth is health. Stay safe!"
Nancy Sheftel-Gomes graduated from the College of Professional Studies in 1986 and had been wanting to return to USF. "But it wasn't until June 2018 when I retired from a 20-year position as the education director at Congregation Sherith Israel that I was able to do that. In August 2018 I matriculated in the School of Education to study human rights education and will be graduating in December 2020."
'88
Gustavo Ceballos of Gilbert, Arizona started an international freight forwarding logistics company with worldwide coverage. "It's never too late to fulfill your dreams."
'89
Gregory Molinari co-owns his family's business, American Supply Company, in Salinas, California.
1990's
'91
Patricia Lott is a retired IT professional and entrepreneur living in Peachtree City, Georgia.
Rosemary Shearer writes, "I live in the Philadelphia suburbs and really enjoy staying in touch with my USF family."
'92
Monica McDermond is regional vice president of sales for Commscope in the Atlanta area.
'93
Rebekah Davis is assistant director for crew health and safety at the NASA Johnson Space Center in Houston. She leads a comprehensive occupational health program for current and former NASA astronauts across multiple human spaceflight programs, and she is completing an LLM in health law at the University of Houston Law Center.
'94
The Rev. Sally Grover Bingham, founder and president of Emerita Interfaith Power, retired after 25 years of nonprofit work. "I was ordained an Episcopal priest in 1997 and still practice, but no more office and nonprofit work."
Donnell Borash is an acupuncture physician with the U.S. Department of Veterans Affairs.
Image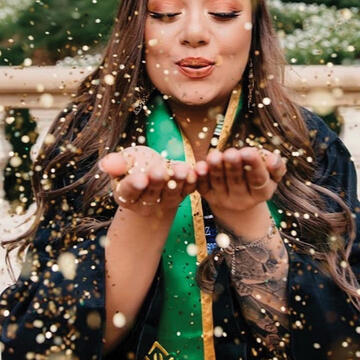 @itssscass: "I am forever grateful to have attended such a great university with all the support of my family and friends!"
Cassandra Cruz '20 #USFCAALUMNI
'95
Norman Dunne is senior strategic sales manager for Salesforce.
Christopher Newnan retired from the Air Force in 2019 as a lieutenant colonel in Colorado, with 20 years of service. Now he is managing defense programs and construction in the Pacific for KBR, a private firm.
Katica Roy was named Entrepreneur of the Year 2020 by ColoradoBiz Magazine. She is CEO of Pipeline Equity, a tech company working to close the wage gap and fight gender inequality.
Brian Soares created a website, popzeal.com, devoted to music, movies, and other pop-culture genres. As a magazine writer, he has written film and music criticism, feature articles, and profiles. He has been a blogger for almost 10 years, and a marketing copywriter and editor for the last 20. He lives in Hawaii.
'97
Holly Burkett is a leadership consultant in Davis, California, who was selected as a contributor to a reference guide published by the Association for Talent Development.
Phillip Franks, a retired U.S. Army helicopter pilot, is director of system operations for the Los Angeles County Department of Health Services. "COVID-19 is testing our crisis management skills."
Mhare Ohan Mouradian joined Fox Rothschild LLP as a partner in its Century City/Los Angeles office, where he specializes in commercial litigation for clients in manufacturing, technology, real estate, hospitality, fashion, and entertainment.
'98
Massiel Gonzalez is a training coordinator for the San Francisco Human Services Agency.
Donna-Marie Palakiko, assistant professor at University of Hawaii at Manoa School of Nursing, said her family welcomed Stanley Iosepa Manu'ihiokalani'ehu Yuk Chin Thomas Palakiko on April 20, 2020. Stanley Iosepa was born at Queen's Medical Center in Honolulu. Due to COVID-19 restrictions, his birth was shared with family in Aotearoa and Hawaii via video teleconference.
'99
Anett Mundrucz is a product manager for Wells Fargo in the Bay Area.
Marybeth Norgren owns Coast 2 Coast Environmental, Inc. in Del Mar, California.
Veronica Shinzato MBA '08 is outreach and educational manager for the California Department of Tax and Fee Administration. "Proud USF alumni!"
2000's
'00
Belen MacKenzie is director of critical care services for Pomona Valley Hospital Medical Center.
'01
Dusty Lloyd is branch manager with New American Funding in Orange County, California.
Lisa Pincher is clinical manager with Change Healthcare in Southern California.
'02
Wanda Lee-Stevens writes, "I am doing wonderful work with people from all across the USA to end racism." She developed a virtual workshop, "The American Experience, the Blackness, the Whiteness & Ending the Racism In Between" from her book 50 Years of Assimilation. "I am changing the world from where I am!"
'03
Lauren Gallagher is a book buyer with the Metropolitan Museum of Art, where she just celebrated her five-year work anniversary.
Image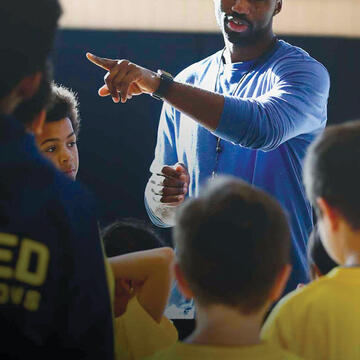 @JeromeGumbs: "My life's work with Empower Me is about making sure these kids know their worth, and basketball is a tool we employ to give them the confidence to use that worth for good."
JEROME GUMBS '06 #USFCAALUMNI
'05
Sherene Melania Bretschneider is executive director of the Presidio Performing Arts Foundation and was selected by the United Nations Educational, Scientific, and Cultural Organization (UNESCO) International Dance Council as the founding president for the West Coast chapter of the United States, based in San Francisco.
Christopher Calderón, S.J. is dean of students at Cristo Rey High School in Sacramento.
'06
Jesse Feldberg of Long Beach, California, was accepted to the MFA in Film program at Stony Brook University in New York.
Ernafe Malla MS '20, a nurse with the U.S. Veterans Administration in San Francisco, is "hoping to use my knowledge and experience to improve health care and provide better quality, access, and affordable care to all.
'07
Clifford Driggs works on new acquisitions and projects for Greenwich Hospitality Group in Greenwich, Connecticut, focusing on New England and the Northeast.
'08
Michael Davis is an international account executive with PeopleGrove in San Francisco.
Julianne Henderson MFA '18, production coordinator at Friday's Films in San Francisco, and Megan (Pohlman) Henderson '11 were married on Dec. 7, 2019, a decade after they first met at USF during rehearsals for the university's production of The Vagina Monologues at Presentation Theatre.
Tim Reed was promoted to partner at the San Francisco law firm FordHarrison LLP and named by the National Bar Association as a 40 Under 40 Nation's Best Advocate.
2010's
'10
Aalishah Abdallah-Richardson is an account executive with Career Group Companies in Southern California.
Magdalena Nunu Cabrera writes, "Since graduating from USF, I've been working as an emergency room nurse at San Francisco General Hospital. I feel so blessed to have gotten an education that prepared me for the nursing workforce. This year especially I am thankful I chose the nursing profession because I have been able to use my degree in helping my community and making a difference in the life of my patients."
Nick Cruz founded a professional photography business, Nick Cruz Photography. He has photographed for New York Fashion Week and worked with brands like ALDO and Spotify.
Freddy Gutierrez is assistant dean for student affairs and director for the Center for Social Justice and Civic Engagement at Holy Names University in Oakland.
Patrick Inouye is a flight attendant with Alaska Airlines. "I'm always learning and always searching for new ways to be of service to others and lift them up."
'11
Majel Ruth Baker writes, "I recently 'virtually' graduated with my PhD in counseling psychology (2020) from the University of Minnesota, Twin Cities. I wouldn't be here without the support of my USF psychology department faculty in undergrad. I'll be a postdoctoral researcher at University of Michigan in the Institute for Research on Women and Gender starting fall 2020."
'12
Mojgan Aghamir works for Bartos Architecture, Inc. in the Bay Area.
Alexander Lule is a relationship manager with Handshake University in the Bay Area.
Elizabeth Philips is an RN case manager with Saint Francis Memorial Hospital in San Francisco.
Charles Sabala is working on a doctorate of computer science, with a concentration in cyber security, at Colorado Technical University.
Leanna Wilcox is pursuing a doctorate in clinical psychology at Alliant University at the San Francisco Bay Area campus. Her clinical interests include at-risk youth who are affected by substance abuse and mental health issues, and the incarcerated population.
'13
J.P. Johl, an advertising major and a Yuba City native, is the founder and CEO of AdTribute, a marketing agency based in San Francisco. Johl has been accepted into Forbes Agency Council, an invitation-only community for owners of and executives in public relations, media strategy, creative, and advertising agencies.
Elsa Mullin was promoted to project director at Thornton Tomasetti structural engineering company in New York. She has had a rewarding career in sustainable design for six years with the company, "in large part made possible by the incredible faculty at USF."
'14
Breniel Lemley was awarded the 2020 National Science Foundation Graduate Research Fellowship. Her proposed research is about understanding science media and its impact on young children's learning.
Sydney Teske went to graduate school at King's College in London. She works in digital marketing for the New York Mets.
Gerardo Tapia Vera, CEO of the youth soccer program WBAMN in Salinas, California, learned HTML, CSS, and JavaScript last summer during the coronavirus shelter in place. He is now HTML, CSS, and JavaScript certified.
'15
Olivia LaFarge is a graphic designer with CauseForce LLC in Southern California.
Ainslee Shea, who accepted a public relations internship with a Bay Area boutique agency during her final year in USF's communication studies program, is a public relations specialist at Silicon Valley-based Hewlett Packard Enterprise.
'16
August Bernadicou is president and executive director of the LGBTQ History Project, Inc. "I am a 26-year-old gay historian directed toward collecting interviews and other archival material with LGBTQ activists. The LGBTQ History Project evolves with the community's needs and publishes a newsletter, podcast, and maintains a social media presence. It features the exclusive interviews I have conducted over the past 13 years."
Alexa Johnson was accepted to University of the Incarnate Word School of Osteopathic Medicine in San Antonio, Texas, and started classes in July. "I am very interested in a career in emergency medicine."
Aruna Singh is a business lead for policy and governance with Genentech in the Bay Area.
'17
Christopher Sabadlab is senior operations manager for customer experience with NatureBox in the Bay Area.
'18
Alison Buck is global internal communications manager with MediaMonks, a global company.
Shon Buford is a captain in the San Francisco Fire Department.
Brendan Jenkins writes "After retiring from professional baseball, I just started my first job as an analyst at OpSec Security. I am looking forward to growing my career and getting into data science."
Jennifer Misrahi MSN '19 is a registered nurse with Stanford Health Care. "I am a clinical nurse on a trauma and general surgery floor. I love my job, and I will forever remember all the wonderful things USF taught me!"
Lillian Tu was named the Jesse M. Unruh assembly fellow at Sacramento State University.
Alexander Vicars-Harris is a senior associate at WeWork and a wine specialist with West Coast Wine in Mill Valley. "From managing sales territories and brand expansions to developing nascent digital strategies for national distribution, USF prepared me to cultivate loyal and beneficial relationships across the wine industry. The passion I learned from my teachers has transferred over to my work 10 times over and is a large reason behind why my career has evolved the way it has."
'19
Nachole Keedy is a meeting and event concierge at Monarch Beach Resort in Dana Point, California.
Gordon Li is a software engineer with Yelp in San Francisco.
1970s
'74
Bowman Olds MA, assistant professor of military science at USF and past president of the Presidio of San Francisco Toastmasters International, has joined the Lake Ridge Toastmasters in Lake Ridge, Virginia.
'75
Lawrence Nissim MA has worked as a teacher, counselor, and assistant principal in the San Francisco Unified School District and at Whisman Mountain View School District. "Some years ago I started writing a book of short stories, based upon my school experiences from teacher through assistant principalship. I completed the book and was fortunate to have it published this year."
Jeanne Powell JD retired after 11 years working at USF and has published three collections of poetry, My Own Silence, Word Dancing, Two Seasons, and a book of essays, titled Carousel.
Image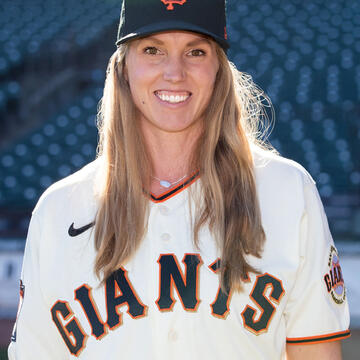 @USFCA: Alyssa Nakken made history with the San Francisco Giants, becoming the first woman to coach on the field during a Major League Baseball game.
ALYSSA NAKKEN MA '15 #USFCAALUMNI
'76
Peter Logan JD is "enjoying my semi-retirement, playing music, volunteering, and soaking up older age in still-great SF. Organized an informal 'reunion' dinner of some local classmates at One Market on Nov. 7, 2019."
'78
Stan Tosella JD retired from Citibank after 33 years. "I was able to work in Asia, Europe, Latin America as well as in the USA and Canada. Lived in Panama, Puerto Rico, Argentina, Brazil, Venezuela, and worked in Germany, Thailand, Singapore, and the UK. What a great place to work!"
'79
Eric Hamburg JD is producing a documentary film with Oliver Stone. The film, A Bright Future, is about climate change and nuclear power. He also produced a documentary film called Darryl Jones: In the Blood, about the bass player for Miles Davis, Sting, Madonna, and The Rolling Stones.
Sandra Nerland MA is a support supervisor for the San Joaquin Department of Education. "I loved my time at USF studying for my master's in education. I was able to fulfill my goal as a middle school principal, and I now supervise teacher interns for the San Joaquin County Department of Education Teachers College. During this time of the pandemic, I have found how creative the teachers under my supervision have been, and how they have met the challenge with professionalism."
1980s
'81
Barry Vitcov MA retired after 45 years in education as a teacher, school administrator, consultant, and adjunct university professor and is living in Ashland, Oregon. "I have been writing stories and poems with many already published."
'85
Robert Walley MA, assistant principal of Arroyo Pacific Academy, writes, "I greatly appreciate the excellent Catholic education that I received by the dedicated administration and faculty in the Institute of Catholic Educational Leadership. I value the life lessons learned in relation to the core subjects thanks to Fr. Ed, Sr. Mary Peter, Gini Shimabukuro, and all professors. I greatly appreciate the Jesuits' commitment to Catholic education and service."
1990s
'91
J. Vern Cromartie EdD '91, professor of sociology and chair of the sociology department at Contra Costa College, is editor of a new book, Martin Luther King, Jr. in Waycross, Georgia.
'92
Bill Bilderback JD was appointed senior assistant attorney general and statewide capital case coordinator for the California Department of Justice in January 2020.
'93
Shaun O'Connor MA is pastor of St Mary's Church in Orange, Massachusetts.
'94
Leonard Weingarten MNA is director of business development at the San Rafael Chamber of Commerce, and he joined the advisory board of the Gellert Family Business Resource Center at the USF School of Management.
'96
Catherine Greenspan Atkins MA works in financial services for New York Life Insurance Company in Ashland, Oregon. She is also co-founder of Two Sisters Writing and Publishing.
Frank Howard MA is executive director of Why We Vaccinate, a nonprofit health education organization that provides individuals and their families with research-backed resources on vaccines.
'97
Paul Glenn JD is an equity partner at Fagen Friedman and Fulfrost LLP in Southern California.
Rebecca Moore JD writes, "This past decade life took quite a turn and I found myself caring for a 20-acre vineyard, which my parents left Napa to build in 1998, and a micro-wine brand located in the Yamhill-Carlton area of Oregon's Willamette Valley. Many tractor hours, glasses of pinot noir, and sunsets later I feel blessed to build upon the legacy my parents began."
John Keith Palladino MBA is managing director and investment adviser representative for 401(k) & 403(b) Fiduciary Advisors, Inc. in San Mateo.
'98
Adriann McCall MNA is president and CEO of Adriann McCall Public Relations in San Diego.
Katrina Hagen Radlick MPA was appointed by Gov. Newsom as director of the Department of Industrial Relations, headquartered in Oakland.
2000s
'00
Brent Burns MBA was a McLaren Research Fellow for Professor Stephen Huxley at USF. He helped on an investment strategy project based on dedicated portfolio theory for retirees to help immunize them from the fear of volatility in the stock market. They ultimately co-authored a book, Asset Dedication, started a business. Today, Brent is president of Asset Dedication LLC.
Image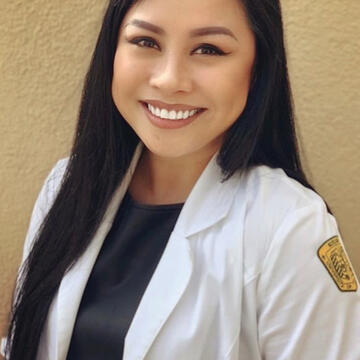 @USFCA_GSS: Graduate Student Senate has given me the wonderful opportunity to work with a driven and empowering group of students with the similar goal of supporting our graduate students' development, cura personalis.
KJ IGNACIO '20 #USFCAALUMNI
'01
Raymond Isola EdD published a book, Transforming Sanchez School: Shared Leadership, Equity, and Evidence, with Jim Cummins of the University of Toronto, about Isola's tenure as principal at Sanchez Elementary School in San Francisco's Mission District and how he and school faculty implemented organizational and instructional changes over a 13-year period.
'02
Kaustuva Das MBA is co-founder and CEO of Thermal, a digital health public relations agency in San Francisco. Thermal was recognized for its work on the CRISPR gene-editing technology with a Provoke Media 2020 North America SABRE Award.
Ron Holt, DO, MPA '02 is a student health physician at San Francisco State University. He started graduate school at SFSU in August 2020 to obtain an MA in sexuality.
'04
Heather Boothe MPA is a National Park Service legislative affairs specialist.
Christian Clifford MA, author of three books about Spanish-Mexican history in California, has completed his quest to visit all 21 California missions on foot. "I am part of a group called the California Mission Walkers. We enjoy following in the footsteps of the padres." Clifford, a teacher at Serra High School in San Mateo, began his journey in May 2018 and finished it on June 22, 2020.
Masatomo Ito MS is a senior solution engineer with HashiCorp in San Francisco.
'05
Oren Jaffe MBA writes that he is "still working within the corporate social responsibility world, helping companies build ethical, transparent supply chains. I am married, have two kids (ages 6 and 9), a dog, and a house in Castro Valley. Life is sheltered at the moment and wonderful. Would love to re-connect on LinkedIn with my fellow Dons."
'06
Alyson Beck JD was promoted to senior corporate counsel at Amazon Web Services in March 2020. She founded the products legal division of AWS for the UK, Europe, Middle East, and Africa, and she is currently based in London.
'07
Tyrone Cannon EdD was appointed interim provost at USF in February, stepping into the role from his position as university library dean. "I am delighted to welcome Tyrone to this interim role," said President Paul J. Fitzgerald, S.J. "In his nearly 25 years as dean at USF, Tyrone has not only led the libraries, but has also served in a variety of academic leadership roles, including as a member of the President's Leadership Team, Provost Council, and Council of Deans."
Michael Guenza MA teaches at Francisco Middle School in North Beach, San Francisco. In 2017, he and his students received the National Park Service's George and Helen Hartzog Award for Outstanding Volunteer Service, along with David McGuire and Shark Stewards, for their work to increase awareness about the impact of marine debris and single-use plastics on the San Francisco Bay.
Kathy Clift MA is an associate professor at Touro University California.
Image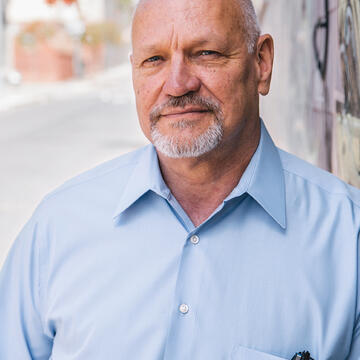 @USFCA: Leon Winston is a Navy veteran changing the world by working to eliminate chronic homelessness among veterans in San Francisco.
Leon Winston '03, MNA '05 #USFCAALUMNI
'08
Vanessa Araujo MBA has launched Wicked Sonoma, a website that brings the best of Sonoma County to locals and tourists. The site offers content about what to see and do around Sonoma County, from new restaurants to farmers markets to events.
Shoshana Carter MA is director of development research at Stanford University.
Ana Hernandez MSOD joined California State University, Monterey Bay, as senior director of health and wellness after six years in behavior health services at Aldea Children & Family Services in Napa and Solano County, and teaching in the College of Business at Montana State University in Bozeman, Montana for three years.
Alfonso Rey MBA is chief revenue officer at Vidora, an artificial intelligence predictions platform in San Francisco.
'09
E. Michael Chelsky MAT teaches media arts at Independence High School in San Francisco.
Jessica Mansmith Hansen MNA has been a nonprofits consultant since 2010, and she is active in the visual arts as a board member and artist. In 2018, she was awarded a community arts grant funded by the New York State Council on the Arts.
Kevin Kelly EdD is a higher education consultant, speaker, and author. He coauthored a book in January 2020, Going Alt-Ac: A Guide to Alternative Academic Careers, which provides people who have or are pursuing graduate degrees with tools to explore nontraditional academic career paths.
2010s
'10
Bridget Botelho MAIS has launched an integrative health coaching business, Immune Intuition. Diagnosed with multiple sclerosis at age 18, Botelho's health journey inspired her to help others with autoimmune and chronic illness. She now sees clients who are looking to ease their symptoms and reclaim power over their health by helping them with diet and exercise.
Josh Del Pino MA is a history teacher at Seattle Academy of Arts and Sciences. "Despite the pandemic and the many changes, I am excited about what the fall will bring. I am beginning my third year at Seattle Academy and second year teaching Japanese history and culture to high school seniors. August marked my second year of living in the U.S after living in Japan for a number of years. If there are any USF alumni in the area, I'd be happy to connect online."
Sarah Olson MA is senior coordinator for international partnerships at Colorado State University.
Cali Gilbert MA is founder and CEO of Tower 15 Productions, and her debut film, Invisible, has gained recognition on the festival circuit. The film focuses on the homeless crisis in Los Angeles.
Kim Horn MS, BS '02 works in project management for GE Healthcare in Sacramento.
'12
Eric Drobny MA started a new role as head of content at The Athletic sport news. "Really fired up to be back in sports media!"
'13
Richard Duran MA is athletic director at University of Incarnate Word. At 31 years old, he is the youngest Division I athletic director in the U.S.
Jenny Hayes MS published her first young adult thriller, a book called Who's at the Door?
Yaniv Newman JD, an associate with Sullivan Hill Rez & Engel in San Diego, was named a 2020 Rising Star by Super Lawyers.
Yenny Teng-Lee JD, in response to the COVID-19 economic downturn, organized and spoke at an Indonesian-language webinar for the Indonesian diaspora in June about basic rights in family law, domestic violence, and immigration.
'14
Ohure Chachu, S.J., MA is principal of Ocer Campion Jesuit College in Zambia.
Thomas Dreesen MS had been working as an education researcher at UNICEF for several years when COVID-19 shut down schools around the globe. He now develops remote learning for countries around the globe. He and his team put out a UNICEF report, "Promising practices for equitable remote learning: Emerging lessons from COVID-19 education responses in 127 countries."
Sean Williams MA is a senior product marketing analyst with Yahoo Sports in the Bay Area.
'15
Sylvia Arenas MPA says, "I'm proud to share that a year after I graduated with an MPA in 2015, I ran for and won a San Jose City council seat. This year I won my second term as a councilwoman, and I continue to make families central to my priorities. I've devoted my professional career to public service and as councilwoman my focus is making it possible for families and children to have a high quality of life in our community."
Fred Benjamin MA, former director of academic sports for USF athletics, was a featured panelist for "Black Lives Matter Artists Speak: A Virtual Experience About Police Accountability and Brutality in the Modern Era" in August.
Kathleen Hershner MA was selected as a specialist and a fellow for the U.S. State Department's English Language Programs fellowship to create English language radio programming for a radio station in Khartoum, collaborating with the U.S. Embassy personnel in Khartoum.
Heather Luna MA is general manager of the Vallejo Admirals professional baseball team.
'16
Kaleen Carimbocas MA is a fourth-year clinical psychology PhD student at Palo Alto University.
Jadelin Felipe MA is program manager for development and alumni relations at Golden Gate University in San Francisco.
Sally Hirsch EdD founded the company Tracker Apps, which develops apps that empower students to track their own learning development. "With more schools operating online or with blended learning, we are adapting our products to best support students and teachers in these stressful times," she said. "Even though I live in Switzerland, I appreciate the updates and connections with USF, including the spirit of social justice which permeated my time at USF."
Thomas Jordan MPA is an emergency services coordinator in Marin County, working on the COVID-19 response with the local governments in the Emergency Operations Center and in the field.
Eduardo Maisonet MA is an associate editor at ESPN and worked on digital efforts to support The Last Dance documentary earlier this year. He also works on ESPN's digital coverage of the NBA as the league resumes league play at Walt Disney World in Orlando, Florida.
Andrea Mozqueda MA is completing a PhD in education and conducting research for her dissertation at Claremont Graduate University, in Claremont, California. "Set to graduate spring 2021!"
Christofer Rodriguez MPH, a clinical research specialist, became a PhD student at Florida International University, Robert Stempel College of Public Health and Social Work, in the fall. He is studying public health in the health promotion and disease prevention program.
'17
Lisa Hanson MSOD is director of human resources at Synopsys in San Jose.
Tierney Woodard MPA is working as a budget analyst with the U.S. Department of Defense at Fort Bragg, N.C.
'18
Michael Choi JD is an associate attorney with Wood Smith Henning & Berman in Concord, California, and he published "The Likelihood of Exclusion: Economic Disparity in the United States Trademark System." Originally published in the Journal of the Patent and Trademark Office Society, it was included in the 2020 edition of the Intellectual Property Law Review.
'19
Mahsa Ashabi MS '19, works at the UC Office of the President overseeing Title IX. As the UC's system-wide Title IX analyst, she works to source, standardize, and analyze the data used to inform UC policy across campuses regarding sexual violence and sexual harassment.
Karishma Bali MGEM founded Kara Lab, Inc. and Bali Academy in the Chicago area and is an entrepreneur with NASA's Startup Studio. She also launched an ebook series geared toward undergraduate success.
Travarus Fauntleroy MA, program manager for diversity and inclusion at LinkedIn in San Francisco, led the 2020 LinkedIn intern program's first virtual experience in a speaker series called "Concise Advice," interviewing intern alumni and global interns via Zoom.
Kathryn Luna MNA is development manager for the San Francisco 49ers Foundation, the philanthropic arm of the San Francisco 49ers.
Vedavathi Vajjeshoula MBA is an accounting technician with the East Bay Regional Park District Office of Public Safety.
2020s
'20
Johnny Ma MSIS was part of Salesforce's TrailheaDX conference in June 2020, interviewing Salesforce's leaders during a Q&A.