Emboldened, Embodied Exhibition Catalog
For a printable version of the Emboldened, Embodied exhibition catalog, email thachergallery@usfca.edu.
Introduction
Presented by the MA in Museum Studies Curatorial Practicum class led by Professor Paula Birnbaum.
Emboldened, Embodied explores themes of the body, representation and community through the work of Bay Area artists Kim Anno, Lenore Chinn, Angela Hennessy, Yolanda López, Jessica Sabogal, Na Omi Judy Shintani and Shanna Strauss.
Spanning four decades, the works exhibited here reveal the complexities of intersectional identity and enhance the visibility of those often unseen and unheard. Artists Kim Anno, Lenore Chinn, Jessica Sabogal and Shanna Strauss use portraiture to honor the lived experiences of people of color and the LGBTQ+ community. Installations by Yolanda López and Na Omi Judy Shintani use dress as a way to deconstruct cultural stereotypes, power and historical trauma, commanding space for women's narratives. Angela Hennessy's installation uses African and Victorian hair weaving traditions to honor her ancestors and illuminate the resilience and beauty of the Black body. From alternative forms of storytelling to calls to action, the artists in Emboldened, Embodied challenge the systemic inequities still at play in our world today, while celebrating their subjects and communities.
The Origins of the term Intersectionality
Coined in 1989 by legal scholar Kimberlé Williams Crenshaw, the term intersectionality addresses the erasure of Black women's lived experiences in the United States. In her writings she shares how the "interaction of race and gender" previously was unaccounted for in feminist theory and antiracist policies and laws. More generally, intersectionality was defined as the interaction between characteristics of gender, ethnicity, race, sexuality, and other personal identifiers. Crenshaw's theory is a starting point for the spirit of Emboldened, Embodied.
Today, intersectionality has evolved into a way of thinking which fosters equitable community and removes assumptions around identity.
How do you see intersectionality within yourself? Your loved ones? Your community?
For Further Reading:
Kimberlé Crenshaw, "Demarginalizing the Intersection of Race and Sex: A Black Feminist Critique of Antidiscrimination, Feminist Theory and Antiracist Politics," University of Chicago Legal Forum (1989).
Jennifer C. Nash, "Rethinking Intersectionality" (2008), Feminist Theory Reader: Local and Global Perspectives, Eds. Carole R. McCann and Seyung Keyung Kim, 194-203.
Jennifer C. Nash, Black Feminism Reimagined: After Intersectionality (Durham: Duke University Press, 2019).
Jane Coaston, "The Intersectionality Wars," Vox (May 28, 2019).
---
Artists and Featured Works
Kim Anno
Image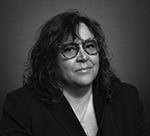 A painter, photographer and videographer raised by civil rights activists, Kim Anno blends fantastical narratives and aesthetics with the reality of the climate crisis and its impact on society.
The photographs in this exhibition are from one of her recent video series, Men and Women in Water Cities. Here, she explores the effects of rising sea levels on marginalized communities, and how youth adapt and thrive through change. By exposing the tension between the perils of climate change and the celebratory power of the individuals portrayed, the work inspires viewers to advocate for their communities and futures.
Anno received a MFA from the San Francisco Art Institute and is a Professor of Painting and Drawing at the California College of the Arts.
Image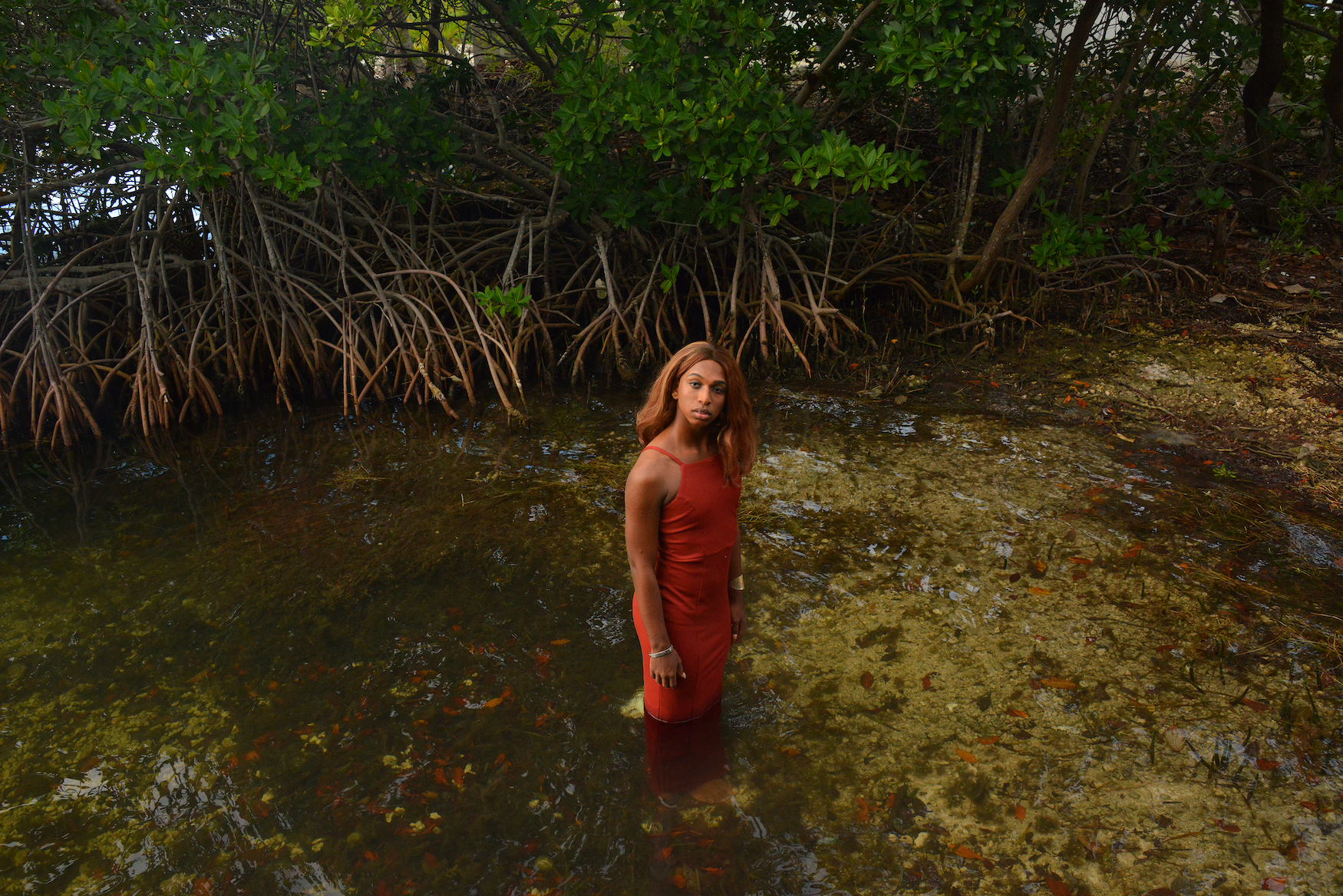 Charlie (from 90 Miles from Paradise)
Photograph accompanied by sound loop
2015
Courtesy of Patricia Sweetow Gallery
In this photograph, Charlie Clark, a seventeen-year-old transgender woman wades in the waters of the Miami coastline. Part of Anno's 90 Miles from Paradise video project, this image is accompanied by the voice of Charlie singing "Amazing Grace," a spiritual hymn that reflects her journey and her own homecoming.
Image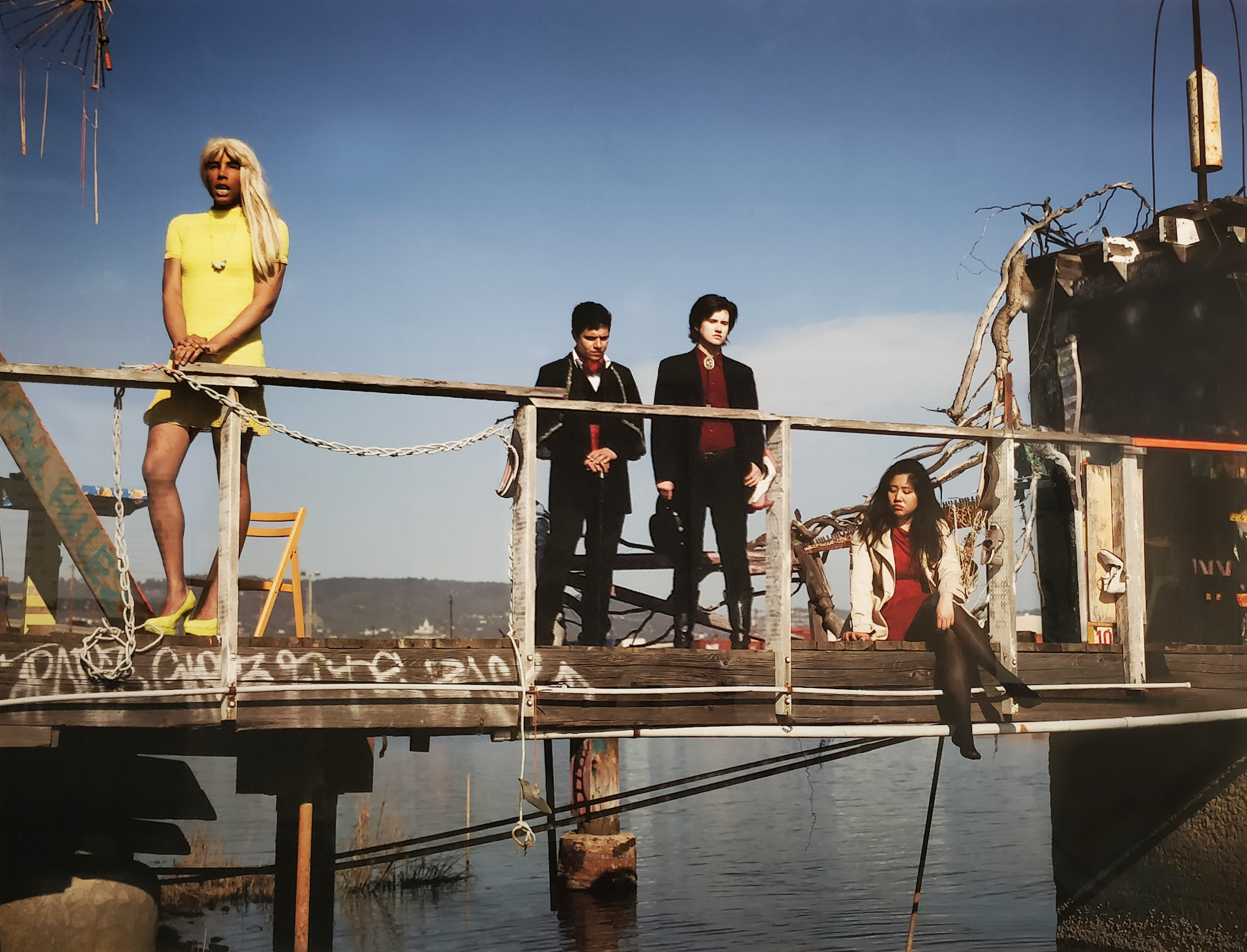 Oedipus at the Tea House (from Water City, Berkeley)
Photograph
2014
Part of her series that combines film and photography, Men and Women in Water Cities, Anno imagines life after rising sea levels for young and queer people in different port cities that include Berkeley, showing how they adjust to their new reality with resilience.
Image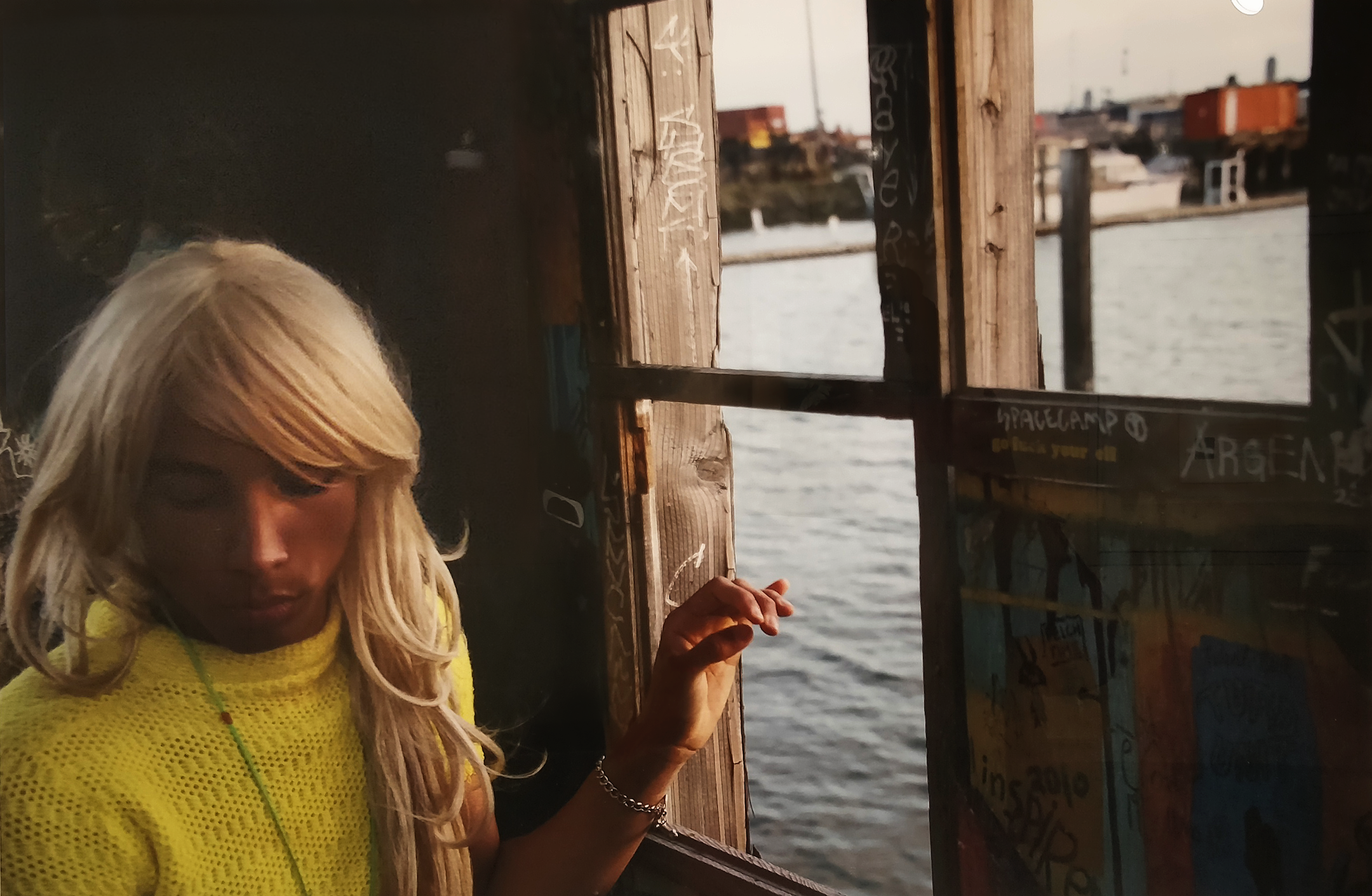 Gimme Shelter (from Water City, Berkeley)
Photograph
2013
From Anno's Men and Women in Water Cities, Gimme Shelter explores what life may look like for queer youth in the Bay Area as they are forced to find new meaning in a future wrought with climate change and rising sea levels.
Image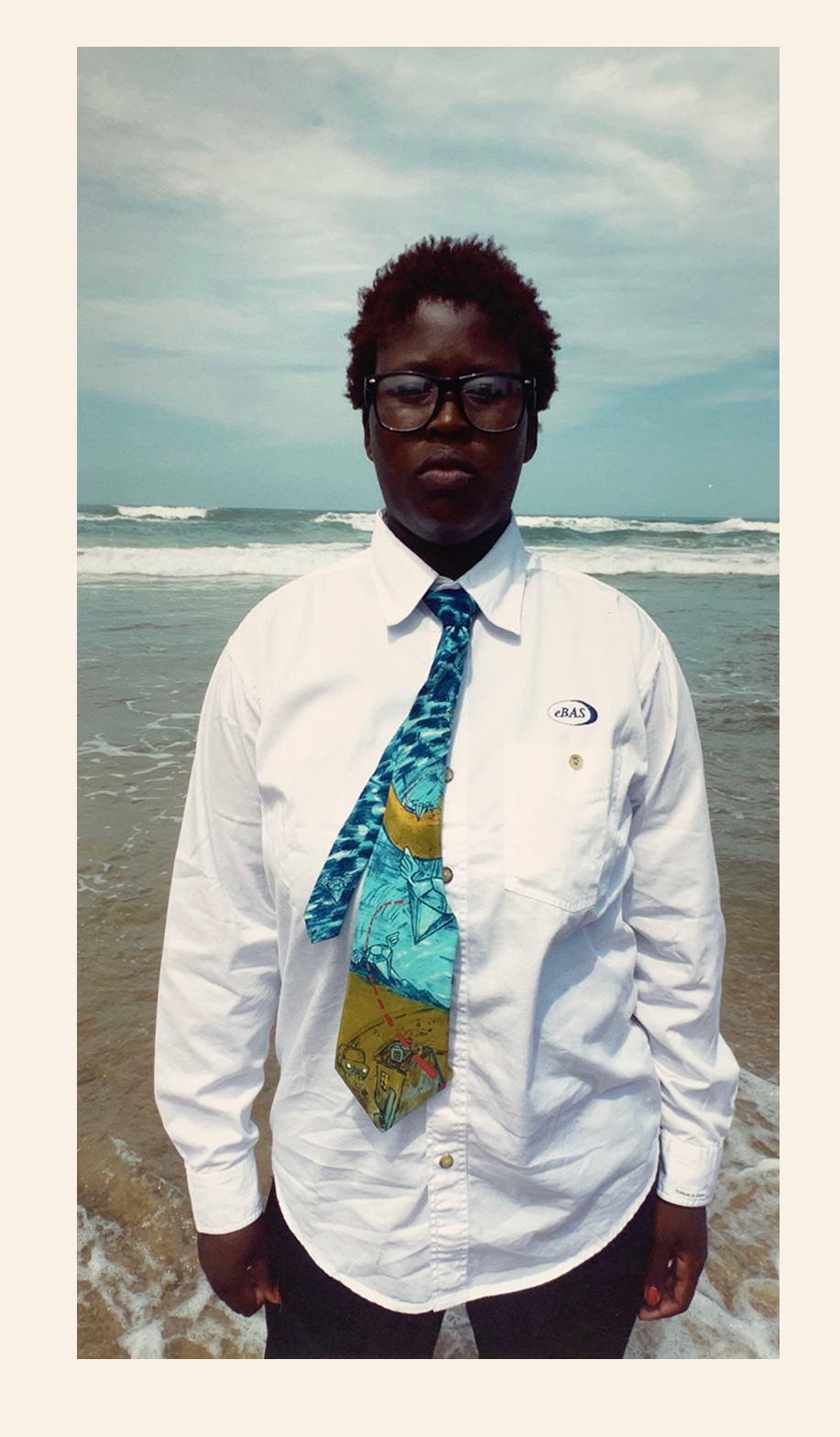 Gaze (from Water City, Urban)
Photograph
2012
This photograph is from Water City, Durban, part of Anno's series titled Men and Women in Water Cities. Photographed and filmed in KwaZulu-Natal townships, South Africa, the project includes images of young people who appear to have just finished their white collar jobs playing soccer in the ocean, trying to adapt to a post sea level rise society.
Image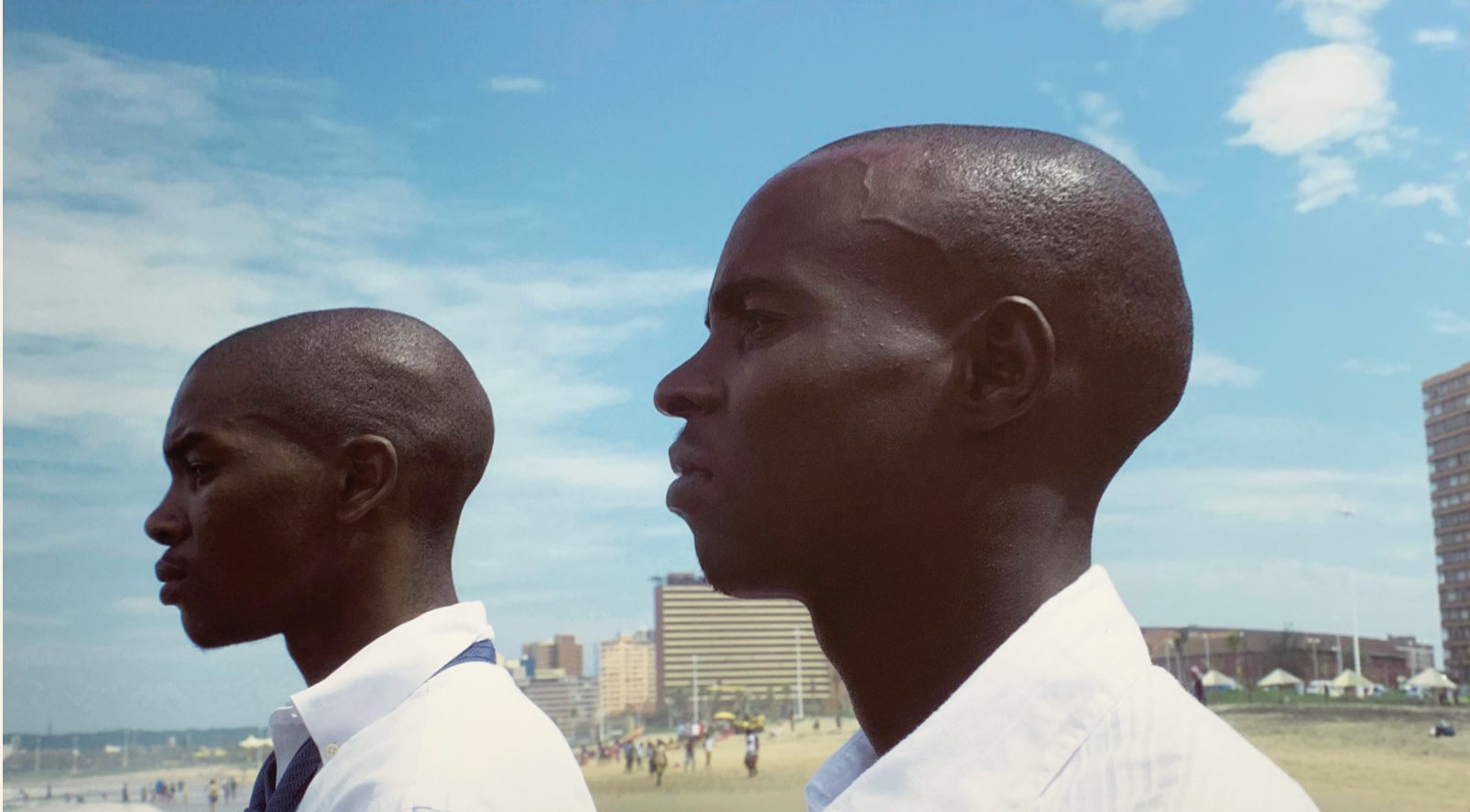 Our Calling (from Water City, Durban)
Photograph
2011
This photograph, along with Gaze, from Water City, Durban, part of Anno's series titled Men and Women in Water Cities. This project features images of young people dressed in white collar work clothing playing soccer at the beach, as if the sea and city have merged and they must attempt to make meaning in a new watery world.
Angela Hennessy
Image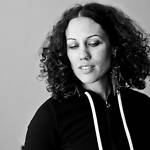 Angela Hennessy is an interdisciplinary artist and writer who explores the delicate balance between life and death. After being shot in 2015 while attempting to stop an assault occurring outside of her home, Hennessy revisited her artistic practice, finding ways to use her art to ask questions about mortality, grief and the responsibility of the living to carry the dead. Using Black hair as her primary medium, Hennessy's installations and sculptures are intended as offerings to her ancestors, and as a way to share mourning practices with those experiencing grief. Through various weaving techniques, she employs the use of hair to recognize the resilience and beauty of the Black body.
Based in Oakland, Hennessy received her BFA and MFA from the California College of the Arts, where she studied under Kim Anno and currently teaches courses on contemporary art, textile theory, and cultural narratives of death. Hennessy is certified in Grief Recovery Methods.
Image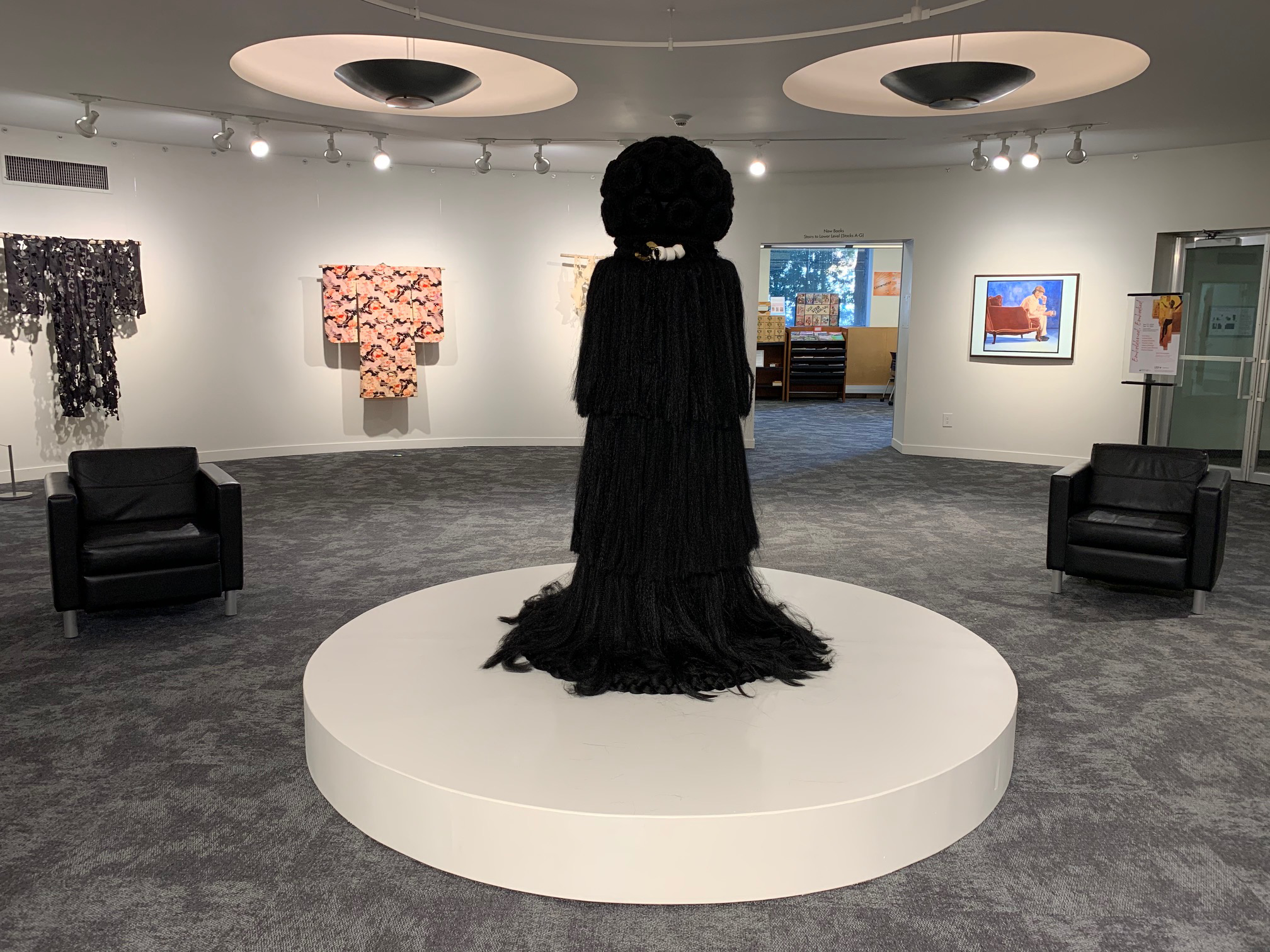 Body for a Black Moon
Synthetic and human hair, artist's hair, wood, plumbing parts, foam, athletic tape, wire, hand-carved Ivory soap beads, gold leaf, copper sheet, glitter, black lava sea salt and paint
2019
Angela Hennessy's work is an offering to her ancestors. Created for this exhibition, Body for a Black Moon is a funerary monument with life being represented vertically, and death horizontally. By taking inspiration from her lineage and identity, Hennessy encourages us to think differently about death and how hair is a tangible symbol of life and the hereafter.
Yolanda López
Image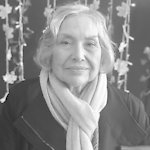 Yolanda López is a painter and installation artist recognized for her profound influence on Chicana feminism. Informed by her childhood growing up in a family of master craftsmen, López depicts the intellectual and physical labor of working-class women in a misogynistic and racist society. Her work challenges the media's depictions of Mexican American and Latina women to reveal a narrative of resilience and courage. Recognized as images of empowerment, Who's the Illegal Alien, Pilgrim? (1981) and The Guadalupe Triptych (1978), are iconic works of the Chicano Civil Rights Movement. She has been a mentor to many artists, including Jessica Sabogal, whose work is also on included in the exhibition.
Born and raised in San Diego, López's training as a conceptual artist at UC San Diego provided a framework to engage art and political activism in an intellectual construct. Having called San Francisco's Mission District home for decades, she continues to organize for justice and equality.
Image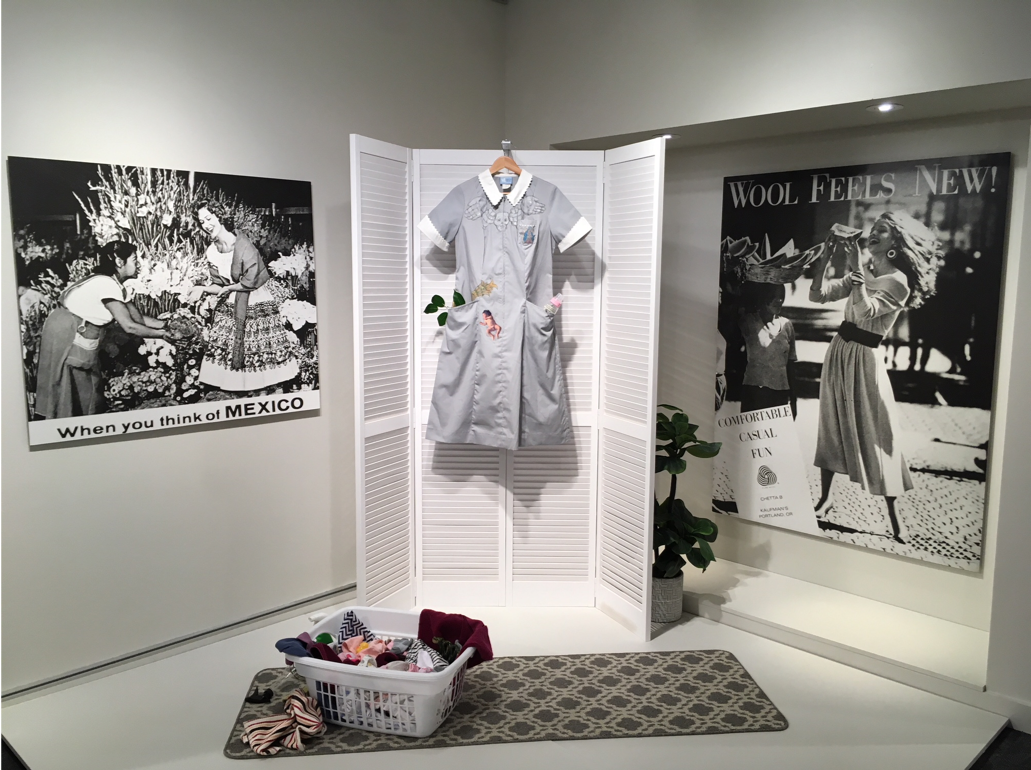 The Nanny, from Women's Work is Never Done series
Mixed media installation
1994
Yolanda López places a nanny's uniform between two advertisements that exoticize Latin American culture while depicting women of color in subservient positions. In this many layered installation, the artist reminds viewers of the ways that Indigenous and Latina women have been exploited for their labor in the United States. Look closely at the American Airlines and Vogue advertisements for signs of the asymmetric power relations promoted by tourism. As you study the elements in this installation, consider the ways they also reveal the intersections of race, gender and class.
Jessica Sabogal
Image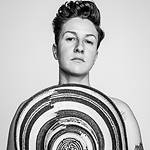 Jessica Sabogal is a first-generation Colombian American muralist. Throughout the years, Sabogal has consistently reinvented what it means to be a female muralist in a male-dominated medium. She has continuously pushed the boundaries as an artist by utilizing her medium for social change, action and empowerment. Her murals have been commissioned by Facebook, Google, 20th Century Fox, University of Southern California, UCSF, California State University, San Marcos, University of Arizona, and University of Utah among many others. In 2016, Sabogal received KQED's Women to Watch Award and the following year was commissioned by the Amplifier Foundation for the 2017 Women's March, after which her Women Are Perfect campaign gained international acclaim. Sabogal's work has since been featured in national and international news and media sources including CNN, The Wall Street Journal, Huffington Post, and the New York Times.
Image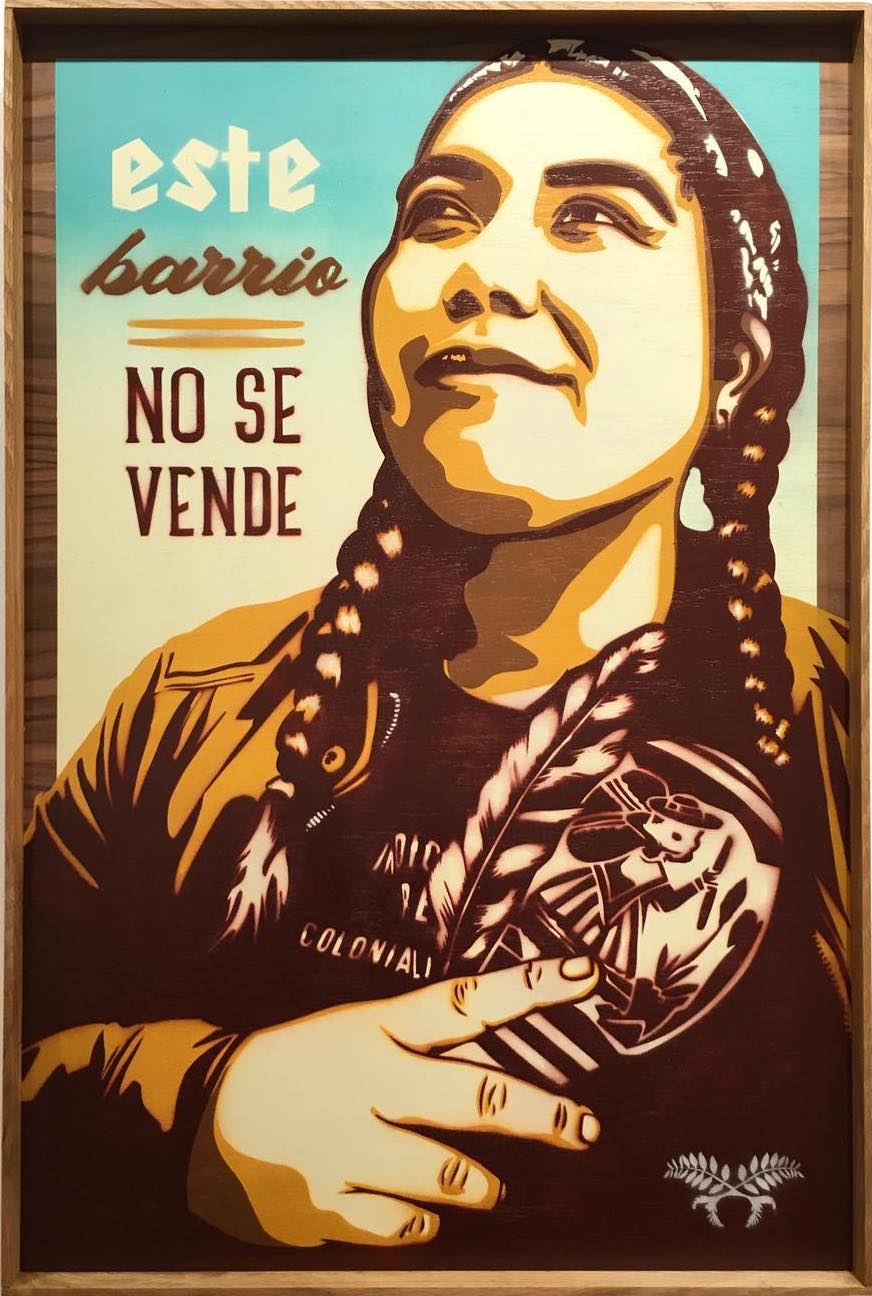 Este Barrio No Se Vende
Acrylic on wood panel
2018
Pictured here is Mariella Mendoza, a non-binary undocumented artist and writer, born and raised in Lima, Peru, currently living on occupied Shoshone territory: Salt Lake City, Utah. This piece is a smaller rendition of Sabogal's 37'x19' mural along the entrance of the Rose Park neighborhood in Salt Lake City. The title, Este Barrio No Se Vende (This Neighborhood Is Not For Sale), highlights local resistance against ongoing gentrification in the area. Sabogal invites her subjects to hold objects that have personal resonance, such as the maraca from Mendoza's Peruvian homeland and the feather that was a gift from Standing Rock activists.
Image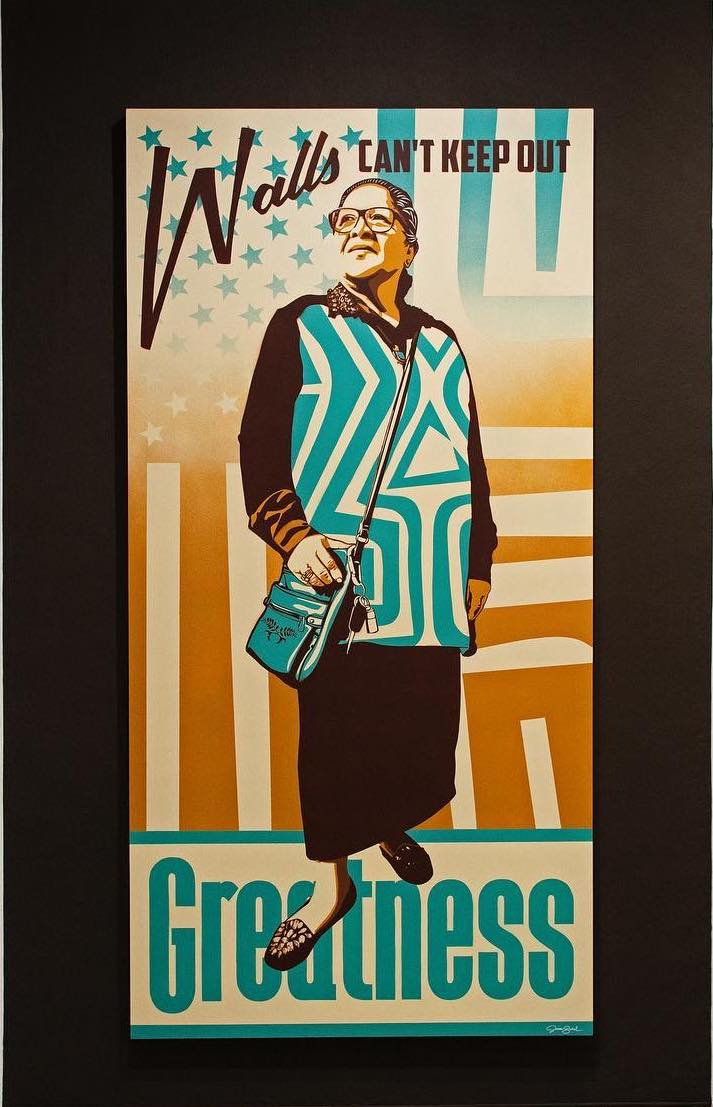 Walls Can't Keep Out Greatness
Acrylic on wood panel
2018
Originally designed for the 2018 Democratic National Convention, Sabogal's mural reframes the narrative of those targeted by recent anti-immigration tactics. Instead, she celebrates immigrant joy. Standing proud, this Latinx elder gracefully stomps on the word "greatness," a term fraught with complicated connotations in light of President Trump's "Make America Great Again" campaign.
Image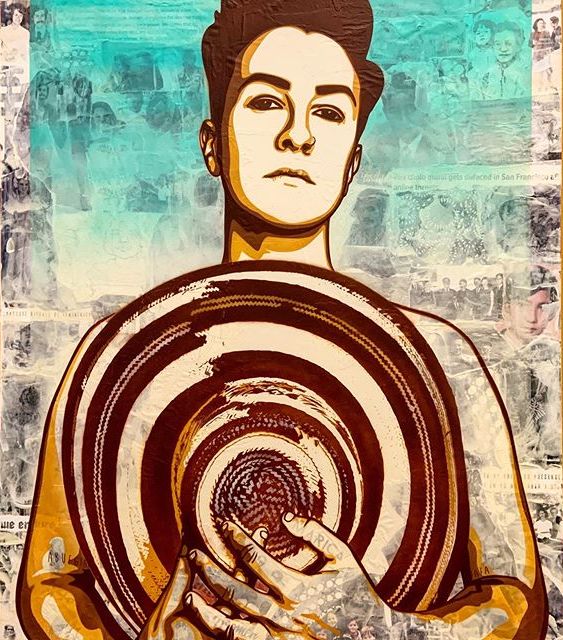 It Runs in Her Marrow
Photo transfer and acrylic on wood panel
2019
Sabogal's self portrait places the first-generation Colombian-American marica boldly front and center, holding a traditional Colombian sobrero vueltiao close to her heart. By collaging historical photographs and letters of her family, friends and mentors--including artist Yolanda López--Sabogal offers a complex, layered narrative of her journey of embodying all of her identities at once.
Shanna Strauss
Image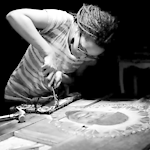 Using photo transfer, painting and traditional burning techniques on found wood, Shanna Strauss explores themes of diaspora and belonging. Her early projects address the question of how women with multiple identities navigate the world. The works in this exhibition build on this idea by proposing that home is not only a place, but also the people and communities with whom we connect. Strauss emphasizes the importance of looking outside of her own experience to reveal the stories of Black women who are commonly left out of the dominant narrative.
Strauss is a Tanzanian-American artist currently splitting her time between Montreal and Oakland. After completing a BA from California College of the Arts, she earned a MA in Social Work from McGill University. She has exhibited around the world, including Tanzania, Canada, the US and Senegal.
Image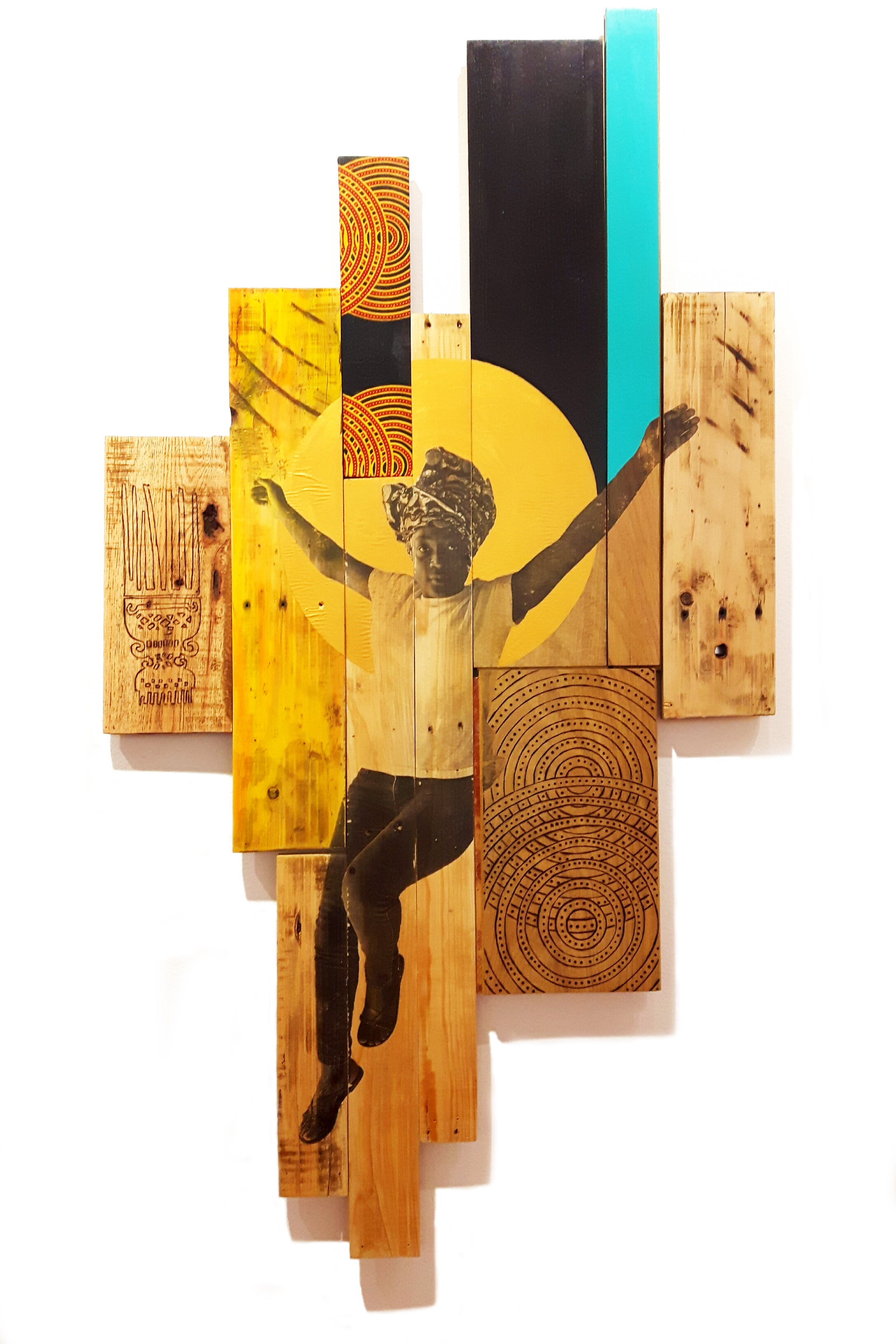 When She Rises
Mixed media on found wood
2018
When she rises represents the boundlessness of the women of the African Diaspora. This work is part of a series in progress titled In Flight that celebrates their resilience, resistance, creativity and magic.
Image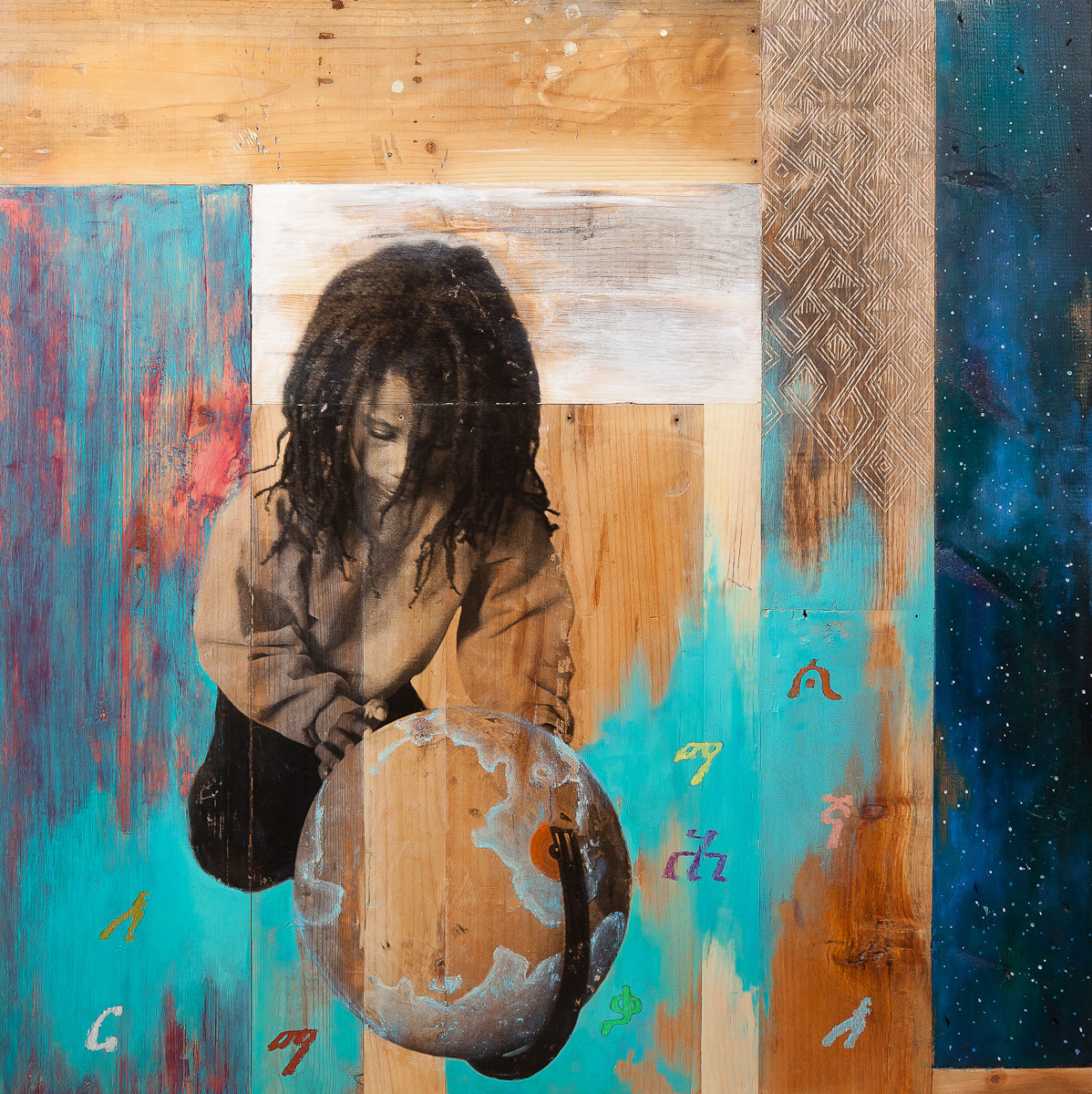 The World in Her Hands
Photo transfer and acrylic on found wood
2015
This portrait is of a young girl named Desta, whom the artist met while working with Desta Black Youth Network in Montreal. Desta, which means "Joy" in Amharic, was born and named the same year the organization was founded by her mother. The work is a celebration of the youth who came to the center and a tribute to the Black women organizers who made the space home for everyone.
Image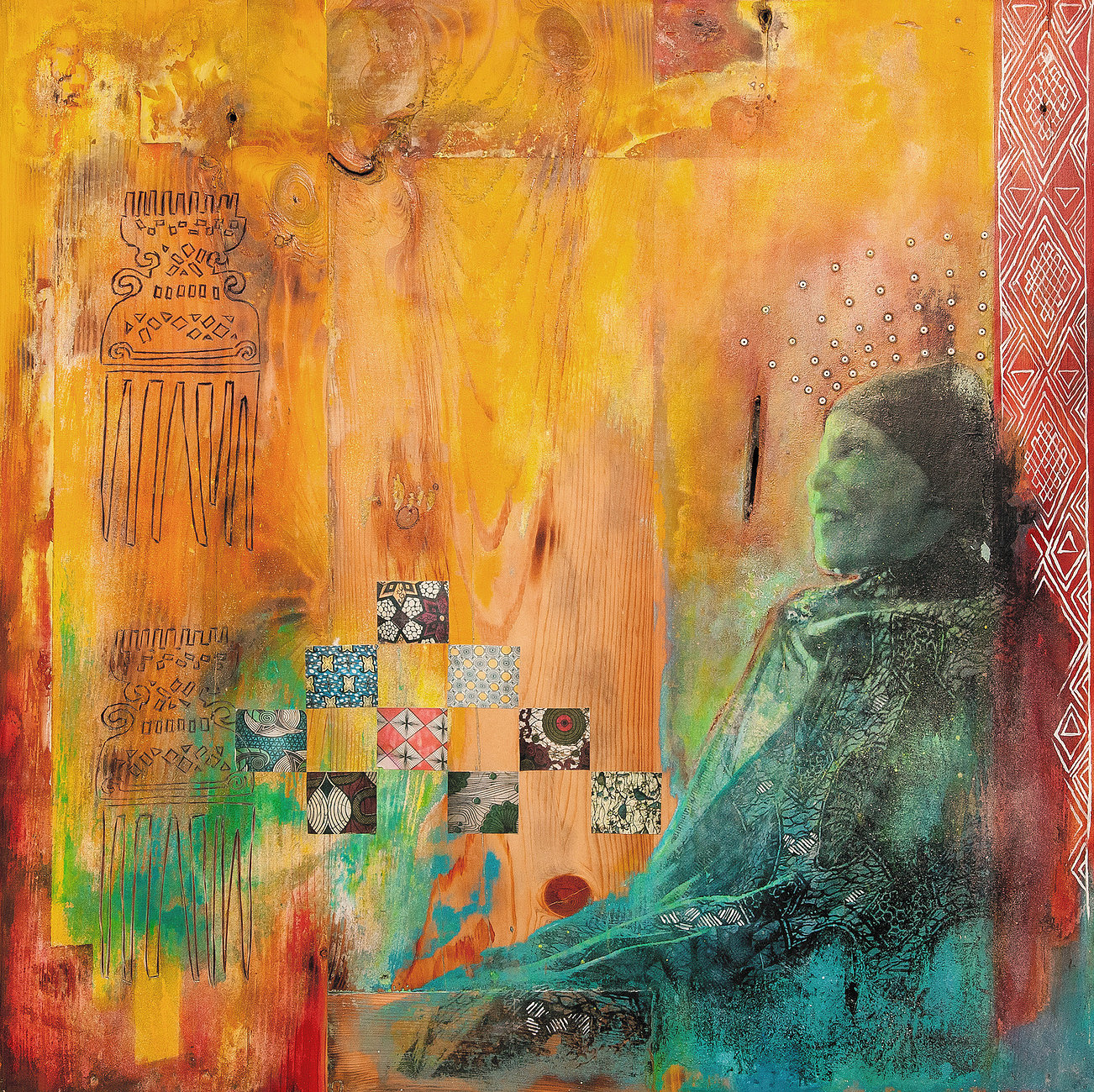 Bibi
Mixed media on found wood
2015
Bibi, the artist's grandmother, is a memory keeper in her community in Tanzania. She sings in Kinyaturu, her native tongue, and recounts elders' stories of strong, courageous women. Strauss' focus on storytelling and oral tradition are her way of honoring how ancestral knowledge is passed from generation to generation.
Image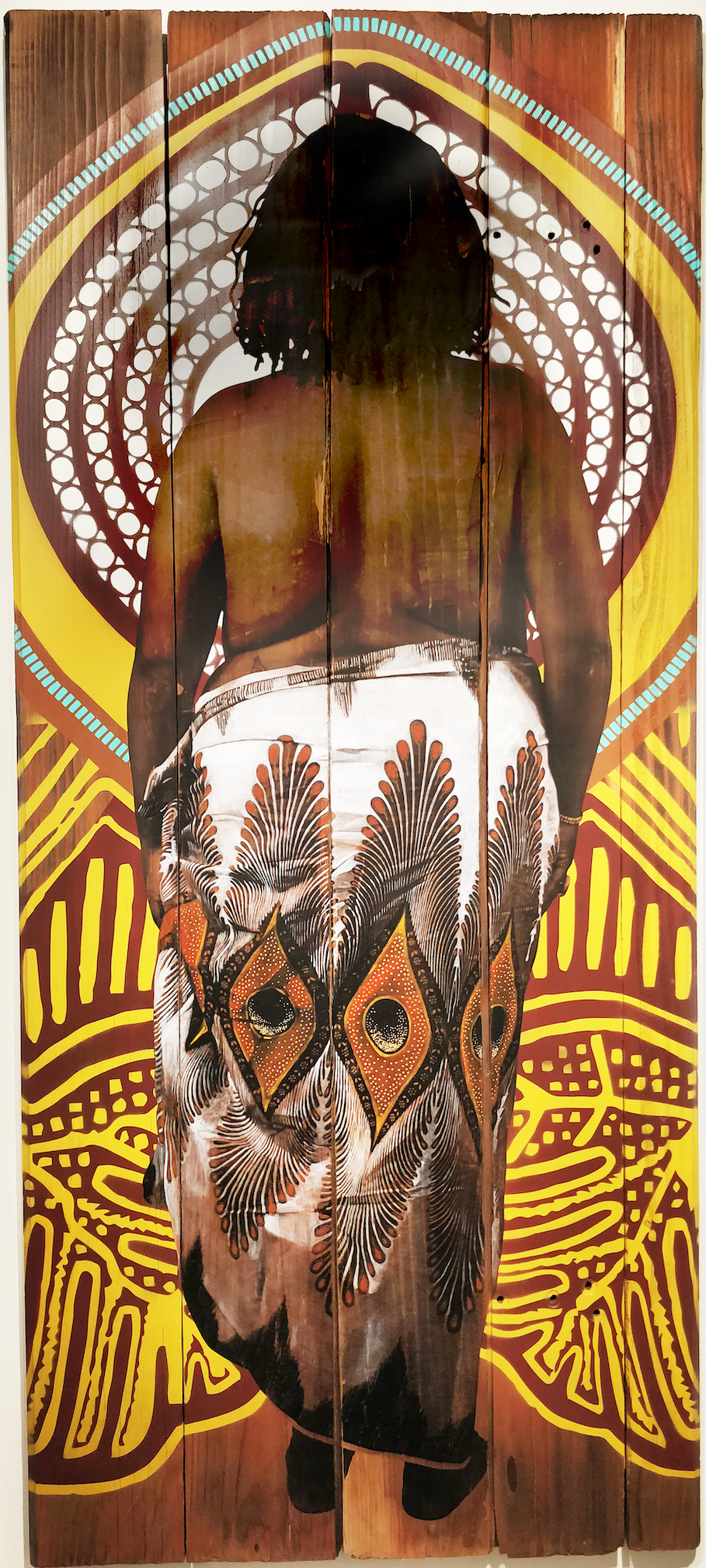 Ave//Blessed Art Thou Among Women
Jessica Sabogal & Shanna Strauss
Photo transfer, acrylic, and spray paint on found wood
2019
This collaboration between artists Sabogal and Strauss is the first of their newest series entitled This Woman's Work. This project seeks to visually illustrate the labor that queer women of color undertake to maintain the well-being of their families, communities, and society at large, that too often goes unnoticed, underappreciated, or underacknowledged. These include but are not limited to: peacekeeping, caretaking, mediation, teaching others how to communicate, holding the emotions of others, having to uphold the sacredness of other women and performing unrecognized work in movement building.
Na Omi Judy Shintani
Image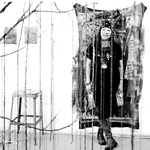 Na Omi Judy Shintani uses assemblages, installations and performances to explore themes of remembrance and storytelling. Responding to her family's incarceration in the U.S. concentration camps during World War II, Shintani's art deals with the loss of culture and what it means to be Japanese-American. Through her work, she links personal memories and the impact of historical trauma to the imprisonment and separation of immigrant families at our borders today.
Active in her community of Half Moon Bay, Shintani founded the Kitsune Community Art Studio, an organization dedicated to the exploration of identity through creativity. She is also a member of the Asian American Women Artists Association and the Northern California Women's Caucus for Art. After completing a BS in Graphic Design at San Jose State University, Shintani obtained a MA in Transformative Art at JFK University, Berkeley.
Image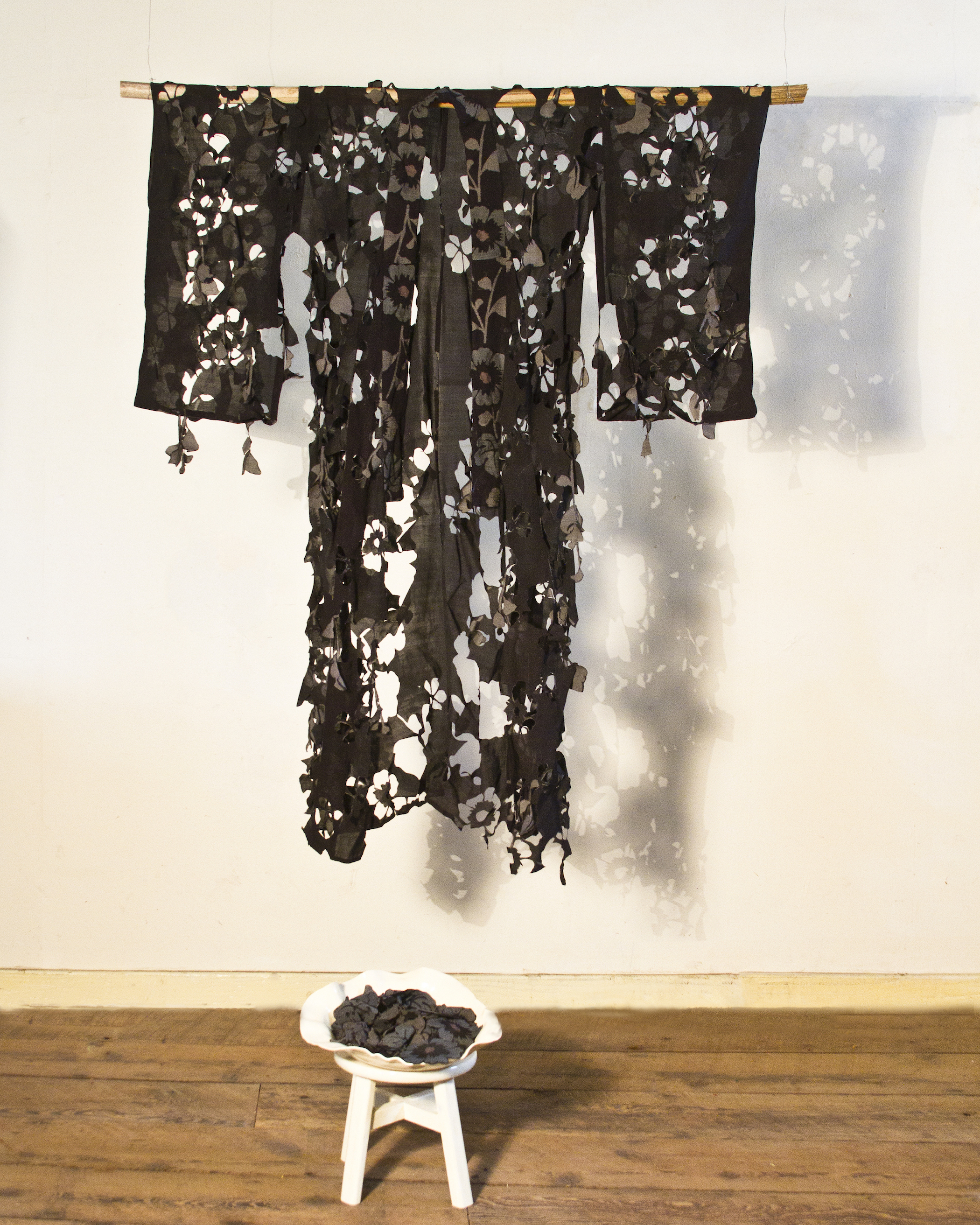 Deconstructed Kimono (Black)
Vintage altered kimono, ceramic, wood, and bamboo
2012
Image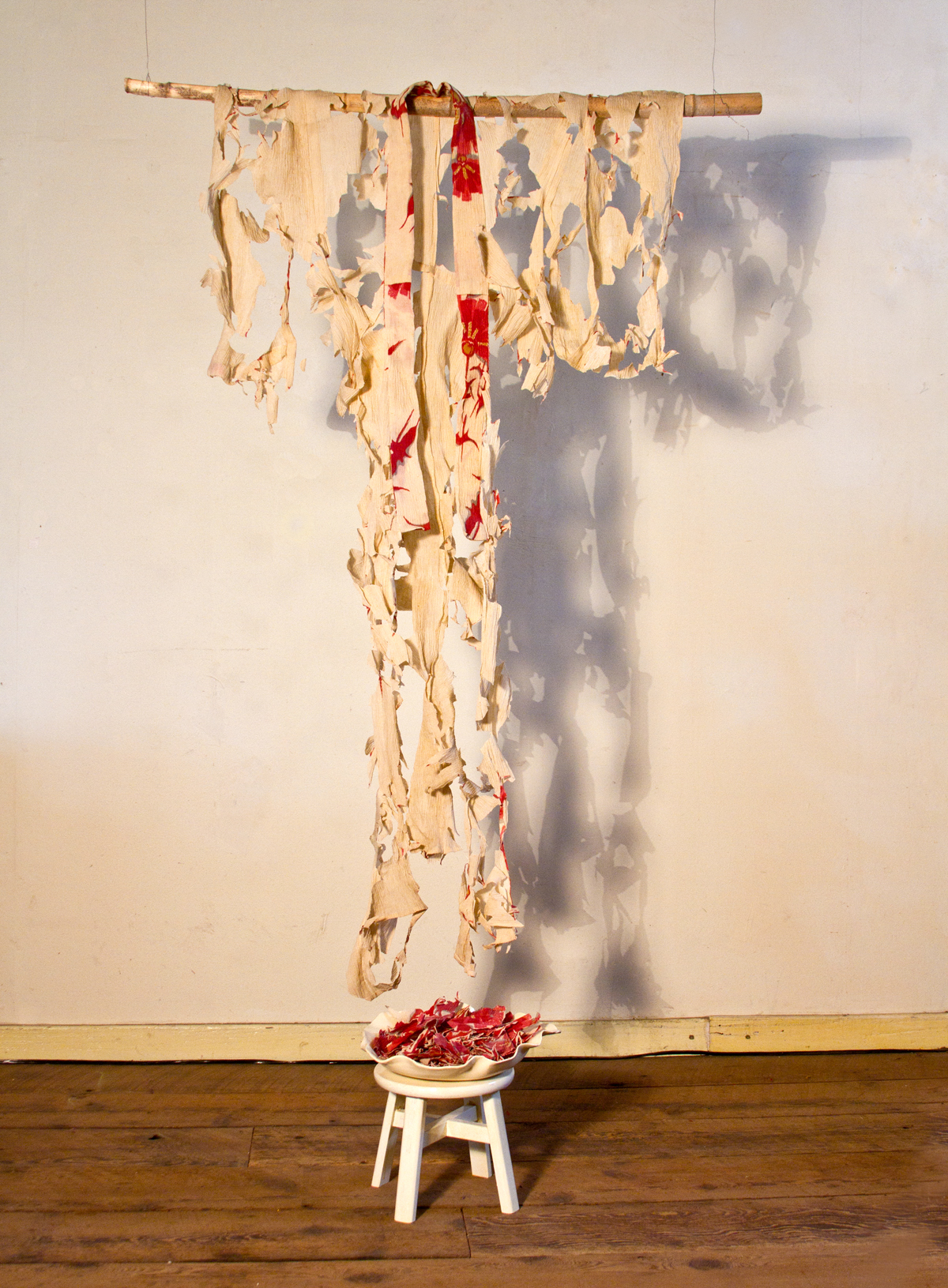 Deconstructed Kimono (White)
Vintage altered kimono, ceramic, wood, and bamboo
2011
Image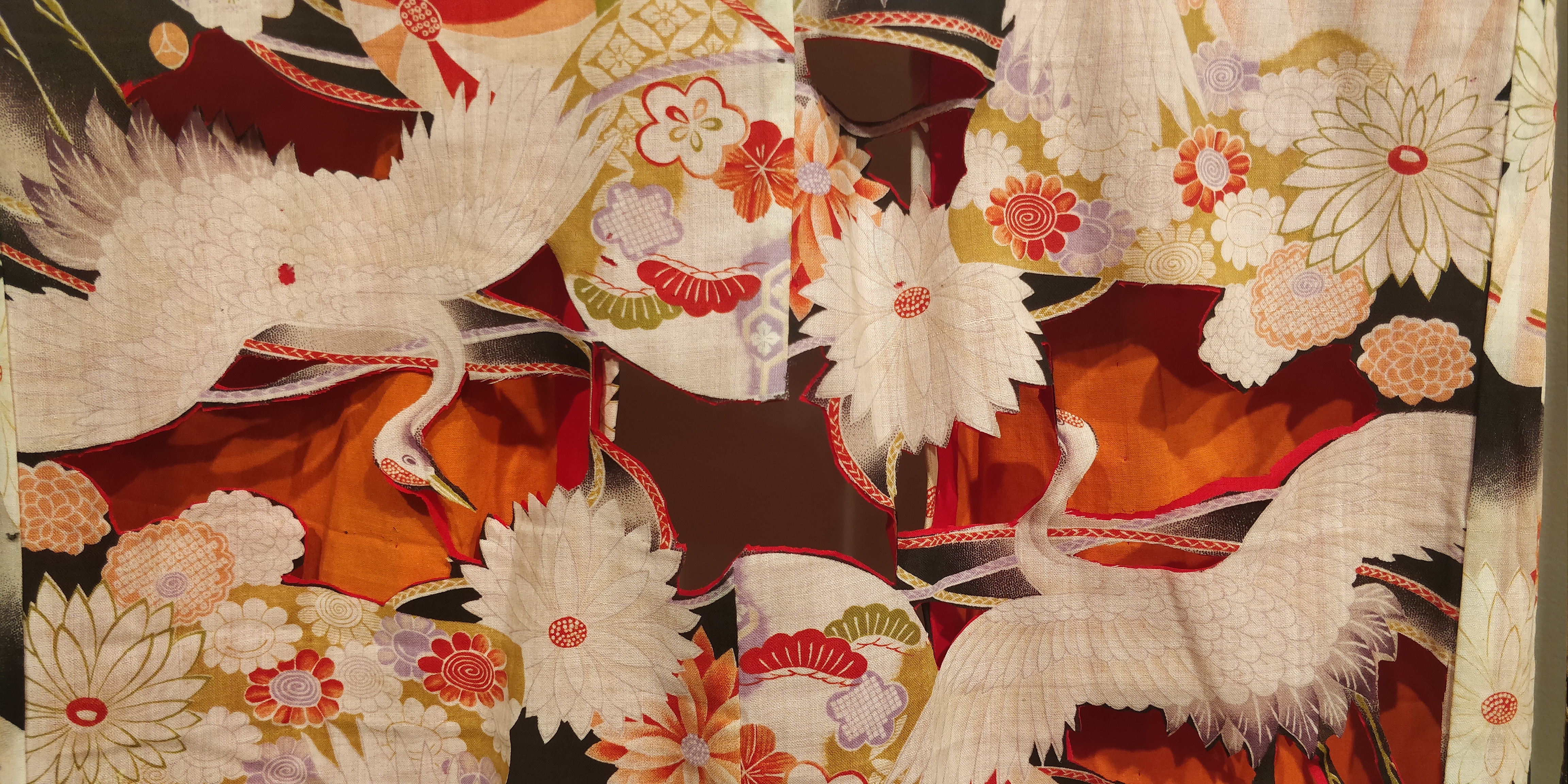 Deconstructed Kimono Series
The kimono, long associated with Japanese cultural traditions and the "exotic," also connotes restriction and discomfort. Here, through Shintani's slow and purposeful deconstruction, the kimono suggests a ghostly presence of past ancestors. At the same time, the offering bowls hold the cut pieces reverently, honoring what has been lost to create space for experiences and new life.
Image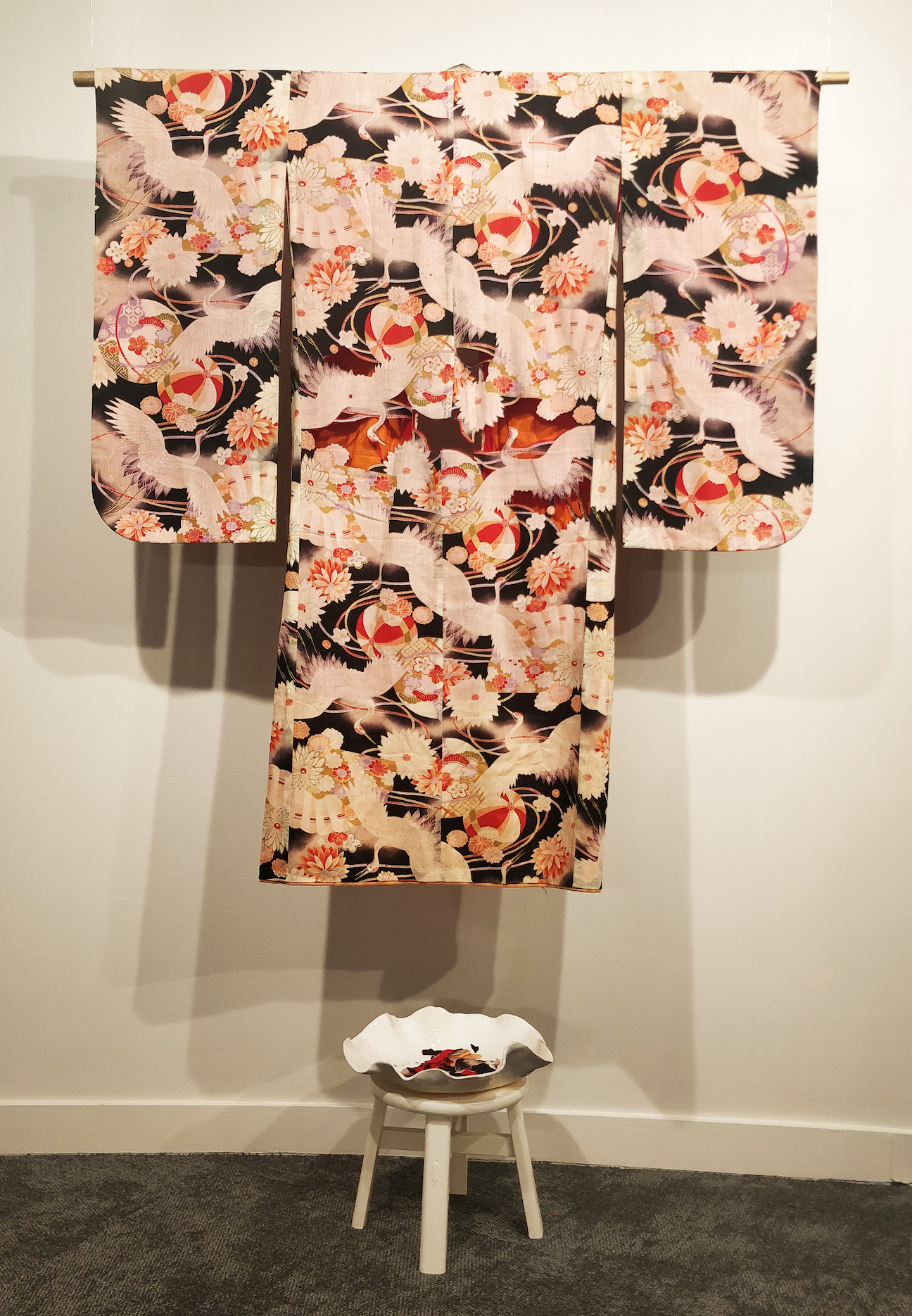 Deconstructed Kimono (Multicolored)
Vintage altered kimono, ceramic, wood, and bamboo
2019 (work in progress)
This kimono is a work in progress. Shintani started to deconstruct it at the opening of this exhibition and will continue the process over the span of this exhibition.
Lenore Chinn
Image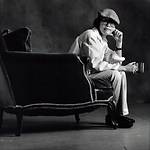 Using photography and painting, Lenore Chinn documents the lives of San Francisco's artists, activists and the LGBTQ+ community. Chinn's most recognized body of work is her Family Portrait series, which utilizes traditional portraiture and photorealism to present her subjects with a commanding presence that demands social legitimacy.
A second-generation Chinese-American born and raised in San Francisco, Chinn received her BA in Sociology from San Francisco State College (now San Francisco State University). She is a co-founder of the Queer Cultural Center and has been active in the Asian American Women Artists Association since the group was founded.
Image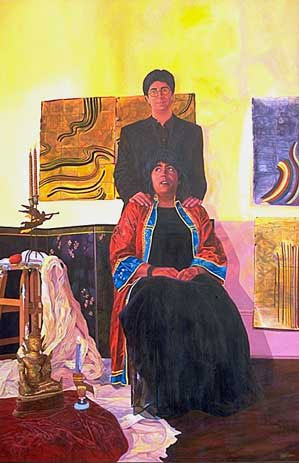 Before the Wedding
Acrylic on Canvas
2000
Depicted here are two of Lenore Chinn's close friends, Ellen Meyers (standing) and artist Kim Anno (seated) whose work is also included in Emboldened, Embodied. The painting celebrates their relationship before the 2015 Supreme Court ruling in favor of marriage equality, despite the fact that the law at the time prohibited them from being legally wed. The composition is reminiscent of Chinese wedding portraiture and inspired by the domestic spaces of Dutch genre painting. Kim Anno's paintings can be seen in the background.
Image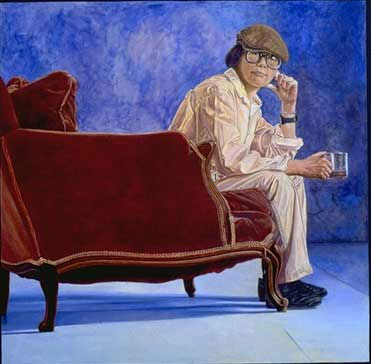 Butler's View (Self-Portrait)
Acrylic on Canvas
1993
This self-portrait is painted after a photograph of Chinn taken by Erik Butler for an article honoring women involved in documenting the lives of those affected during the AIDS epidemic. A throwback to countless compositions of passive nudes lounging on a chaise, here the artist sits squarely on a red velvet chair, leaning forward, ready to dive into conversation.
Image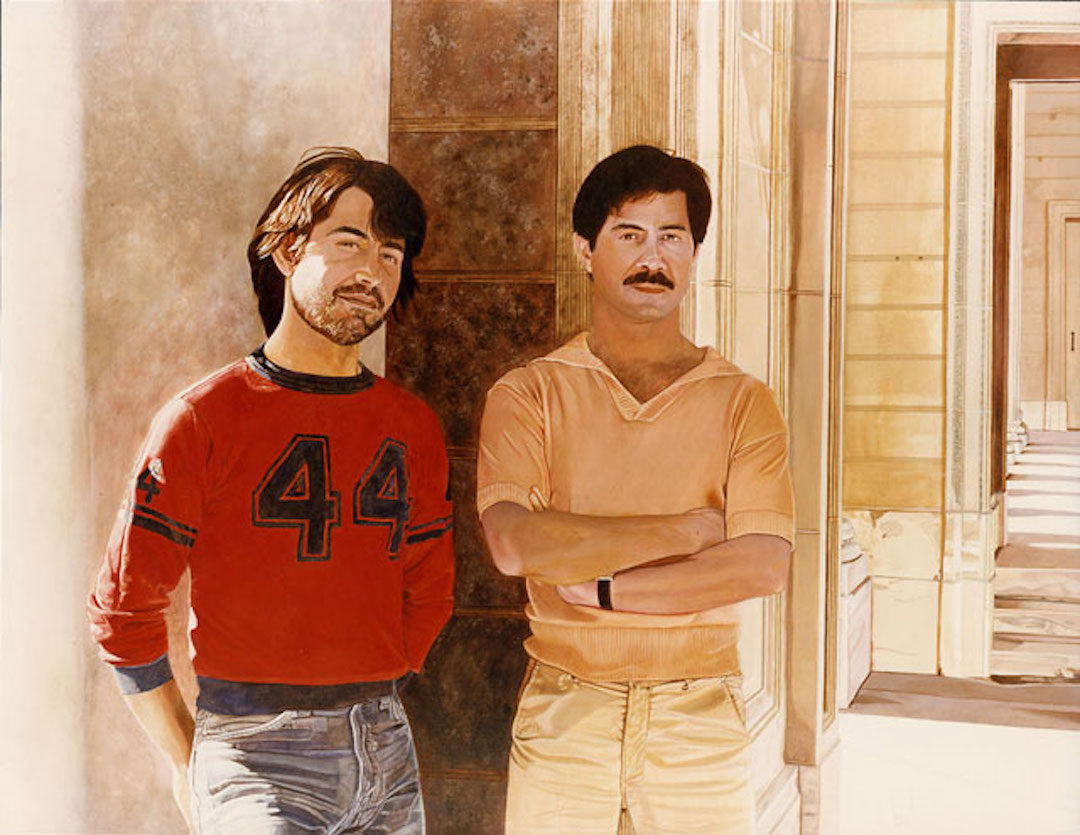 Son Cuates
Acrylic on Canvas
1981
Here we see Chinn's friends, twin brothers Tommy and Doug. Both gay Latinx artists-- one a dancer, the other a visual artist--she painted them after a photograph taken at the portal of the Legion of Honor Museum in San Francisco. The brothers introduced Chinn to many gay cultural sites and were the first of her close friends to die of AIDS.
Image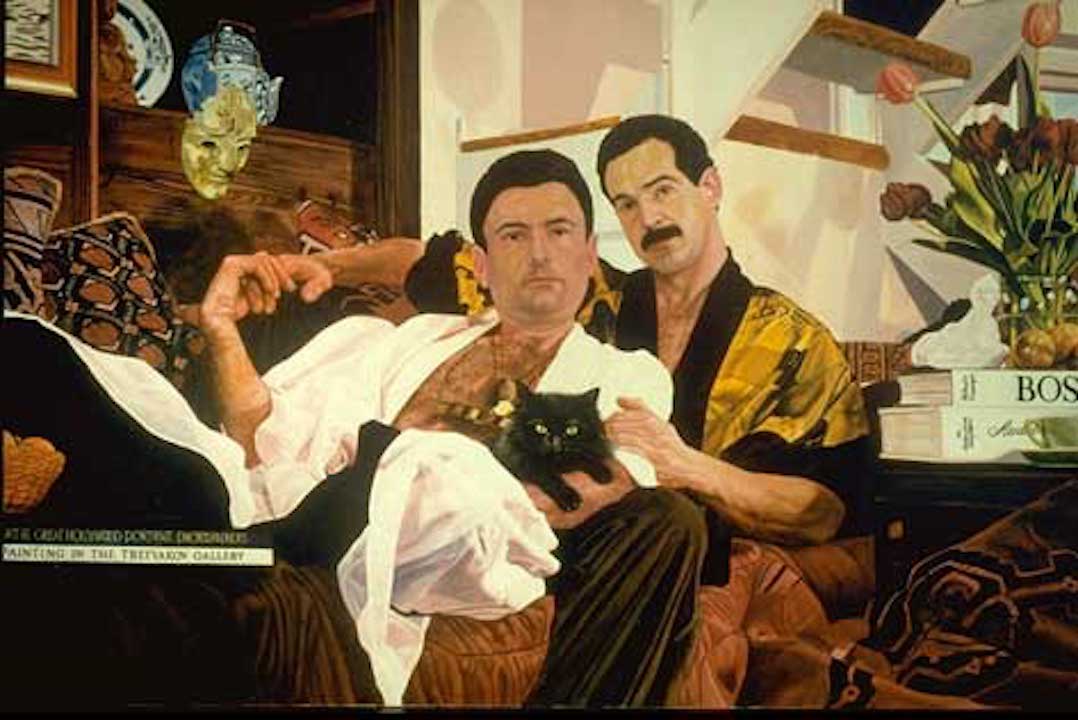 The Family
Acrylic on Canvas
1991
Chinn's friend and accomplished San Francisco-based artist, John Arbuckle, commissioned this work to commemorate his relationship with his partner, writer Gary Pike. At the time of this painting, Pike was in the late stages of his battle with AIDS.
---
Additional Artist Information
Kim Anno
Zarobell, John, From the Archives – "Kim Anno: Water City Berkeley at Kala Art Institute, Shotgun Reviews," Daily Serving. December 2013
Lenore Chinn
Chinn, Lenore. Artists Website
Latimer, T., Roth, M., & Soe, V. (2011). "Cultural Confluences: The Art of Lenore Chinn. Asian Pacific Islander Cultural Center." SFMOMA Open Space
Angela Hennessy
Hennessy, Angela. Artists Website
Yohannes, Neyat. "Angela Hennessy's Solo Show Offers Up Hair As Eulogy." KQED, 26 Oct. 2017
Yolanda López
Davalos, K. M., López, Y. M., & Noriega, C. A. (2008). Yolanda M. López. UCLA Chicano Studies Research Center Press.
Laduke, Betty. 1994. "Yolanda López: Breaking Chicana Stereotypes." Feminist Studies 20 (1):117. doi:10.2307/3178436.
Jessica Sabogal
Sabogal, Jessica. Artists Website
GoPro. (2015, January 15). "Graffiti Street Art: We Are The Ones" [Video file]
Na Omi Judy Shintani
Shintani, Na Omi Judy. Artists Website
"Interview: Judy Shintani, by Anna Vaughan." Abrams Claghorn Gallery, March 10, 2016.
Shanna Strauss
Strauss, Shanna. Artists Website
Khumalo, Noncedo. "'We are the Changemakers': Celebrating Montreal's Black Women Leaders by Immortalizing Them in Wood." CBC Arts, February 1, 2017. Video 3:30.
---
Acknowledgements
This exhibition was co-curated by the MA in Museum Studies Curatorial Practicum class led by Professor Paula Birnbaum in collaboration with the Thacher Gallery.
Student curators include Iyari Arteaga, Hannah Baldwin, Nikki Christensen, Virginia Daley, Dana Klein, Laura Macias, Taylor Mordy, Laure Rigaud-Soares, Samantha Sanders, Taarini Savara, Gabrielle Silva, Imani Triplett, and Sarah Wehlage.
We would like to offer our gratitude to all of the artists exhibited in this show for being so generous with your time and trust throughout this collaborative process.
Kim Anno
Lenore Chinn
Angela Hennessy
Yolanda López
Jessica Sabogal
Na Omi Judy Shintani
Shanna Strauss
In addition, we would like to give special thanks to the following individuals and organizations whose invaluable guidance, creativity, time and patience have taught us so much throughout the project.
Paula Birnbaum, Professor, Curatorial Practicum
Sharon Bliss, Director, SFSU Fine Arts Gallery
Kevin B. Chen, SFSU Art Exhibitions Lecturer as well as his curatorial class
Catherine Lusheck, Professor of Art History and Museum Studies
Sean Olson, Department of Art + Architecture
Lawrence Rinder, Director, BAMPFA
Steve Rhyne, Department of Art + Architecture
Astria Suparak, Independent Curator
Thacher Gallery Staff:
Nell Herbert, Gallery Manager
Glori Simmons, Director
Lily Basting
Delaney Gibbons
Mackenzie Miller
Somer Taylor
Angela Ting