Campus Life
Inclusivity on Display
Thacher Gallery opens its arms for winter exhibition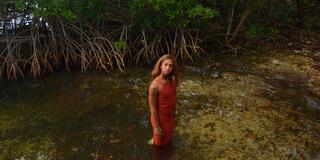 In the new exhibition Emboldened, Embodied, the Thacher Gallery takes a stand against underrepresentation in the arts — and takes a stand for inclusion everywhere.
Exploring Identity
Each fall, museum studies graduate students produce a show at the Thacher Gallery, located in the Gleeson Library. This year, student curators, along with Professor Paula Birnbaum, invited seven California-based artists who explore identity and feminism.
The exhibition features portraits by Kim Anno, Lenore Chinn, Jessica Sabogal, and Shanna Strauss that aim to diversify representation through photography and painting. Installations by Yolanda López and Na Omi Judy Shintani explore cultural stereotypes of gender, race, and class in relation to garments — nanny uniforms and kimonos — while Angela Hennessy's installation is a funerary monument representing the black body using woven synthetic and human hair, among other materials.
"It was amazing to meet these artists — not just see their work — in order to understand them and their message, while trying to transmit it in an exhibition," said student curator Laure Rigaud-Soares MA '20.
Curators at Work
The class split into three teams to tackle the tasks of curation: subject matter, design, and visitor experience.
Once the subject matter team synthesized the message of the show, the design team created the look and feel of the exhibit — how and where the work hangs in the space.
The visitor experience team planned the opening. The evening began with an artists' talk and ended with two performances.
Hennessy conducted an "invocation of the space" in which guests were invited to speak the names of deceased loved ones. Then Shintani performed a "kimono deconstruction" in which she disassembled a kimono using fabric shears. The gesture was meant to illustrate emancipation from traditional Japanese gender roles, she said.
There is also a way for visitors to participate. For the duration of the exhibition, through Feb. 16, a corner of the gallery will be stocked with note cards on which gallery guests are invited to write about their identities. How do they describe themselves? How do they want to be described?
Visitors can then attach their cards to other cards using string, forming a quilt.
"USF is a very diverse community in a very diverse city. We want anyone coming into this space to feel comfortable or reflected in the space," said student curator Sam Sanders MA '19.
"This show is highlighting a lot of narratives that aren't always heard. I hope people will recognize that and feel empowered," said student curator Iyari Arteaga MA '20. "It's a celebration but also a call to action."