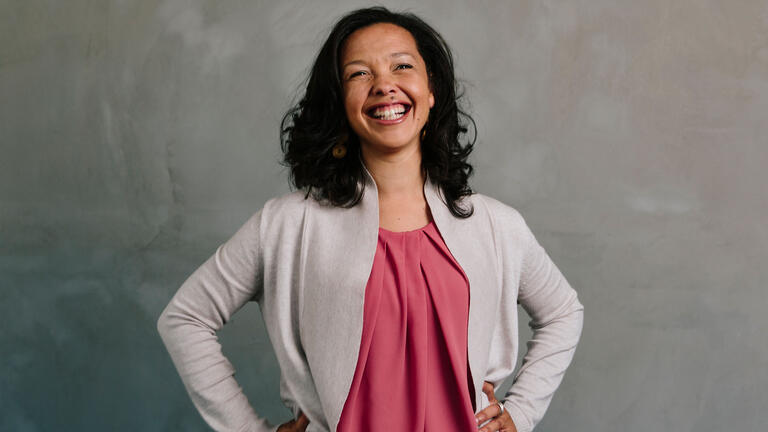 An Inclusive Look at the Past
By examining the past from distinctly different, and often underrepresented points of view, Candice Harrison is answering, "How did we get here?"
Candice Harrison hated history in high school. Now she's an associate professor of history at USF.
"That is the irony of my life," says Candice.
She described her high school history classes as bland and not diverse in terms of the kinds of human experiences they discussed. "For the most part, history just didn't apply to people who looked like me," says Candice, who is African American.
As a college student in Georgia, however, she took a course on immigration and U.S. history that made her reconsider.
"It changed the way I understood the world," Candice says, "It's really when I discovered how powerful human agency is."
Her field is early American history, and her USF courses revolve around issues of race, gender, and class. She is also director of the African American Studies program at USF.
"To me it's really about building more inclusive narratives," says Candice. "That's my goal as a teacher and in my work as a scholar and community activist."
Her classes explore in depth subjects that are often overlooked, such as African American history, radical labor movements, and race and slavery in the Atlantic world. She also incorporates field trips, like a visit to the Museum of the African Diaspora in San Francisco or a walking tour of the city's historically black Fillmore District.
The mission of the university mirrored the mission of my own life — this idea of educating leaders to fashion a more just and humane world."
Candice has helped change the core curriculum itself, which she says has been her greatest accomplishment so far. It means that students can now satisfy the core requirement for history by taking her African American history course or "Ideals of Citizenship," a class she co-created.
She applies history to current events, such as creating a teach-in after white police officers killed young black men in New York and Ferguson, Mo. — not far from her hometown of Kansas City, Mo.
"I felt it was important that we not just give students space on campus to emotionally process these tragedies, but also to analyze them critically," Candice says. "Anytime there's a contemporary news story, I try to draw on that. The goal is to change things, not just to study the past."
Candice arrived at USF in 2008, drawn by principles and values tied to social justice. "[At USF,] we are equally committed to our scholarship, to service on campus, and to our students," she says. "I think that's really, really rare."
It's a midsized university but we have a large department. We're able to offer an incredible breadth and depth of history courses. Students can gain a lot of different perspectives."