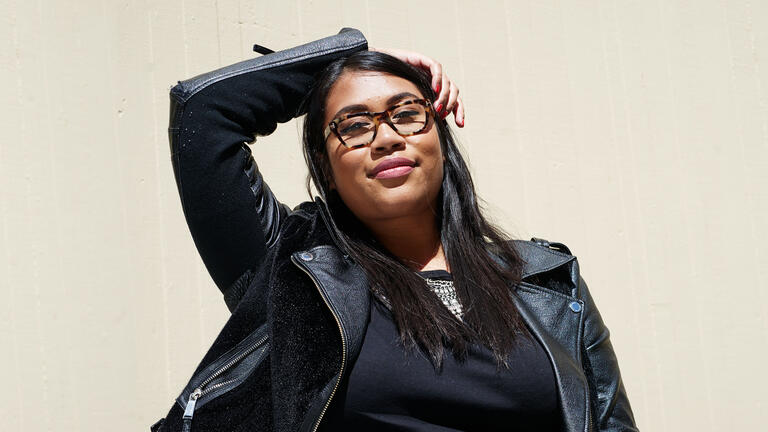 Changing the Face of Computer Science from Here
Alyssa Pohahau cracked the code on success: if you don't know, ask.
When Alyssa Pohahau graduated from USF in May 2014, she'd already secured a position as a software engineer at Square, a finance company best known for the square accessory that lets business owners use a smartphone or tablet as their cash register.
She credits USF's small classes and accessible professors with giving her a distinct advantage in the market — both entering it and thriving in it.
"Having a network of professors who were not only interested in a student's success in a class, but also after the class was over, meant everything to me at USF," says Alyssa.
Square is best known for its credit card reader, but it also builds products to help merchants run their businesses. Alyssa works on a small Web operations team that operates a platform service — one that other services depend on. It includes deploying, capacity planning, disaster recovery and giving developers a quick, safe and reliable environment in which to work.
The small class sizes and the way you get to know your professors and other classmates really allows you to build a community."
Growing up, Alyssa spent very little time in San Francisco — just occasional trips to Fisherman's Wharf or Union Square when her family had visitors — even though she lived in Santa Clara, only an hour away by car.
She craved urban life, which was one of the reasons she applied to USF. Now she lives and works in the heart of the city. Square is located in San Francisco's rapidly changing Mid-Market district, which has become a magnet for tech companies. And she resides in the South of Market neighborhood, another haven for tech firms and their employees.
Alyssa's connection to Square began with a USF professor.
"Having professors who were aware of the low percentage of women in engineering I was told about opportunities such as Square's College Code Camp," Alyssa says. "When I applied to that camp, one thing led to another, and I landed a job at Square."
The camp, which is held twice a year, is a five-day immersion program aimed at inspiring and educating the next generation of women in technology. Now Alyssa helps out with it.
The university's overall approach to education, including small classes where dialogue is encouraged and everyone is expected to contribute, has helped her succeed in the workplace.
"It taught me not to be scared to ask questions," she says. "It was a very open learning environment. When I came to Square, I asked a lot of questions about our systems. This allowed me to learn really quickly."