Engaged Learning
Why I Love My Major: Computer Science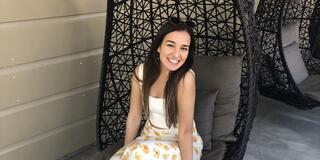 For Alexandria Davis '20, an interest in computer science began as an act of defiance. Now it's her passion.
Why computer science?
I didn't even really know about the field until randomly taking an AP computer science (CS) course as an elective my senior year of high school. Then my interest was twofold: I loved the subject, and I also was challenged by the fact that it's so male-dominated. My mom has always encouraged me to follow my own path, especially if it was daunting, and the fact that computer science isn't the "typical" career choice for women — yet! — drew me to it.
What's been the best part of majoring in computer science at USF?
I love our program. The faculty is so warm and encouraging, and our larger community is so involved. I participate in the Women in Tech club, and the opportunities that have come our way are priceless. The past two years I've gone to the Grace Hopper Celebration of Women in Computing, the world's largest conference for women in computing. This year I'm attending virtually. That's all possible because of our program and its scholarships and connections.
Favorite class?
I've honestly loved them all, but one that stands out is Software Development, which I took with Professor Sophie Engle. It didn't feel like a class at all — more like an actual job, with a project to turn in at the end. We had weekly code reviews, where she'd check the code we were working on and give us tips on how to improve it. Being in that environment where we were treated like peers really gave me a glimpse into what a career in software development would actually be like.
What do you think is different about computer science at USF?
Learning here feels super personal. I have CS friends at different schools, and they hardly ever get to interact with their professors. Here, we don't have to ask TAs for help — we know our professors personally and can go to them directly. They really feel invested in our success.
What do you want to do with your degree?
I'm not 100 percent sure yet. Right now I teach coding to kids, both at a summer camp and online through an elementary school, and I love watching them learn and grow confident in their own abilities. If I don't end up teaching, it'll probably be because I chose to pursue software development.