Engaged Learning
Connect and Engage
MSN students create a club to support the community and each other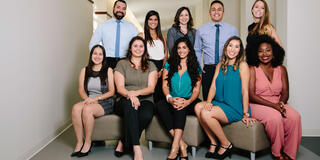 When Javier Moreno enrolled in the first-ever cohort of the Master of Science in Nursing Non-Nurse (ME-MSN) program at the Orange County campus, he and his classmates wanted to meet other graduate nursing students, serve their community, explore career options, and have a little fun. After a couple brainstorming sessions, he, Alyssa Avila, David Reynoso, Norma Hernandez, Nneena Abaeze, and Rozlyn Bauer wrote the official constitution and founded the Orange County Graduate Nursing Association (OCGNA).
This organization is exactly what Javier and his classmates wanted, and then some. It supports them with their studies, career goals, and personal development; networks them with healthcare professionals who offer insights into the medical field; and connects students with the surrounding communities to volunteer. Since its founding in August 2016, the OCGNA continues to host activities and events both on and off campus to create that sense of community.
Baseball Games and Beach Bonfires
The club created a peer-mentorship program where all incoming students receive guidance from someone who has already completed their first semester. "Being part of OCGNA allowed me to take a leadership role on campus and a platform to develop the peer mentorship program, which connects current students with incoming students to support each other on our journey through nursing school," says David Reynoso, Cohort 1 and former VP of education.
The OCGNA also hosts several activities, such as Angels baseball games, beach bonfires, and the annual formal winter ball where they've had over one hundred guests attend. Most recently, on October 25th, they held a fundraiser called Pizza With A Purpose. They've also had guest speakers from the health community talk about subjects such as "Geriatric Health in Veterans Affairs" and "Furthering Your Nursing Education."
Connecting With the Community
As for volunteering, students work with organizations like the Lestonnac Free Clinic and the Emergency Nursing Association (ENA) to provide nursing care at health fairs. Examples of care provided include vital signs during admission, drawing blood from patients for assessments of blood sugars and lipids, and conducting health education in the community related to hypertension, hyperglycemia, and hypercholesterolemia. Students in the OCGNA also helped individuals who are uninsured or underinsured navigate through the free Anaheim Health Fair. Many of the patients stood in line overnight to make sure they would receive care.
The club also organizes field trips with the California Board of Registered Nursing Disciplinary Hearings for students to learn about licensing, legislation, and advocacy in nursing. Finally, the group designed T-shirts for members to show school spirit and unity on campus and in the community.
"Moving to Orange County for a nursing program was a fresh start for me. OCGNA gave me the opportunity to connect with others in Southern California and make lifelong friendships with those who share a common love for the health of their community," says Michelle Pham, Cohort 2 and current VP of student engagement. Javier and his classmates in Cohort 1 will graduate in December 2017. Let's thank them for founding this club, and celebrate the graduating class: 
Alyssa Avila
Andie Reed
Corrina Lau
Courtney Sumanqui
David Reynoso
Hannah Pari
Javier Moreno
Monica Schurle
Nneena Abaeze
Norma Hernandez
Quynh-Hoa Nguyen
Rozlyn Bauer
Sahar Taravati