Campus Life
World AIDS Day at USF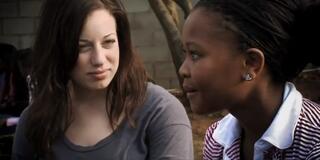 The University of San Francisco will observe World AIDS Day, Dec. 1, with several on-campus events, including a premiere screening of the Showtime documentary film "Keep a Child Alive with Alicia Keys," a workshop about HIV/AIDS transmission and prevention, and a panel discussion with individuals who are HIV positive.
"Keep a Child Alive with Alicia Keys" features R&B singer Alicia Keys and USF international studies major Kristen Dyer '12. Dyer, who was one of five U.S. college students chosen from among 24,000 applicants, accompanied Keys and members of her nonprofit Keep a Child Alive to South Africa in the summer of 2010. Traveling alongside Keys, Dyer met and spoke with some of those suffering from HIV/AIDS and heard how the virus has affected their lives and the lives of their families.
Dyer will host the film's Showtime premiere in McLaren Hall 252 at 5 p.m. Following the screening, she'll discuss her experience in South Africa.
In addition, USF Health Promotion Services and Counseling and Psychological Services will hold an HIV/AIDS workshop beginning at noon, followed by a speaker panel with individuals who are HIV positive at 1 p.m. in University Center 222 to discuss how HIV/AIDS is contracted and what life is like living with it.
Know someone with a powerful USF story? Let us know! usfnews@usfca.edu