Research
USF's New Provost Inspires Change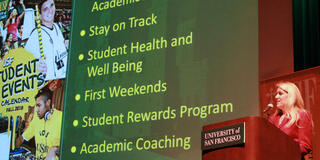 In a call to action, Jennifer Turpin, the University of San Francisco's new provost and vice president of academic affairs, kicked off the fall 2010 semester Aug. 19 by challenging faculty, staff, and students to collaborate and innovate to grow the university.
During an economic downturn, when the state and many colleges, including USF, have faced budget cuts, and the cost of college is outstripping families' ability to pay, Turpin made two objectives the highest priority toward meeting USF's challenges while maintaining enthusiasm for the university's mission of educating minds and hearts to change the world.
"First, we must significantly improve the student experience, both inside and outside the classroom, so that USF becomes a high-profile and first-class destination," Turpin said. "Second, we must make the changes necessary to address our financial future, in response to USF's unique circumstances."
These priorities can be addressed by USF faculty, staff, and students using their imaginations to dream and innovate, embracing inter-college and inter–department collaboration, and by holding fast to faith in USF's cause, each other, and the possibilities on the horizon, Turpin said.
Already over the summer, Turpin set to work addressing these top priorities.
University Life was folded into Academic Affairs, now under the direction of Peter Novak, vice provost for student development.
Stay on Track was launched, using technology to actively track and check in on students' academic progress. This is meant to improve USF's graduation rate and retention, key elements to the university's reputation and financial well-being.
A new program dubbed Welcome Weekends offers freshman and new transfer students events on and off campus for the first three weekends of the semester, including tours of Alcatraz, white water rafting, movie nights, and more.
And, USF's newly expanded student rewards program offers incentives to students for attending academic, athletic, and student-run activities.