Campus Life
USF Welcomes New Students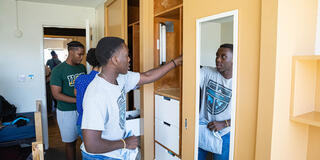 The undergraduate Class of 2027 will soon arrive on campus.
This class comprises 1,140 students from 51 states and territories and 61 countries. Thirty-four percent identify as first-generation college students.
Move-in day is Aug. 12. First-year student orientation runs from Aug. 12–21. Family orientation runs on Aug. 12 and 13. Here's the orientation schedule.
All new first-year and transfer students are required to attend orientation. Register here.
For transfer students, move-in day is Aug. 19 and orientation is Aug. 20–21. Transfer family orientation is Aug. 20.
Welcome Back Fest is Aug. 21, outside the University Center from 11:30 a.m. –12:45 p.m. This event gives students a chance to check out the programs and resources at USF.
Weeks of Welcome, the first two weeks of class, offer students activities including a San Francisco Giants game and boating at Stow Lake in Golden Gate Park. These are free trips for first-year and transfer students. New this year: a watercolor class by the bay. Here's the schedule.
The first day of classes is Aug. 22.