Research
USF Muralist is Graves Award Winner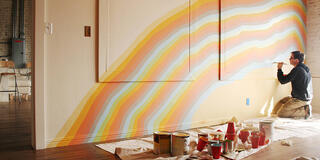 Eric Hongisto, assistant professor and director of the University of San Francisco's fine arts program, has been named an Arnold L. Graves and Lois S. Graves Awards in the Humanities winner.
Administered by Pomona College, the Graves Award recognizes college faculty in California, Oregon, and Washington and is intended to reward outstanding accomplishment in teaching the humanities by young faculty.
The Graveses believed the goal of the humanities should be to educate men and women not merely to recall facts and be technically proficient in a profession but to interpret and understand the world.
Hongisto, who teaches mural painting and color theory at USF in addition to being a muralist, plans to use the $7,000 grant award to visit a number of Mexican states, examining murals by well known and not so well known painters, including David Siqueiros, Diego Rivera, and Roberto Montenegro.
The trip will provide essential research for the development of a new course about San Francisco murals, which Hongisto intends to debut in 2011. The course will draw on the historical, aesthetic, and philosophical connections between the muralist movement in 1930s Mexico and the 1940s Depression-era muralist movement in the U.S., by examining examples that still exist in San Francisco and the Bay Area.
"I'm traveling to see these murals in person in order to document them and compare these pictures to those in San Francisco, trying to thread the similarities and history of both movements together," Hongisto said.
By examining the murals in person, he will also be in a better position to create site-specific murals for San Francisco going forward, Hongisto said.