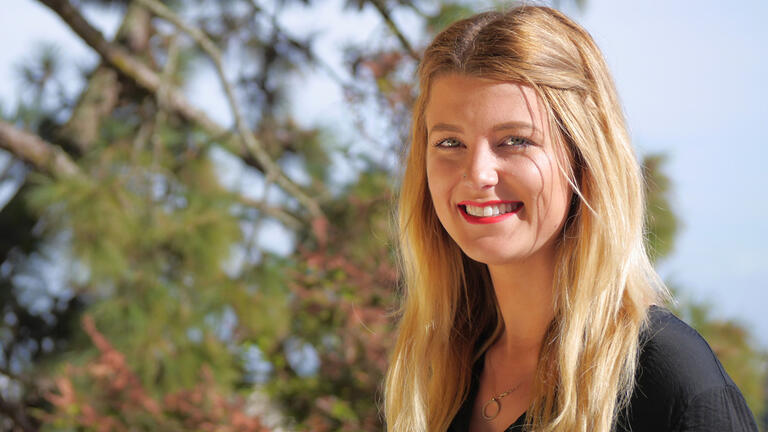 The Business Case for Sustainability
Saving money while reducing environmental impact
Not everyone who works with NASA is a rocket scientist or an astronaut. Other heroes are hard at work there too, such as Environmental Studies alum Sarah Lund '15, currently working as a Sustainability Specialist with the NASA Ames Research Center in Silicon Valley. Her main responsibility is to partner with the center's staff to develop and implement sustainability strategies to reduce the center's environmental impact. Sarah believes that speaking to an organization's business sense is crucial to changing the way it interacts with the environment.
What impact do you want to make on the world?
The reason I went to work in the government is that I believe the public and private sectors will need to work together in order to solve the problems our generation is facing. In the short term, I hope to implement strategies at NASA that will not only save us money but also help to reduce our impact on the planet. Longer term, I would really like to see a paradigm shift in how businesses are operating, to switch from primarily valuing only short-term profit to a more lasting approach and triple bottom line methodology. Making the business case for sustainability is a key part of pushing through sustainability initiatives.
How did USF prepare you for your master's program?
After USF, I went on immediately to pursue an MBA at Presidio Graduate School. The program has a strong focus on environmental justice and social sustainability and how that can be incorporated into the business world. The classes I took at USF, such as environmental justice, environmental policy, and environmental ethics, gave me a very strong background in these topics and allowed me to participate in discussions with other students who were much older than I was.
I also gained valuable experience through my internships, especially ​one​ ​with Genentech​ ​as​ ​a​ ​sustainability​ ​intern. This, along with my other internships, allowed me to go straight to school without having to worry about needing job experience first, and, you know, I'm one of the only 25-year-olds I know who has a master's degree in this field so this has given me a leg up over other candidates.
And, of course, the support from my USF professors, including Steve Zavestoski, was invaluable in both securing the internships I did and getting accepted into Presidio's program.
What was your favorite thing about the Environmental Studies program?
Definitely the faculty. Each professor I had was so passionate about making the world a better place and with the small class sizes, this is something that really impacts the students. I also had the opportunity to work with them on real projects. For example, I was able to work for Professor Zavestoski on the school's bike plan and then again with Professor Stephanie Siehr on climate research for a book she was writing on a carbon-free China. Those projects not only helped to build my resume but I was able to get a feel for more than one field within environmental studies.
What's your fondest memory of USF?
Getting to see Van Jones speak. I always admired him while he was a part of Barack Obama's staff and I have been watching him on TV for a long time. One day, USF brought him in to give a talk to the Black Student Union and a few of the Environmental Studies students. It was so cool! He discussed his green roof program and it really got me passionate about the built environment and how we can build cities to function more sustainably.
What would you say to your freshman self, if you could talk to her?
I would tell her that you do not need to have all the answers right away. I remember my freshman year, right after my first Intro to Environmental Studies course, I went home and cried. It's easy to get discouraged by the problems facing our planet and injustices happening all around the country. I felt like there was nothing I could do to impact these immense problems. However, as the program progressed and I learned more about the changemakers in our community who were doing really inspiring work, I realized that one person really can make a difference and that we are in the perfect field to do just that.