Campus Life
U.S. News & World Report Again Ranks USF a Top National University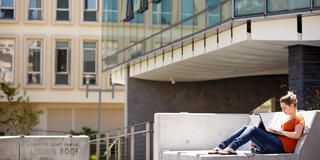 In the U.S. News & World Report 2023 rankings released today, USF places No. 2 in the nation for student ethnic diversity, No. 39 in undergraduate nursing, and No. 105 overall.
A few highlights from the report:
USF ranks second for diversity, tied with Stanford and the University of Nevada-Las Vegas
USF ranks No. 105 among national universities — in the top third
In the category of undergraduate nursing, the ranking of No. 39 out of 681 programs places USF in the top 6 percent
USF ranks 121 for financial resources, a rise of four spots from last year. The financial resources ranking reflects per-student spending on instruction, research, and student services
USF ranks No. 66 in actual graduation rate versus expected graduation rate
USF places in the top 50 for most international students
USF remains one of the best colleges for veterans
"I'm proud that our strong graduation rate continues to be recognized," said Chinyere Oparah, provost and vice president of academic affairs. "This graduation rate says a lot about our methods and our mission: we give our diverse students the classes they need, offer them the education they deserve, and equip them to change the world for the better."